Looney Birds
Bay County saves base and jobs by landing 'more mission'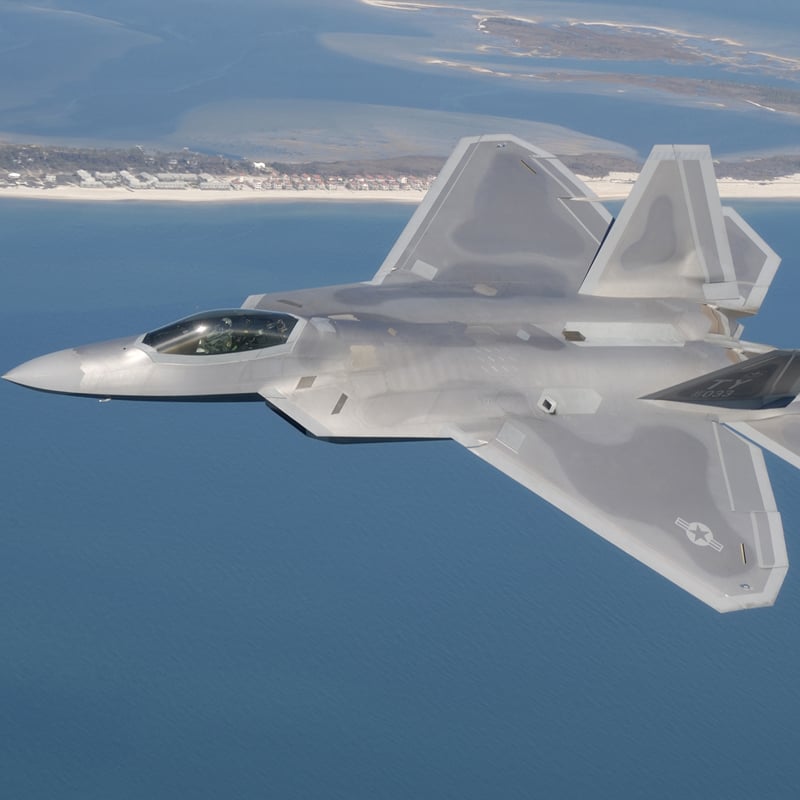 A man named Looney was the first to float the idea.
A retired four-star general, he was aware that the Air Force was preparing to activate a combat-coded squadron of F-22s that would need a permanent place to land. Maybe Bay County's Tyndall Air Force Base could host the mission, thought the former commander of the Air Education and Training Command at Randolph Air Force Base, Texas. "Yes," said Gen. William Looney III to himself. "Why not?"
Turning to the members of "Tyndall Team," a six-member committee of the Bay Defense Alliance, Looney encouraged, "We've got to socialize this idea with the leadership of the Air Force and members of Congress." The team was willing to explore any avenue Looney thought worthy of pursuing.
Everyone concerned — especially the BDA — was convinced that Tyndall was vulnerable.
The BDA, a group of 30 volunteers, was formed in 1992 after Bay County's Navy base, Naval Support Activity-Panama City, survived a closure threat. It has since mobilized in response to Base Realignment and Closure Commission proceedings in 1993, 1995 and 2005.
Simply put, "We're in the vigilance business," says BDA President Tom Neubauer.
Tyndall had been home to 30 F-22s and 48 F-15s. Then came the Combat Air Forces Restructure Plan, whose recommendations were relayed by the Air Force to the BDA on Oct. 14, 2008. The plan called for the retirement of 112 F-15s, including all of those based at Tyndall. Lost to Bay County would be 800 jobs associated with them.
"Worse still, we feared that a remaining presence of just 30 jets would not be enough to warrant keeping Tyndall open," recalls Neubauer. "We had to find more mission."
The BDA secured a state-funded Florida Military Base Protection Grant administered by Enterprise Florida and, with it, hired Looney.
"We chased a bunch of trails," Neubauer said. "We thought for a time, for example, that we might be able to attract some of the F-35s slated for Eglin Air Force Base."
But it was the Looney plan that proved to be the most logical and, ultimately, saleable.
On June 23, 2009, the Tyndall Team met with Gen. Norton Schwartz, the Air Force Chief of Staff, and Secretary of the Air Force Michael B. Donley in the Eagle Room at Tyndall. The sextet emphasized the value of the Gulf of Mexico Range air space; the lack of development in a wide area surrounding Tyndall; and the fact that Tyndall, since 2003, had been a fifth-generation (F-22) fighter community whose importance and contributions to the local economy were understood and appreciated by Bay County residents.
Their presentation concluded, the Tyndall Team escorted the dignitaries to an adjoining room where 65 prominent Bay County leaders, including municipal and county officials, representatives of the Bay County and Panama City Beach chambers of commerce and Economic Development Alliance officials, had assembled.
"The secretary and the chief of staff thought they were about to be lynched because of the cutbacks Tyndall had sustained," Neubauer remembers. "Instead, they were embraced, applauded and presented with proclamations of support from the chambers and every local government in the county. We think that didn't hurt."
Indeed, when, five months later, BDA members met with Gen. Schwartz in Washington, D.C., the delegation was assured that Tyndall would not lose its 30-jet F-22 training squadron and, in addition, Schwartz appeared interested in the visitors' suggestion that Tyndall might also host a combat-ready squadron.
That suggestion materialized. In July 2010, the Air Force announced plans to move F-22s from Holloman Air Force Base in New Mexico to Tyndall.
Today, the Air Force is discovering the advantages and efficiencies associated with having both a training mission and a combat mission at Tyndall.
"The benefit is consolidation and having the opportunity for the training mission and the 95th Fighter Squadron to interact," says
Lt. Christopher Bowyer-Meeder at Tyndall.
The F-22s originally were to arrive in Florida from New Mexico in late 2012 and early 2013, one move among several involving the positioning of aircraft at three bases. Tyndall began to make ready: It transitioned from the Air Education Training Command to the Air Combat Command, prematurely, as it turned out.
Poliltics would intervene. In January 2013, the Air Force announced that the scheduled arrival of F-22s at Tyndall would be delayed for a year.
Even as F-22s, each costing $143 million, were to be moved from Holloman to Tyndall, F-16s at Luke AFB in Arizona were to be assigned to Holloman. Wait just a minute, said Arizona's senior senator, John McCain. The process waited a year instead, until new F-35s were ready to be delivered to Luke.
The first five of 24 Tyndall-bound, operational squadron F-22s arrived on Jan. 6. The remaining 19 are scheduled to be in place in Florida by April 1, according to Bowyer-Meeder. At that point, Tyndall AFB will host more F-22s than any other base in the world. Along with the F-22s will come a total of 20 T-38s, which will act as "adversary air" during F-22 training exercises. Ten arrived in January.
All of this military hardware has translated to an uptick in intangibles, Neubauer says, including Bay County's outlook on itself.
"We're enjoying a regained sense of optimism," Neubauer, a real estate broker, has found. "Businesses that have been holding off in the five years since Tyndall's mission was scaled back are now expanding. People feel good about the future of the base."
Is it reasonable to assume that the presence of the F-22s and related aircraft at Tyndall makes the base less vulnerable to future base realignment and closure activity?
"Yes, but it does not completely eliminate vulnerability," says Craig Deatherage, the military liaison in the office of U.S. Rep. Steve Southerland (R-Panama City). "A continued focus on sustaining existing missions and pursuing ways to bring new missions to Tyndall are an ongoing focus of the community and Congressman Southerland's office."
Each Base Realignment and Closure Commission — if an established pattern is prelude, there will be another BRAC in 2017 — has its own scoring criteria. That reality makes for moving targets, and communities must be flexible if they are to lock in on what matters most. But certain factors are a given, including the encroachment issue; evidence of military family-friendly legislation at the state level; and the availability of interstate professional certifications for military spouses and other educational opportunities.
To be sure, there is a lot at stake.
In 2008, defense spending in Bay County totaled $1.068 billion, according to the Haas Center for Business Research and Economic Development. Of the total, 31 percent was tied to wages and salaries; 44 percent to the purchase of goods and services; and 25 percent to pensions and transfers. Department of Defense spending accounted for 22,493 jobs in Bay County.
Hass calculated that DoD spending in 2013 made a $2.088 billion contribution to Bay County's gross regional product. DoD-related employment had fallen to 20,891 jobs, but the new F-22 squadron and related activities will increase that number by more than 1,000.
Southerland is a former chairman of the Military Affairs Committee of the Bay County Chamber of Commerce. As such, he is keenly aware of the symbiotic relationship between the military and Bay County.
"The Bay Defense Alliance and the Military Affairs Committee have been instrumental in advocating on behalf of our bases and welcoming military families into our community," he says. "That strong connection will serve both the community and the military well, now and in the future."
Neubauer hopes so.
"There were lots of high-fives among BDA members when the first of the new squadron of F-22s landed here in January," Neubauer said. "But the truth is that the Air Force located them at Tyndall because it's the best place for the Department of Defense to put them. We're just fortunate to have such an enthusiastically vocal community that Bay County wasn't overlooked. And we're grateful for the grant that brought us Gen. Looney's insights and influence."
Courtesy Bay Defense Alliance
Larry Dantzler (left) and Ted Neubauer of the Bay Defense Alliance do a high five over the F-22.