Lofty Ambitions
Escambia superintendent is committed to seeing all students succeed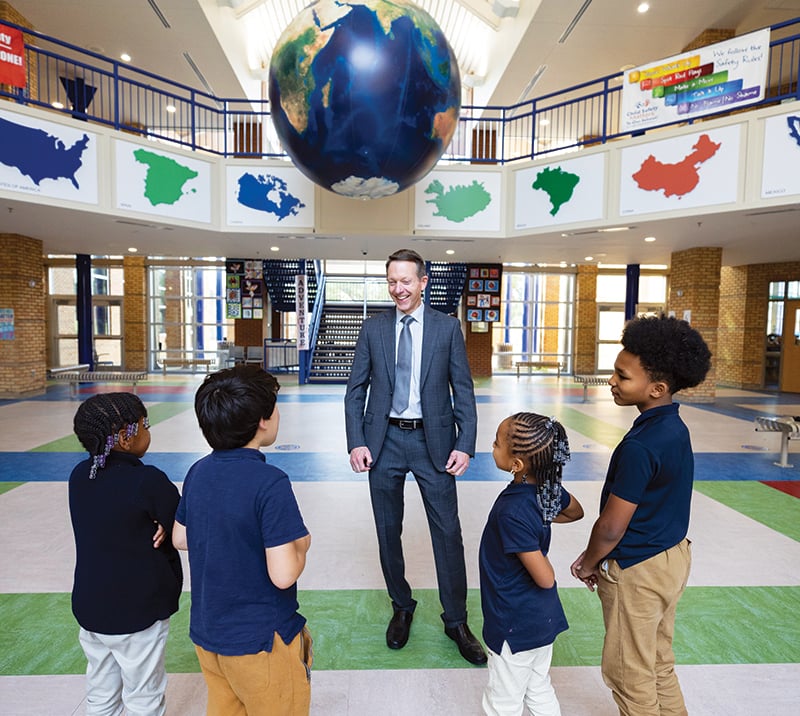 Dr. Tim Smith had a big job, but he was ready for a new adventure. Working in the offices of Orange County District Schools — the eighth-largest school district in the country and the fourth largest in Florida — he was responsible for supervising 20 Orlando-area high schools.
Even as busy as he was, he felt a "tug," he said and traced it to Escambia County.
Smith wasn't ready to retire after 30 years working in Orange County, but he was ready to move from Central Florida to its northwest corner.
"I was looking for a leadership opportunity where I could make a difference," Smith explained. "I had experienced a principalship and worked in a district office, and I felt a desire to lead on a wider scale."
In September 2020, Smith was sworn in as Escambia County's first appointed superintendent of schools.
"One of the things that intrigued me about Escambia County is the diversity, especially the economic diversity," he said. "Escambia has a significant number of students who are in poverty. And one of the great difficulties in public education throughout the United States has been having kids in poverty perform well in school and have great learning experiences. But one of the things we're charged to do is to reach every one of our kids and provide a great opportunity for them."
As Escambia's superintendent, Smith sees to the administration of 35 elementary schools, nine middle schools and seven high schools, as well as a number of specialized centers.
As it turned out, Smith didn't have much time to pursue his charge full-bore after coming aboard — COVID-19 was working from another syllabus.
"One of the biggest challenges with COVID is that it slows things down because you have to scale back just to have things manageable," he explained. "In August, September and into October of 2021, we had a major COVID spike. We had gone through the summer, and COVID numbers were down from the prior year. We were very hopeful that it was in the rearview mirror. Then it came back with a vengeance just as the first week of school started for us.
"So, you had students who were missing school, or you had students in school, but their teachers might have been missing school," Smith continued. "You add to that substitutes not coming in the same numbers as they had previously. What that all equates to is lost instructional time.
Then in January, we had a shorter spike when things slowed up again. It was not nearly as long, and kids weren't out as much. But they were out, and it was disruptive for about three weeks."
This past school year, just as Smith was getting the system up to speed, another issue cropped up that threatened to end his tenure as superintendent. The catalyst was a particular test question given to middle and high school students pertaining to the district's Rights and Responsibilities Handbook, a manual that outlines district policies on student discipline and behavior. According to Smith, the test had long been in place at the high school level.
The controversial test question concerned a fictional 17-year-old girl named Suzie and her 18-year-old boyfriend, Roger, to whom she had sent nude photos of herself in an ill-considered attempt to please him. After the pair broke up, Roger began circulating the pictures throughout the school, provoking so much derision and harassment toward Suzie that she dropped out and eventually committed suicide. The scenario was written to caution students against unacceptable behaviors while making them aware of some of the potentially extreme consequences of their actions.
For some parents, however, the story contained inappropriate language and situations and had no place in a school setting. Social media lit up with commentary on the issue, and while some in the community saw nothing wrong with the question, others were asking for Smith's head and led the School Board to add a discussion about Smith's possible termination at its September meeting.
Ultimately, Smith's contract was not terminated, and in the aftermath, he says that even though it was a very small minority that found the test question egregious, he decided not to repeat the activity.
"Clearly, there was some wording or language that could have been worded differently or crafted differently," he said. "I feel bad that people were upset. I wish I could go back and change that. The goal was to educate kids about their rights, rules and responsibilities. But it's not really a necessary piece for us. I don't think we lose anything by pulling it out, and I think it's something we would have done anyway. There are other steps to go over the rules that can be accomplished without doing the activity like we did."
Smith's response to the firestorm typifies his leadership style and his ability to withstand the slings and arrows hurled his way.
"One of the things I try to prioritize from the standpoint of leadership is being united," he said. "If we're going to be united in helping every student to succeed, I need to lead in a way that builds unity. It's OK in my role as the chief administrator of the entire school district for me to take criticism and for people to be upset with me — that's just part of the territory."
Now that things seemingly have calmed down, Smith is focused on dealing with a more fundamental problem.
"Our single greatest challenge right now is our labor shortage," he said.
In addition to not having enough support personnel and substitutes, Smith is dealing with a twofold challenge regarding classroom teachers.
"We've had a number of teachers over the past couple of years leave teaching, and the other piece is we don't have as many young people going into colleges with education programs and getting trained," Smith said. "When you put the two together, that is a very difficult situation. Ten years ago, when you had a vacancy, you'd get a number of applicants. Some of our schools now, especially in our high-needs areas, they don't get any applicants for vacancies. So that is our single greatest challenge."
Setbacks and distractions notwith-standing, Smith remains undaunted in his desire to help all students succeed.
"Our kids need us as educators to continue working for them," he said. "That's what I plan on doing tomorrow morning — waking up and going at it. There certainly are challenges in the field of education, but what we do is we dig deeper; we persevere. That's what we want to do in Escambia. We have so many awesome people who care so deeply in this community. They're all in. They want to see our school system do well. And that's my job — to lead and bring people together so we can work on the betterment of our kids so that they
can learn."
---
Renewing Acquaintance
→ Many of us have had teachers in our lives who profoundly influenced us. We think of them from time to time and may wonder if they ever think of us. Did we leave an impression on them, or were we merely names on classroom rosters? I was reminded, just seconds into my conversation with Tim Smith, that they do, in fact, remember:
Me: I just wanted to say before we begin that you and I once met because both my daughters graduated from Winter Park High School.
Smith: You know, when your name appeared on the email, the first thought that came into my head was Zoey.
Me: That's right!
Smith: She was a valedictorian at Winter Park. You have two daughters, don't you?
Me: Yes, my younger daughter was Emma. She graduated two years later.
Smith: Well, please tell them both I said "Hi." (I spend several minutes filling Smith in on the last 10 years or so in my daughters' lives.)
Smith: Their old principal is proud of both of your daughters. It warms my heart to hear how they're doing.
— Al Krulick
---