Locklin Graduates Have Lock on Finding Jobs
The technical college is preparing students for emerging high-demand careers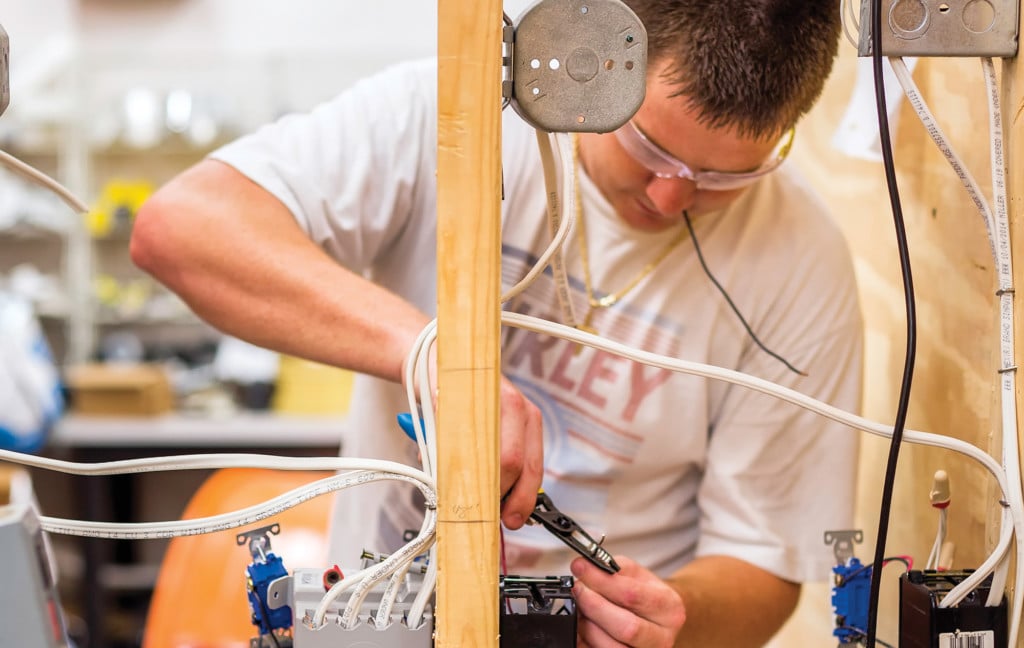 On his last day as a student, Leroylan "Ralo" Birge held two job offers in his hand.
At 34, he had completed courses in heating, ventilation, air conditioning and refrigeration (HVACR) at Locklin Technical College in Milton.
Going to school Monday through Friday for two years, he completed HVAC Tech I and the advanced HVAC Tech II programs.
He learned this trade, became skilled and certified and earned his pick of employment offers.
"I haven't chosen yet," he said. "One pays $20 an hour, the other $24."
Either way, he was looking forward to going to work. "It was tough, but it was worth it," Birge said. He started his family while attending school.
Birge recalled fondly a cold day when the heat at his home went out. "Five minutes later it was back on," he said. "If I had had to call someone, we would have waited hours."
As one of Florida's 49 school district-operated technical colleges, Locklin prepares high school and adult students like Birge for current and emerging high-demand careers.
The college's partnerships with business and industry enable students to start their careers with high skills and high wages in rewarding occupational fields: aviation, HVAC, nursing, pharmacy technician, cybersecurity, computer systems, manufacturing, welding and automotive service technology.
The college's career pathways include affordable options for a career-in-a-year in fields like massage therapy, and also offers advanced, two-year curricula in automotive service technology, welding and HVAC.
For a 900-hour program such as computer systems and information technology, tuition and fees for a program leading to certification are $2,662.
"It's a good deal," said Maria LaDouceur, Locklin's principal since 2012. Before leading the college, LaDouceur was a culinary chef and registered dietitian.
She drew upon her career experience to develop her programs of instruction. She said Locklin instructors impart not only theory, but also provide hands-on technical experience.
The college serves both adult and high school students with an average total enrollment of 400 students per year. Adults may utilize financial aid benefits such as veteran's assistance or Pell Grants.
"We're only going to teach things that a student can go out and get a job in," said LaDouceur, referring to the career training programs offered.
When asked about at-risk students, LaDouceur explained, "We serve all kinds of students. If they can find something that they like to do and want to do, they'll experience a little success with us and that's sometimes enough to get them back on the right pathway."
Locklin's pathway for a student to achieve certification departs from a program at a university or college.
"We offer post-secondary career certificates, not associate or bachelor's degrees. They're not going to come and sit in English class here," said LaDouceur.
"They are totally immersed in the nursing or automotive, welding or cybersecurity programs. You're going to come in really quickly and get the training and skills needed, along with the certifications and go straight to work in a year or less," LaDouceur said.
What also sets Locklin apart are highly qualified instructors pulled from business and industry and state-of-art facilities that simulate real-life work experiences.
The program areas are outfitted with the same equipment students are exposed to when they go to work welding, cooking or fixing cars.
Internships are offered, giving potential employers a chance to see and experience the student's talents before making a job offer.
Joe Hamel, one of Locklin's HVAC instructors, said his students typically graduate with more than one job offer. Across the country, the need for HVAC skills is in demand.
"We have need of 83,000 technicians in the United States in the next four years," said Hamel.
"The industry has grown, and air conditioning and human comfort have changed so much. Now, no one builds much more than a dog house without it being comfort cooled."
He explained that the demand for HVAC technicians has been fueled by residential growth and increasing energy costs that lead people to swap out older equipment for newer systems, improving efficiency and savings.
The combination of Locklin's experienced instructors, facilities and affiliations with businesses and industry means students are readily hired by a variety of employers ranging from auto dealerships to hospitals.
For LaDouceur, her years as a registered dietician paired with her years of teaching as a culinary chef proved valuable when it came time to mixing the ingredients an administrator needs to help students succeed in their chosen career.
"If you can't make a cream puff, you don't need to be a chef," said LaDouceur. "It's a lot of technique. A lot of science, the temperature of the water, the proportion of ingredients. We rely heavily on our faculty, our business and industry partners to give us guidance on what needs to be done."
LaDouceur added, "I feel like we're our own little utopia here. I tell people I have one of the best jobs because I can come to work, I can get my car and computer fixed, have a gourmet meal, then get my blood pressure checked — and I'll probably need to after eating one of those cream puffs."