Locals Celebrating Locals
South Walton community comes together to honor people devoted to serving others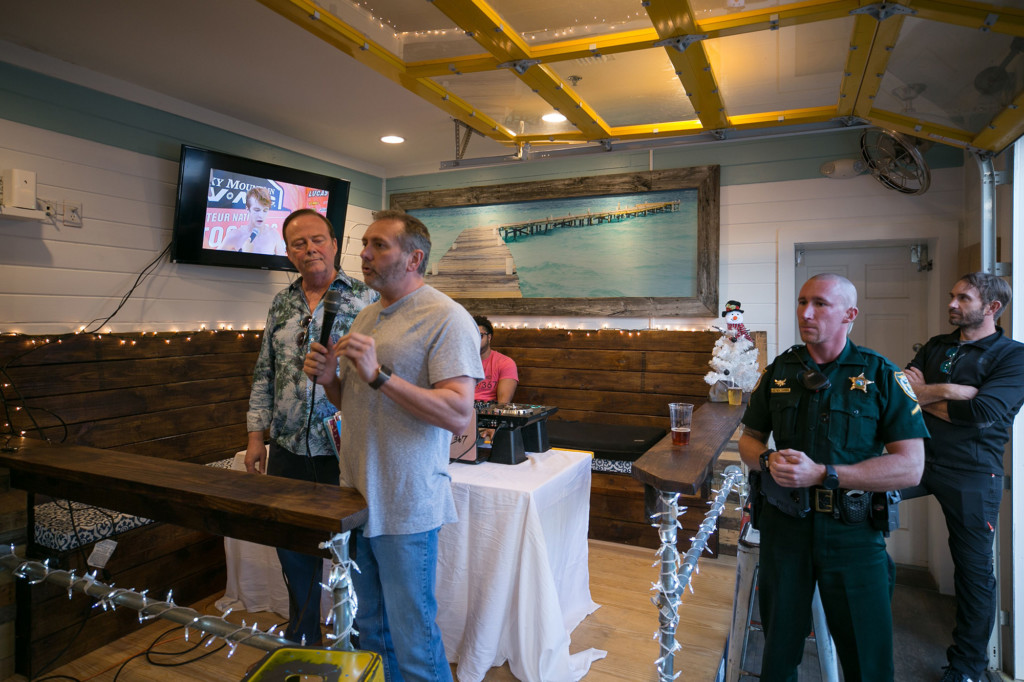 Bill Loiry handed a microphone to Maj. Audie Rowell of the Walton County Sheriff's Office, who greeted the crowd that had gathered Sunday for the annual 30A Reverse Service Party.
"Residents can determine the kind of community they want to live in," Rowell said before describing Walton County as a safe place where people are respectful and neighborly — a place in which locals don't often let him pay for his own meal and one that contrasts with the metropolitan environment in which he worked for many years.
"I have never seen such strong support for public safety," said Rowell, who is the director of emergency services at the sheriff's office. "It is a real circle of trust."
Rowell, who was joined by Dep. David Renna, was among the honorees at the party, hosted by the Chiringo restaurant in Grayton Beach and underwritten by Loiry, who did his best to allow Wild Bill to escape his usual Mild Bill persona.
Loiry, who is the chairman of the Defense Leadership Forum, a business that brings contractors, military brass and public officials together in conferences, wasn't seen to bust any moves or howl at the moon, but did sport a tropical print shirt, untucked.
In December 2012, Loiry gained an appreciation for first responders when, as a passenger in a taxi in New Jersey, he was involved in a bad wreck in which he was severely concussed. In 2013, he held his first Reverse Service Party as a way for "locals to thank locals."
Chiringo was an appropriate setting for the event. Not only is it Loiry's favorite watering hole, it is an establishment that especially cherishes its regulars.
"We value tourists, but we are all about locals," said co-owner Jenny Toney, who worked at Chiringo's location as a bartender when it was Shorty's.
She and her partner in the business, Travis Matney, both once lived in Atlanta, but didn't meet until they independently moved to South Walton.
The party represented a team effort. Oyster City Brewing Co. contributed a red ale, Red Right Return.
Loiry's neighbor, Amber Roof, who owns Reef Beach Services & Rental in Santa Rosa Beach, supplied the sugar in the form of cookies and fudge, which for her are something of a guilty pleasure — "My husband is a diabetic," she said.
John Lomax of Mosaic Innovations was pleased with the way his Boston butts turned out.
The party was not Loiry's only kind gesture of the Thanksgiving weekend. Using a recipe favored by his great grandmother and great aunt, he baked and delivered pecan pies to friends along 30A.
Give him a second and he will show you a phone photo of the pies, made with honey, whiskey and South Georgia pecans.
And, he unselfishly shares the key to his successful, never soggy crusts.
"You have to make them by feel," he said, gesturing as if pinching dough. "They need to be about a quarter-inch thick."
Such was the nature of the Reverse Service Party — folks, united by love of place, giving thanks and sharing recipes, stories and a sunset.
The appreciative Renna and Rowell agreed that Loiry's event is the only such party they know of.
"I hope the concept will catch on elsewhere," Loiry said.