Lifestyle Communities
Large-scale developers create places for people to live, work and play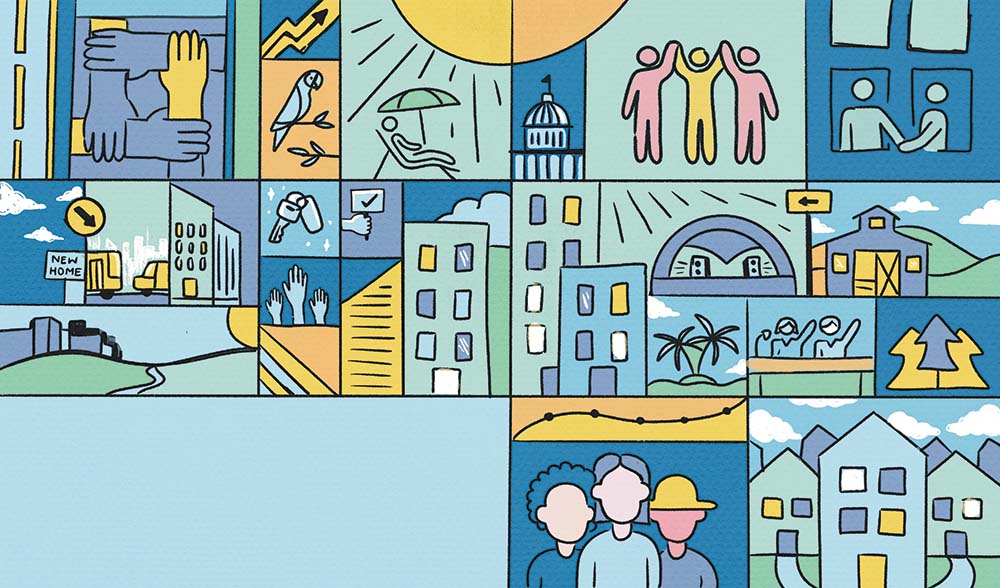 In assessing the Millstream at Cascades development for possible acquisition, Gillian Downham was puzzled.
Downham, the vice president of asset and property management for the Indiana-based Becovic Management Group, recalls thinking, "They cannot possibly be collecting much higher rents than someone a quarter mile down the road, but they are."
Becovic purchased the Tallahassee housing and commercial development in progress in 2022 shortly after the completion of its first phase. Units quickly leased up. When she became familiar with all that the Millstream project and its location had to offer, Downham understood why students, professors, young professionals and families had been drawn to the property.
"They're being sold on the fact that they can walk to work," Downham said. "They can walk across the street to the Marriott and go up to Charlie Park and have a drink at the rooftop bar with their friends. They can walk around the corner and grab a coffee, and right outside their door is this beautiful park and an amphitheater."
Mixed-use or live-work-play communities are no longer confined to major metropolitan areas. Their increased popularity is resulting in part from the growing percentage of people who work from or near their homes.
Like all-inclusive resorts, these communities are substantially self-contained, offering housing, shopping and entertainment and nearby employment opportunities for people working outside the home.
"People are looking at it now as this isn't just an apartment where I'm going to come home and lay my head down," Downham said. "This is where I'm going to live and interact. I'm going to work here, meet friends here and entertain here. The ability for people to have flexibility on a work schedule, I think, has made this whole shift more appealing to so many different types of people."
Yardi Matrix, which compiles real estate data and research, has found that mixed-use developments have more than quadrupled in number in the U.S. between 2012 and 2022. Northwest Florida is seeing developments that align with that trend and offer more than a nod to the walkable communities contemplated by New Urbanism.
Millstream welcomed its first tenants in May 2021. Its initial phase included 162 multifamily units, a rooftop pool, a two-story fitness center and retail space in and around the highrise. Construction of phase two, including an additional 100 multi-family units, will begin in 2024.
Meanwhile, The St. Joe Company, headquartered in Panama City Beach, has been creating mixed-use lifestyle communities, such as Watersound Origins in South Walton County, that adjoin a latter-day equivalent of a village square, populated by retailers and providers of professional services.
Latitude Margaritaville Watersound, a 55-plus community that offers a host of dining, recreational amenities and event spaces, has sold more than 1,000 homes in its 3,500-unit first phase. Located in Bay County off State 79 immediately north of the Intracoastal Waterway, the development is projected at build-out to far exceed even the 71,000 homes at The Villages in Central Florida.
St. Joe is currently developing a town center next to Margaritaville that will make available 350,000 square feet for retail shops, restaurants and offices. And, St. Joe is a partner, along with Tallahassee Memorial HealthCare and the Florida State University (FSU) College of Medicine, in the development of Panama City Beach's first hospital, also in close proximity to Margaritaville.
The FSU Health-Tallahassee Memorial HealthCare Medical Campus is located on an 87-acre parcel that will allow for medical campus expansion for decades. Currently under construction is an 80,000-square-foot medical office building scheduled to be complete in 2024. Plans also include a full-service hospital (100 beds for starters) with an emergency center and other inpatient services, including surgery, cardiology procedures and imaging, to be complete by the end of 2027.
The medical campus figures to be a major employer, and St. Joe is at work on a housing development, Bayside at Ward Creek, just north of the soon-to-be hospital. Once completed, the development will comprise 1,600 homesites including townhomes and detached, single-family homes, spread among three distinct neighborhoods.
Rhea Goff, senior vice president and chief administrative officer for St. Joe, said the company's extensive landholdings permit it to build complete communities rather than specializing in a single type of development.
"We have the ability to really create a whole ecosystem for people who are buying in our communities," Goff said. "They've got a great home product, but it's sitting where there are all these green spaces and trails, but then they can also walk or take a golf cart to commercial spaces and social hubs. We've got pavilions that host music or movie nights or farmers markets. We're really creating a whole ecosystem that basically supports the lifestyle of what people are looking for." — Rhea Goff, senior vice president and chief administrative officer, St. Joe Company