Life, Liberty and the Pursuit of Hoppiness
Adaptability, foresight key to longevity for Pensacola's Lewis Bear Company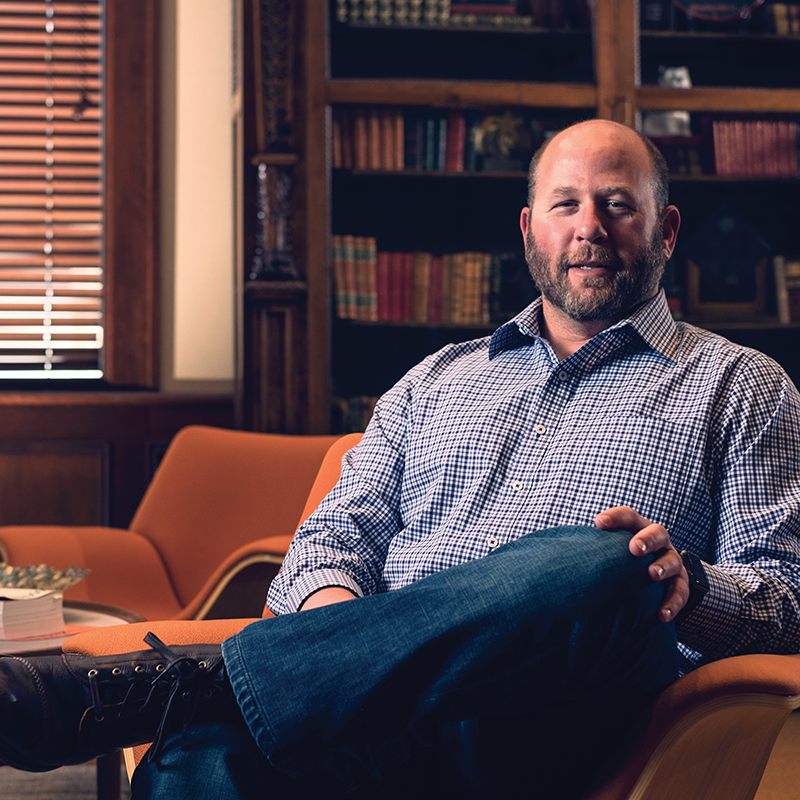 Sidle up to any bar in Northwest Florida and order a beer, and there's a 50-50 chance the brew you're sipping will have been hauled by the Lewis Bear Company.
The family-run firm, which is the oldest privately held corporation in Florida, holds the regional distributorship for Anheuser-Busch. It has been with the beer giant for five generations, longer than any other distributor.
That longevity is a testament to the company's adaptability in the face of shifting markets and regulatory environments. This fact is not lost on vice president David Bear, who said his family's fortunes are the result of adaptability, foresight and a willingness to go to bat for his industry's interests in Tallahassee.
Humble Roots
In the Panhandle, the Lewis Bear Company is a household name. The family has given millions to area charities, wields enormous political clout, and oversees a beverage distribution empire that employs 225 people and stretches from Perdido Key to Apalachicola.
The firm wasn't always such a powerhouse, though, nor was it always synonymous with beer.
"We sold groceries," Bear said. "We did medicinals. We did real estate. We did firearms. We did appliances. In 140 years, we've seen a lot of change."
Bear's great-great-grandfather, a Bavarian immigrant named Lewis, opened a grocery and chandlery shop on Pensacola's South Palafox Street in 1876, on the site where the Saenger Theatre stands today.
It would be 15 years before he ordered his first shipment of beer from Anheuser-Busch. In 1892, the company moved its headquarters to the corner of Palafox and Main streets and expanded its inventory to include building materials, animal feed, liquor and other merchandise.
Bear died in 1895, passing the company to his eldest sons, Morris and Max. The brothers worked hard in the ensuing years to expand, making use of new transportation technology to deliver goods to the small lumber towns that were sprouting up along the Gulf Coast.
Since then, four more generations of the Bear family have led the company. Lewis Bear Jr., David's father, is the most recent, becoming president of the company in 1990. At the time he took the reins, the company was split into two divisions, one for groceries and the other for beer, and the grocery division was beginning to struggle.
"There was a lot of consolidation among our customers," David Bear said. "These little local grocery companies were buying up other grocery companies to become these national companies. They no longer needed a distributor like us when they could build their own warehouses."
With their business and margins shrinking, the Bears were left with a choice: go big, and buy out a competitor, or go home, and get out of the business entirely. Other, larger grocery distributors were already angling for market share, and the company's shareholders, all members of the family, were anxious to sell.
Fortunately, the beer division was faring better.
"We were exclusively Anheuser-Busch at that time," Bear said. "Their brands were growing every single year, and we enjoyed healthy margins."
Bear and his brother had worked in the business intermittently through college and found an aptitude for it. Recognizing this, Lewis Bear asked his sons if they had any interest in carrying the business forward. They did, and so they sold the grocery business off as a separate entity and bought out the remaining stockholders.
Trouble Brewing
David Bear said the choice to pull out of the grocery business illustrated the adaptability that was a hallmark of his family's business philosophy.
"If the opportunity is no longer of value to the business, then let's get out of it," he said. "Let's not wait too long to get out of something, either. Because we don't need to dump all of our resources into a dying business."
This emphasis on adaptability came into play again in 2007, when the growth of the craft beer business began to disrupt the larger beer industry in a big way.
"From 1995 until the end of 2008, we were exclusively an Anheuser-Busch distributor," Bear said. "We had all our eggs in one basket, and we were seeing the craft beer business bloom in other markets all around us."
Because of the Lewis Bear Company's exclusive relationship with Anheuser-Busch, though, these new breweries had only one choice when looking to break into the Gulf Coast market: the Bears' main competitor, Goldring Gulf Distributing. With consumer preference starting to shift away from established brands, the Bears began to consider their options.
"Overall, we were starting to lose a little bit of market share," Bear said, "and the Anheuser-Busch sales were starting to flatline. In 2008, we decided to pull the trigger."
The Bears severed their exclusive arrangement with Anheuser-Busch, which meant sacrificing a lucrative incentive package, and began selling a selection of craft beers and nonalcoholic beverages, in addition to their flagship brands.
The risk paid off.
"Really in the first 12 months, we made up for the lost funding we were getting from the Anheuser-Busch incentives," Bear said. "We maintained our market share and started improving our overall margins."
Today, the company's roster of offerings includes beers from a number of established craft brewers, as well as regional players such as the Pensacola Bay Brewery. Their most popular craft brand is Grayton Beer Company, out of South Walton County.
Statecraft
Adaptability might be a key ingredient of the Bears' success, but it's not the only one. State legislators can make or break a company's fortunes just as readily as market forces, and keeping a finger on lawmakers' pulses is especially essential in an industry as tightly regulated as alcohol sales.
"We are very proactive when it comes to lobbying," Bear said, "(and active in) building relationships with our elected officials who can, with one hand, vote to change our industry."
Those relationships have become the subject of public scrutiny in the past. The Lewis Bear Company made headlines in 2013 when state Sen. Don Gaetz was quoted pledging his allegiance to Lewis Bear Jr., a personal friend.
Gaetz's comments came in the midst of a protracted battle over the state's alcohol laws. The trouble started when craft brewers in the state began lobbying the Legislature to lift a prohibition on 64-ounce bottles. The containers, known as "growlers," were the most popular size among consumers and, at the time, were legal in all but three states.
This seemingly innocuous issue touched off a much larger debate, with the state's wholesale lobby using the growlers as a bargaining chip to clamp down on craft brewers' retail activity. Since Prohibition, Florida law had mandated a "three-tier" alcohol industry consisting of brewers, distributors and retailers, each of whom was prohibited from operating in more than one tier.
Craft brewers had begun to exploit a loophole, though, that allowed them to circumvent the law if they could be characterized as a "tourist attraction." This exemption was first approved by the Legislature at the behest of Anheuser-Busch, so the company could sell beer at its Busch Gardens theme park.
The wholesale lobby claimed that, if this loophole weren't closed, the whole three-tier system could fall apart — leading to vertical consolidation that could hurt small business and threaten public safety by flooding the market with cheap alcohol.
After three years of litigation and legislative wrangling, the two sides finally reached a compromise last year, legalizing growlers while also limiting the number of taprooms a brewery could operate.
Bear saw the compromise as a victory for the entire industry.
"Certainly in a state like Florida, where we're conservative and Republican and you want free enterprise, people ask why there is such regulation," he said. "But alcohol is a regulated industry because it can become dangerous if it's not regulated properly — Prohibition is a good example."
Disruption Ahead
Looking ahead, Bear sees more disruption on the horizon. The craft beer industry, which has enjoyed explosive growth over the past decade, is starting to consolidate, and Bear speculated about what this would mean for the business.
"Obviously, they'll have more resources to put behind brands," he said, "so they can invest more in marketing and people on the street to increase distribution and grow sales, but, at the same time, they'll also get a little more leverage on us. They'll want to start looking at market share and volume growth, and they'll do that through discounting and pricing adjustment."
Bear said he anticipated his margins on the craft brands, which currently hover 30 percent to 50 percent above what he makes on his Anheuser-Busch products, would begin to shrink.
He is already looking for the "next big thing" in the industry. In recent months, the company has begun to pick up more craft liquor brands. Craft distilleries are beginning to sprout up across the country, and Bear said he expects the industry to follow a similar course to craft beer.
This time, Bear said, he wants to get in on the "ground floor."
Whatever happens, though, Bear said the company's commitment to playing the long game and improving its community would remain central.
"It's not just about making bigger profits today," he said, "but also asking what can we do to ensure the protection of our business and our industry and improve our community."