Lesley Visser: 'Never Crush Somebody's Dream'
Journalism pioneer shares with Women United the importance of breaking new ground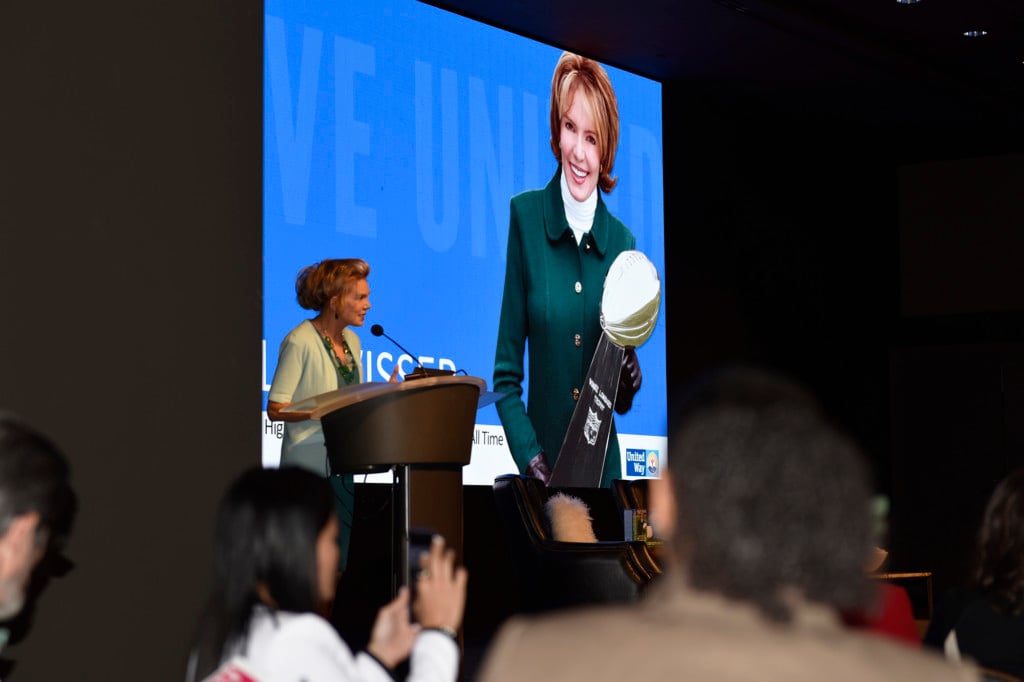 Lesley Visser recalls the moment when she knew she would blaze a trail of touchdowns for women.
It was 1963. She was 10 years old and crossing a street with her mother, who asked her daughter what she wanted to do when she grew up.
Visser told her mom that she wanted to be a sportswriter.
"Which, of course, was like saying, 'I want to go to the moon,' " Visser said Tuesday in Tallahassee. "Instead of telling me to forget it, my mother said, 'That's great. Sometimes you have to cross where it says Don't Walk.' "
Visser never stopped. She became a sportswriter for The Boston Globe in 1974, still an era of particular hostility toward women in the press box.
She would go into sports broadcasting and become an American sports icon as the first woman to join ABC's "Monday Night Football." She would go on to achieve scores of other firsts.
She's now a member of National Sports Media Association Hall of Fame, joining the likes of Dick Vitale, John Madden and Brent Musburger.
Women such as Pam Oliver, Hannah Storm, Doris Burke and Jemele Hill would follow. Today, women journalists boast a regular presence on networks such as ESPN and maintain top positions in the studio, on the sidelines and in the press box at major sporting events.
For Visser, it started with validation of a dream from her mother.
"It gave me that permission," she said. "And I think we all have to remember that. Never crush somebody's dream because … you don't know who you could become."
Visser, 66, made her comments Tuesday as keynote speaker at the 3rd Annual Women United Leadership Breakfast at the Turnbull Conference Center. She spoke to a roomful of women, plus a handful of men including Florida State University men's basketball coach Leonard Hamilton, about her experiences and about Women United.
The organization calls itself a global force of women dedicated to creating opportunity for all. It does its work as part of the United Way's self-proclaimed mission of lifting up communities.
Organizational and business leaders Berneice Cox, Madeline Pumariega and Michelle Ubben spoke about the power of women, especially when they're united. They also spoke about the needs of the region, including Leon County, and about the urgency to give. Some 54 percent of Big Bend households — more than 72,000 families — can't afford the basic costs of living, according to the United Way.
"Thank you so much for the contributions you make," Visser told the crowd. "The answer in our country in all areas is giving. … The dollars equal help, which equals hope."
Visser shared experiences about several other topics, including:
Her early days as an NFL writer for The Boston Globe: "When I would go to cover a game, the credentials would say, 'No women or children in the press box,' which was so diminishing. But I've always had this attitude of gratitude. I wanted to be a sports writer, and now I was covering the NFL, and 'OK, I can get past this.' I had a lot of tough nights back in the hotel room. But how about this one, ladies? There were no ladies rooms — because, of course, I was the first woman.
"So this is actually what I would have to do: I was 23 years old. And the Patriots, then, had the ball usually for about 10 seconds before they punted. So I would be in the press box, and I would say to myself — the Patriots would have the ball, first and 10 at their own 20 — 'Can I get down the elevator across the field, go to the bathroom and get back up before they punt?' "
Tennis legend Billie Jean King: "How many of you remember when Billie Jean King played Bobby Riggs? I really believe that that was the seminal moment of the women's movement — 1973. It was about gender equity, financial equity, social change. … Every aspect of it was important. And I remember thinking, 'Gosh, she took that on.' She's been one of my idols forever."
Other women pioneers: "Thank you, Sandra Day O'Connor, the first woman on the Supreme Court. Thank you, Sally Ride, the first to go up in space. There are people who have the drive and the passion to get off the boat and clear the land, and we have to always encourage all those people. All of us have reached out to people, and we have had people reach out to us, which is part of what your group is here: You aren't just helping all those families — you're actually a sisterhood of your own. You're helping each other."