Leaves and Bounds
At Trulieve, business is budding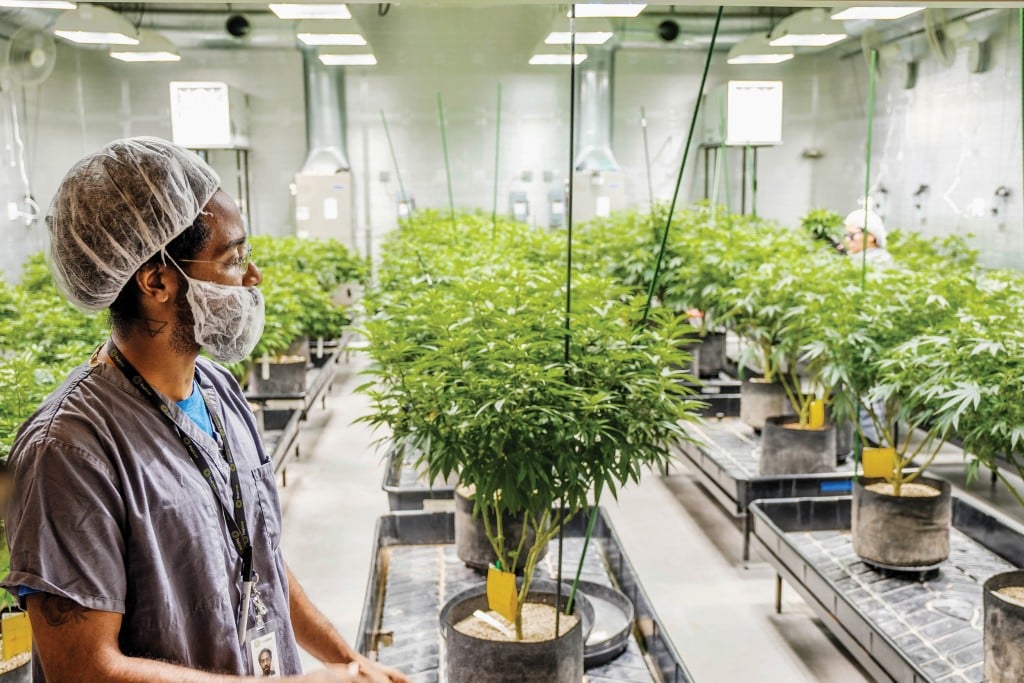 Upon completion, Trulieve's 750,000-square-foot medical-marijuana growing compound in Jefferson County, will be a first.
The massive structure is equal in size to three Walmart Supercenters combined. Together with ı2 other buildings on the 85-acre site off U.S. 27 near the small rural community of Waukeenah, it will comprise ı.3 million square feet of interior cultivation space. And, it will be fully automated.
"There's no other like it in the country," said Trulieve construction manager Gordon Oakley, who helped design the building. "We've applied for a patent on it."
He believes the mega-structure represents the way forward for Trulieve, in terms of scale and automation.
Oakley clarified that when he said the facility is unique, he is referring to the marijuana side of the nursery industry. Automation, he explained, has existed on the ornamental plant side for a while. Trulieve's automation, however, is specifically designed to meet the needs of growing and processing marijuana.
It's not Trulieve's first first.
The Gadsden County-based company, the nation's largest medical marijuana retailer, was the first in Florida to cultivate and market medical marijuana, establish dispensaries, sell smokable and edible products, and now embrace automation.
"Over there," Oakley said, referring to the multiple buildings next door, "manual labor moves everything. Here, a control system will run everything — the lights, dehumidification, watering, watering mixture, everything."
Conveyors belts will move the plants throughout the building during their various stages of development — from seedling to flowering, harvesting and drying — with a minimum of manual handling.
"It'll cut the labor considerably," he said, noting that recruiting employees remains a challenge for Trulieve, despite offering above-average wages, generous benefits and opportunities for advancement.
The Jefferson County facility focuses strictly on the growing of marijuana plants, whose harvested parts are shipped to Midway and Quincy for processing into the finished medicinal products sold statewide.
Alexander Hudson is Trulieve's Florida director of cultivation. He gave City of Monticello officials a tour of the secured facility, both to show off the operation's sophistication and in an effort to persuade them to extend city sewer service to the site.
Fred Beshears, owner of Simpson Nurseries in Jefferson County and a proponent of the sewer extension, arranged the tour. Simpson is one of three longstanding nurseries whose partnership launched Trulieve, which was one of five vertically integrated medical marijuana companies licensed by Florida in 20ı5, a year after lawmakers approved medical cannabis for epilepsy and cancer treatments.
In 20ı6, the state's voters approved a constitutional amendment that further expanded the use of medical marijuana. Ever since, Trulieve has been growing by leaps and bounds.
Construction on the Jefferson County facility began in 2020. By 202ı, it produced all the marijuana used in medicinal products statewide and employed upwards of 300 people, making it the county's largest private employer. Trulieve, moreover, plans to hire another 300 in the coming months, and up to 700-plus eventually.
On the tour, officials were required to show IDs and don lab coats and hairnets before entering the buildings. The operation's security, safety and quality-control measures were everywhere evident. Hudson led the group through sundry rooms stocked with innumerable plants in various stages of development.
One room Hudson called the genetic library.
"These are our mother plants," he said. "There are about 30 cannabis cultivars. If the marketing or sales teams say we need more of something, we'll take cuttings from one of these plants and reproduce it."
Particular cultivars, Hudson explained, have properties that determine the types of medicinal products derived from their "offspring."
Equipment in the rooms maintains optimum growing conditions for the plants to the point of the artificial lighting mimicking the quality of autumn daylight to induce the plants' flowering and fruiting.
"We manage everything, from humidity to temperature to light intensity," Hudson said. "The whole nine yards. It's all measured multiple times daily to ensure we get the absolute maximum from these plants' lifecycles."
Pruning also was critical, he said, to eliminate the plants' nonproductive parts and ensure uniform top canopies that optimized light and water absorption.
A popular misconception, Hudson said, is that the medicines come from the leaves. They actually came from the flowers.
"This is what we're trying to maximize," he said, holding up a flower head. "This is what brings the money."
Leaving the facility, the city officials appeared duly impressed with the operation and favorably inclined toward the company.
A recognized industry leader and pioneer, Trulieve's footprint grew larger in late 202ı with its acquisition of the Arizona-based Harvest Health and Recreation. It now boasts locations in ıı states, 3.5 million square feet of cultivation and processing space, and more than 8,500 employees.
Publicly traded on the Canadian exchange, politically connected and consistently upbeat with reported profits, Trulieve is generally viewed as poised for accelerated growth and expansion.
Experts also see the company as well positioned to capitalize on recreational marijuana in Florida, should the state or federal government legalize its use.