Land Deal with Amazon goes to closing
E-commerce giant has plans for huge fulfillment center in Tallahassee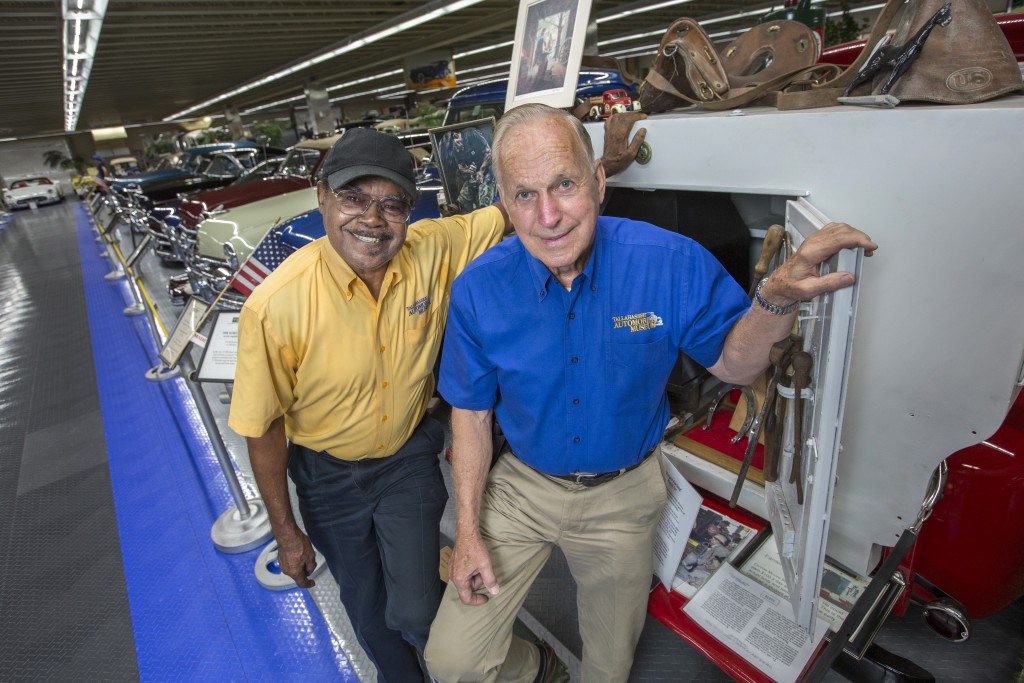 The sale of property by a Tallahassee businessman to Amazon for the development of a massive fulfillment center was scheduled for closing on Friday.
The seller, DeVoe Moore, owner of the Tallahassee Auto Museum, said Amazon approached him months ago and that the ensuing negotiations have been the most difficult he has experienced. He declined to disclose the sale price. 
"They are a very big outfit and they expect everyone to lay down," Moore said. "But that's not my nature."
The project will occupy five parcels totaling 170 acres north of Mahan Drive between Thornton Road and Interstate 10. The fulfillment center, Moore said, will closely mirror one that Amazon is developing in Tampa. He said it will measure 2.8 million square feet and be constructed to a height of 100 feet.
Moore purchased the bulk of the property involved — 102 acres — from William Hopkins 20 years ago following an encounter at what was then Moore's regular lunch spot.
Moore recognized Hopkins as he approached him at the Rose & Thorn Restaurant on Mahan Drive. He was a large and familiar man, a former 2nd Judicial Circuit state attorney who in 1959 famously prosecuted four white defendants charged with the rape of a black FAMU co-ed. Too, Moore had purchased 35 acres along Mahan Road from Hopkins' nephew.
Major League Baseball's Tampa Bay Devil Rays, as they were then called, had issued Moore a contract to develop a ballpark on those acres for a Class AA minor league affiliate, but the contemplated project drew local opposition from people concerned about noise and lights. The county, ultimately, did not allow the project to proceed.
"Mr. Hopkins got my attention and told me, 'I'll give you 48 hours,' and my first thought was that he was telling me to get out of Dodge because there was all of this controversy going on about the ballpark."
But that wasn't it at all. Instead, Hopkins had land to sell adjoining the property that his nephew had sold Moore.
"He gave me a price and said he'd give me 48 hours to decide whether to buy it and after 48 hours, it wouldn't be for sale," Moore recalled.    
"He turned around and walked off," Moore said. "I could have told him right then that I'd take it, but I didn't."
A day later, Moore went to see Hopkins after discussing the proposal with a friend, Fred White, and his attorney, Charles Gardner, at the Rose & Thorn.
"We chatted for a few minutes and I said, 'Mr. Hopkins, you can do a little bit better on that price, can't you?'"
Hopkins didn't budge.
"So, I told him that in that case I was gonna have to buy it for what he was asking," Moore, recalling that the price was "two, maybe two-and-a-half million." 
Moore had had his eye on the property for more than 30 years. As an FSU student who worked as a blacksmith and farrier, Moore traveled Thornton Road on his way to shoe horses for an auto dealer, a lawyer and a contractor. Work on the routing of I-10 through Tallahassee was underway and, even as a college student, Moore knew that he was surveying land that would be highly valuable one day.
"It was like the prettiest girl in school," Moore said. "I really wanted it, but I didn't know how I was ever going to get it."
Moore said the Tallahassee Auto Museum and his nearby house will not be affected by Amazon's project, which he said will employ more than 1,000 people.
He has already begun to think about converting the house to a restaurant and has purchased 510 acres across I-10 where he plans to build a new residence. When he built his current home, he said, he laced it with electrical conduit and equipped it with an elevator anticipating that he might one day convert it to commercial use.
Moore, 82, said he plans to bequeath the newly purchased land to his two grandsons. One is currently in high school and the other is a new graduate of Barry College.
"Amazon wants to open up in the fourth quarter of next year," Moore said. "This will be the biggest thing that has ever hit Tallahassee. The permitting is in place to allow for it."
Moore said some people will be unhappy about the project.
"A few people are talking about traffic," he said. "But mostly what I hear is that people are looking forward to it because it is something different from government. Tallahassee has relied on government for all these years and now you've got something that is going to make a big difference."
The Amazon project never would have been a possibility had the baseball park plan succeeded, Moore said.
About the opponents of the baseball stadium, Moore offered, "If they had a choice today between the Devil Rays and Amazon, they'd probably choose baseball."