Lake Tribe Brewing is Diversifying Tallahassee's Craft Beer Scene
The brewery, which employs about 10 people, joins a growing Tallahassee craft beer industry.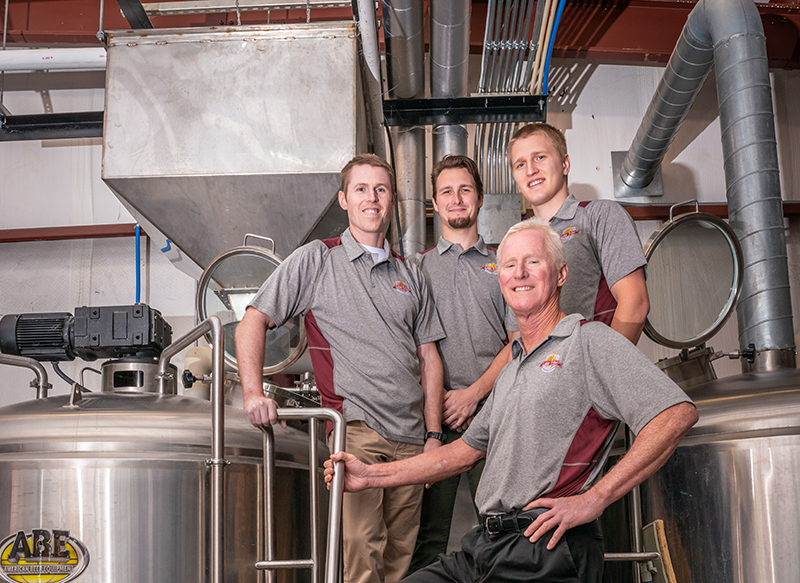 A beer brand that trumpets American Indian themes believes it's blossoming in a city that cherishes its Seminoles.
Tallahassee's Lake Tribe Brewing prods you to "Find Your Native Spirit" through offerings such as Long Paddle lager, Old Chief IPA and Pow Wow Session IPA. Its logo flaunts a flame, and its Facebook page encourages visitors to "Join the Tribe."
Yet the company's founders said they never sought to seize a Florida State University-related opportunity.
"That wasn't our intention when coming up with the brand," co-founder Jason Ross said.
The company's name and theme instead stem from the founding family's experiences from years of camping with other families as part of the YMCA's old Indian Guides — now Adventure Guides — program.
The camping group called itself Lake Tribe, and it continues to get together, sharing an appreciation for good beer and the great outdoors, the company said.
"It's just a unique experience," Ross said of entrepreneurship and the business. "It's almost like a counterculture to the fast-paced lifestyle and bringing it back to enjoyable beer and the amazing ingredients that you can try with beer and the amazing flavors. It's all about restraint and enjoying things."
Jesse Ross, Jason's brother, said he and his brother and father consider themselves especially big fans of beer and craft breweries. During a visit to a brewery around 2010, he said, "My brother and I started thinking, 'Why not us?' "
They brewed a batch, liked what they tasted and, about four years ago, started Lake Tribe Brewing Co. Jesse is president and chief brewer, Jason head of marketing and Connor, their father, head of operations.
Lake Tribe, which employs about 10 people, joins a growing Tallahassee craft beer industry that also includes Deep Brewing Co., GrassLands Brewing Co., Ology Brewing Co. and Proof Brewing Co.
The company insists it doesn't see the others as competitors, emphasizing that fellow brewers tend to help rather than hurt each other.
"I think it's very much a camaraderie," Jason Ross said. "We go to their events, and they go to ours. I think it's the concept that the rising tide raises all ships."
Lake Tribe believes that its Native/natural theme raises all sips. In a salute to their father, the company created Red Cloud IPA. Connor Ross had gone by "Red Cloud" in the YMCA Indian Guides program.
"That was the very first beer that we brewed," said Jesse Ross, who noted his and his father's appreciation for IPAs. "It kind of naturally came out with a red hue and a little cloudiness. It kind of feels and smells like you're walking though the woods."
The company says it has generated about 50 beer recipes and keeps 10 to 14 on tap. It began canning this past summer, beginning with Red Cloud IPA and Beckster's Satsuma wheat ale, which it touts to include "locally grown Satsuma oranges."
Its brewery, near Capital Circle Northwest, includes a colorful, high-ceiling taproom, where customers can watch sports programming projected on a wall.
The site also features a woodsy seating area that includes new picnic tables, a bean-bag game area and space for a band; Lake Tribe often features live music on Fridays or Saturdays to accompany taproom hours on those days. The company recently decided to expand tap-room hours to Thursdays.
Along with the other Tallahassee breweries, Lake Tribe aims to keep them coming.
"In our region, we're just having fun teaching people about craft beer," Jason Ross said. "I think we're just starting to see what it can be, how much beer there is to go around."