Keeping Talent At Home
Working with startups and entrepreneurs is a focus of Economic Development Council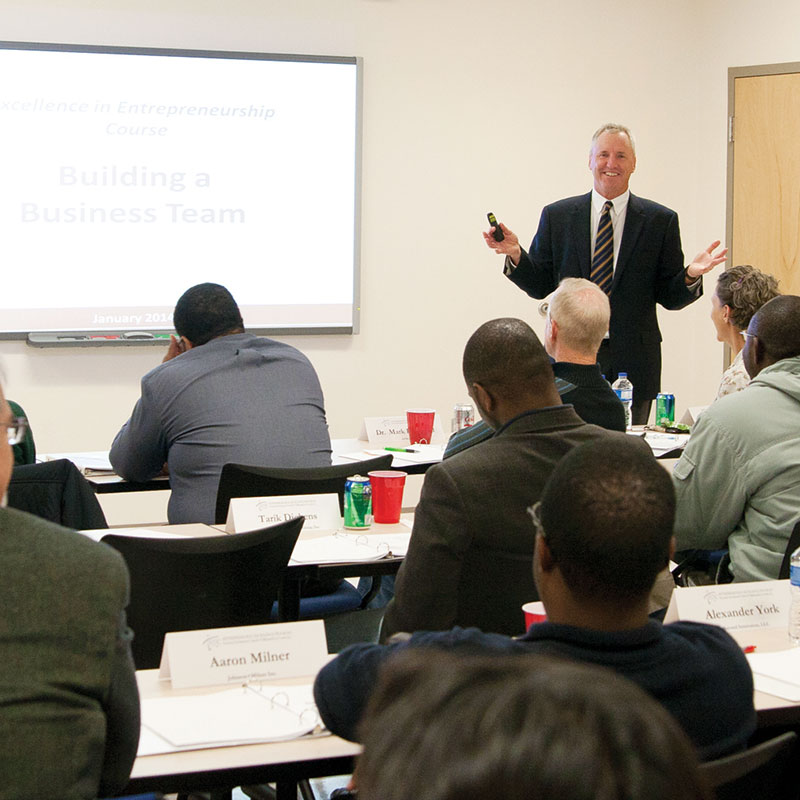 For two months they gather together to learn how to build a strong business, how to handle finances and legal affairs, how to best present their product to potential investors and then sell and market it.
In the past five years, 115 local business teams have participated in the Entrepreneurial Excellence Program run by the Economic Development Council of Tallahassee/Leon County — a nine-class course designed to help the region hold on to its homegrown talent and ideas and help them have success. The program utilizes local business professionals with expertise in a wide range of needed skills and experiences in areas such as legal, marketing, sales, team building and financing.
A recent survey of EEP graduates revealed that 70 percent of the respondents said they were still actively in business, 20 percent said they had not yet started their business idea or have chosen not to start it and 10 percent said they had started their business but then decided to shut it down. Another interesting fact: EEP companies currently have over 170 employees and anticipate having more than 500 on the payroll in three years' time.
Recent graduates include GrassLands Brewery, which was named the Chamber of Commerce startup business of the year in 2014, and HWind Scientific Inc., a real-time hurricane wind analysis system recently acquired by Risk Management Solutions, the world leader in risk modeling.
"I am grateful to the EEP program for giving me the opportunity to learn from a community of successful business people and for providing access to a wealth of start-up resources," says Mark Powell of HWind Scientific.
Steve Evans sits on the board of directors of the Jim Moran Institute of Global Entrepreneurship at Florida State University and is a judge on the panel that listens to the final business presentations of those who participate in each EEP program, giving guidance on where to go next. "The results have been dramatic," he says. "You sit back and listen to these men and women and they're from all over. The variety of companies goes all over the board."
The program is run by Larry Lynch, a 30-year veteran of IBM who joined Florida State University to work with the Office of Intellectual Properties and Commercialization before moving to the EDC in 2010.
"By matching teams with incredible passion and great new business ideas with existing business leaders in our community who have valuable business and life experiences and a strong desire to share those gifts, EEP has created a recipe that will shape the economic business ecosystem for a stronger, more diverse economic landscape," says Lynch.
Aaron Milner of J+M Inc. is one of the graduates who says the EEP program gave critical guidance in development of his business.
"Particularly we were able to identify what our competitive advantage in the marketplace is, as well as the importance of measuring our marketing program for effectiveness. Each night (session) was relevant to the problems we face as entrepreneurs, and we learned a wealth of valuable information from all the speakers and staff," he explains. "We witnessed the benefit of the program in real time as our classmates adjusted their original ideas according to the insight they obtained throughout the course."
Whether it is working with one of the local business executives who participates in EEP, or being a part of a business incubation center like Domi Station, EEP graduates continue to be a part of the Tallahassee entrepreneurial family, a long-term commitment by the EDC to the ultimate success of the newly formed business ventures that have come through the program. This kind of a long-term relationship with new startup community members also allows the county to more accurately judge success rates and decide what should be done to accelerate success.
"We have had teams from all walks of life and backgrounds. They include many FSU/FAMU-based research professors who are working to commercialize their efforts inside the labs of their universities. They include brand new college grads who have decided they want to make Tallahassee their home and start new businesses that will allow that to happen. And it includes members of our community who for one reason or another found that their current careers were not the ones they wanted for a lifetime."
---
Jason Dehart contributed to this report.