Keeping It Clean
Fast-growing Santa Rosa values its quality of life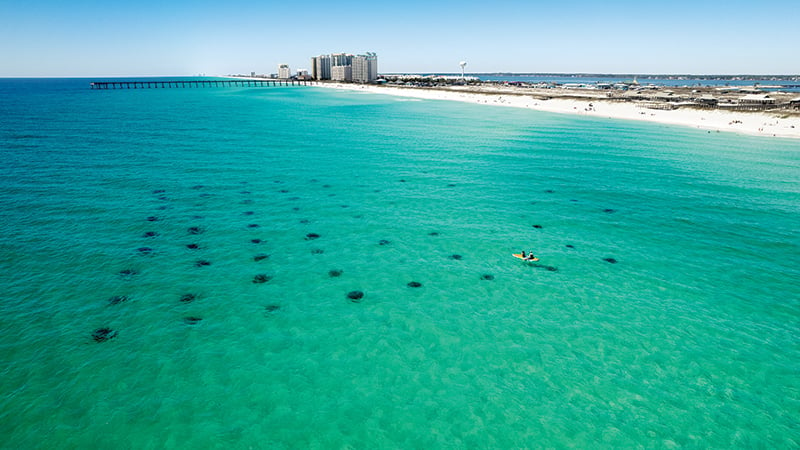 When Donna Tucker returned to Milton from a two-week vacation in Tennessee last year, she counted 10 new construction sites on her way home.
Tucker, the president and CEO of the Santa Rosa Chamber of Commerce (SRCC), wasn't surprised. "It feels like a daily occurrence," she said. "Anywhere you go, there's something new that wasn't there before."
Tucker has led the SRCC since 2000 when the county comprised little more than commuter neighborhoods for people working in Pensacola and Crestview. Santa Rosa's economy was modest and made up mostly of small businesses. What trifling tourism the area attracted was restricted to the county's south end, and chamber membership was a third of what it is today.
Now 640 members strong, the SRCC has expanded along with Santa Rosa, now one of the fastest-growing counties in the United States. Tucker estimates that the growth started happening about eight years ago.
"It happened slowly, then all at once.
"The most dramatic changes happened during COVID," Tucker said. "Florida remained a publicly open state, and we became inundated with phone calls. Ecotourism soared, and you could hardly book a campsite with all the people who came to kayak, fish, golf and hike."
Tourism's emergence as a dominant industry in Santa Rosa differs from that of neighboring counties, as it extends beyond the beach. Tucker said thousands of horses and riders travel Blackwater River State Forest's equestrian trails in Milton each year. She had recently spotted six Greyhound buses at the Pace soccer fields for a tournament, and she noted that the Gospel Projects Youth Athletic Club annually hosts its tee ball world series in Milton.
"People don't even know that Milton, with the most connected, navigable miles of waterways in the state, is the Canoe Capital of Florida," Tucker said. "Again, it's something that really picked up during COVID. You couldn't fly, so we were very much a drive market. People flooded in and, like many of us, fell in love with the area and never wanted to leave."
New residents began investing in the region and started businesses. Tucker said that in her 22 years at SRCC, she has never seen more entrepreneurs and female-owned and minority-owned businesses successfully launched.
Tucker attributes much of this boom to social media. Facebook has been invaluable in "getting the word out," she said, to the point that the SRCC hasn't bothered with any campaign-based outreach.
"What we've done is made our board of directors and ambassadors more engaged with our Facebook page," she said. "When a new member comes aboard, we all like their page and share their posts. I think about 99% of our members have my cell phone number, and I encourage them to reach out when they have something worth sharing so we can all work to push it out."
She recalls one instance during the COVID-19 pandemic nationwide shutdown when a local Mexican restaurant was selling gallons of to-go margaritas with takeout orders. The SRCC shared the promotion on their page that morning, and by the time Tucker swung by the restaurant in the afternoon, there was a line out the door.
"One of the benefits of a small town," she said, "is that word travels fast.
"It might sound cliche, but I believe Santa Rosa's main draw is its quality of life," Tucker said. "I always say that this is one of the few communities I know of where you can walk into a grocery store, strike up a conversation with somebody and, two days later, find yourself at their house for a barbecue."
Tucker said Santa Rosa is also a grade "A" school district and is attractive to families. It has strong ties to Eglin Air Force Base, and the county's five industrial parks are "maxed out."
"For our SRCC leadership class, we take our participants out to these industrial parks. And by the end of the day, their jaws are on the floor," Tucker said. "Because they're off the beaten path, no one hops in their car to tour these places to see just how much we have."
That leadership program is designed to familiarize chamber members with their community. Each leadership class includes 35 participants who spend the third Thursday of each month touring Santa Rosa's various facilities, businesses and organizations to learn about their operations and glean ideas that they can use in their own businesses. Some 1,400 people have graduated from its inception.
SRCC headquarters was built in 2020 after three years of taking in donations and fundraising. It is a replica of an 1840s-style plantation home, a design which Tucker believes "speaks to our past but also our future."
"The coolest thing is Lisa Mackenzie of Mackenzie Motors donated $50,000 for the construction of a meeting room," Tucker said. "Between nonprofits and startup business meetings, it stays full."
Over the next 10 years, Tucker anticipates that Santa Rosa will focus on clean industry, and she hopes it will successfully tackle the need to provide attainable housing.
"What will remain strong, I hope, is these entrepreneurs and small businesses," she said. "They have found a climate here in which they can really thrive. Watching these people, I swear, you can become addicted to it. There's nothing better than seeing these new business leaders come out of their shell, take chances and be rewarded with success."
---
Santa Rosa County Community Profile
Source: Applied Geographic Solutions, Florida Chamber of Commerce
Total Population: 195,904
Age Distribution:
0–9: 22,709
10–19: 26,183
20–29: 22,615
30–39: 25,175
40–49: 26,334
50–59: 26,053
60–64: 13,179
65+: 33,656
Educational Attainment:
<Grade 9: 2.06%
Grade 9–12: 6.32%
High School: 27.27%
Some College: 23.65%
Associate Degree: 13.60%
Bachelor's Degree: 17.13%
Graduate Degree: 9.96%
Okaloosa County Metrics
5/08/2023
» Jobs added: 3,207
» Children in poverty: 11.0%
» 3rd Graders Reading at grade level: 65%
» Housing permits issued: 12,091
» Sales tax revenue: $21.53 million
» Poverty rate: 8.8%
» Land in conservation: 40%
---