Jump-starting the Job Market
Navy Federal's expansion is a boon for Escambia County.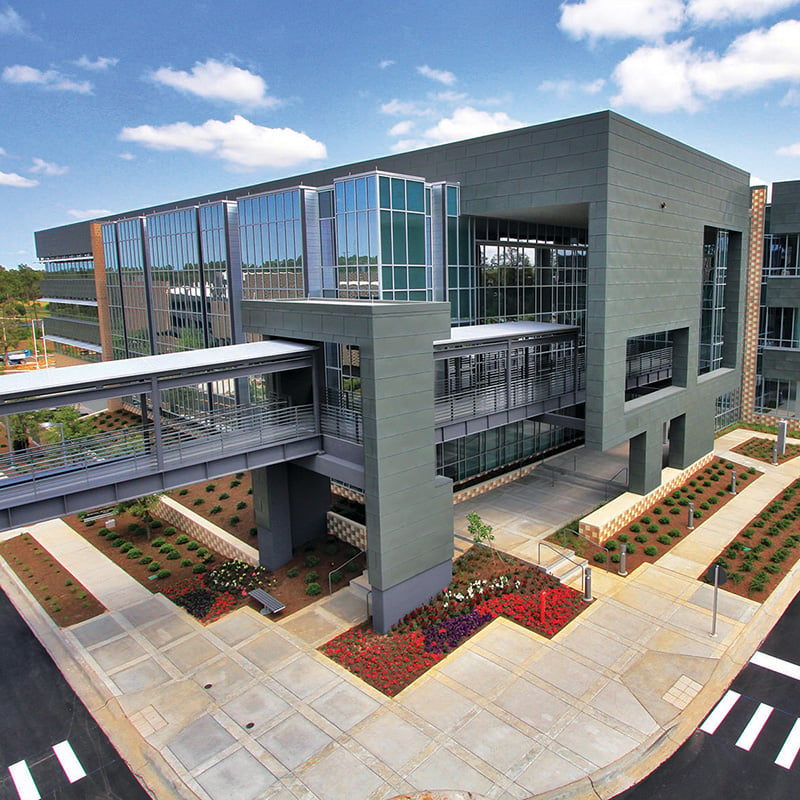 The clean-cut, athletic Marine begins his story:
"For years I've trained dogs for the Marines. And like me, some of these dogs have seen many tours of duty."
The Marine's deep voice and solid build make you think of someone who is disciplined, competent and knows how to lead. He continues: "And for the past 15 years, I've been a Navy Federal member. Thanks to their fast approval process, when it came time to buy a new car, we got everything we needed to transport my wife's little bundle of joy."
The camera pans out to reveal his shiny silver truck, then zooms back in to show a panting, fluffy Pomeranian sitting next to him in the front seat. The Marine and dog exchange wry glances, then he looks back at the camera and adds, completely deadpan, "Who I just adore."
This recent Navy Federal Credit Union commercial hits on all the credit union's strong points: its commitment to serving members of the armed forces and Department of Defense employees and their families, as well as the benefits the credit union is able to offer its members, such as a fast approval process for car loans.
The credit union's popularity has led to a lot of growth in recent years, and although it started in 1933 with only seven members, it now has 292 branches and more than
6 million members around the world. Navy Federal's growth has benefited Florida and the Pensacola area in particular, as many of its operations are based in Escambia County, where it is in the midst of a two-phase expansion process that will lead to the creation of thousands of new jobs.
Escambia County: The Perfect Place to Expand
In the early 2000s, Navy Federal was looking for places to expand beyond its headquarters in Vienna, Virginia. The company looked at several different sites but eventually settled on Pensacola. Navy Federal opened a call center in the area in 2003 that employed about 300 people, and has continued to expand its operations in Escambia County since then.
"The talent pool has exceeded our expectations and is the main reason for the growth, along with the growth of our membership," notes Debbie Calder, the credit union's executive vice president.
Currently, Navy Federal employs more than 5,000 people in Escambia County, most of whom work on a 308-acre campus in the Beulah community. In addition to being home to a call center, the campus also features several other business units, including the credit union's IT department, savings and membership, branch operations support, consumer lending and mortgage processing.
Prior to Phase 1 of the current expansion project, there were four buildings on the campus, for a total of 600,000 square feet of office space. According to Navy Federal public relations specialist Bill Pearson, Phase 1, a $245 million endeavor, is scheduled to be completed in January 2017 and will add two more buildings to the campus (for an additional 400,000 square feet of space.)
Phase 2 of the expansion, which involves constructing another two office buildings that will add another 1 million square feet of space, began this past summer and is scheduled to be completed by the end of 2019 or beginning of 2020, depending on how quickly the project progresses, Pearson said. The project appears to be continuing as planned despite the fact that Navy Federal had to pay $28.5 million in penalties in the fall of 2016 to affected customers and the Consumer Financial Protection Agency due to alleged deceptive debt collection practices.
Asked about the incident, Calder referred to a statement that Navy Federal issued, which states, "Where our Collections practices have come up short in the Consumer Financial Protection Bureau's estimation, we have made all the necessary changes. We have cooperated with the CFPB throughout the process." The statement also reiterates the credit union's commitment to "upholding our standards of service excellence."
Despite this setback, Navy Federal was rated No. 44 in 2016 on the list of Fortune's "100 Best Companies to Work For." The company is poised to become one of the biggest employers in Escambia County, as once the expansion process is complete, the Pensacola campus will employ about 10,000 people.
The campus will include some amenities for its employees, such as a fitness center, training center, café and coffee shop.
An Economic Heavy Hitter
For a city of just over 50,000, Navy Federal's expansion in Pensacola represents major growth in the number of jobs available. Data from the University of West Florida's Haas Center for Business Research and Economic Development indicates that as of November 2016, more than 8,800 jobs had been created in the Pensacola area thanks to Navy Federal. (This includes jobs in other sectors, such as construction and retail, which have been created as a result of the company's presence in the area.)
The total earnings impact (the aggregate earnings of all jobs) amounts to slightly more than $444 million.
"Just overall, they are probably the largest attraction and expansion project in Northwest Florida," said Scott Luth, the executive director of Florida West, which advocates for economic development in Northwest Florida. "And having a company such as Navy Federal in the area continues to lead to more opportunity for growth."
Pensacola Mayor Ashton Hayward agrees, saying he thinks more companies will want to make Pensacola their home knowing that a large and well-respected company such as Navy Federal has based a large share of its operations there. He also thinks Navy Federal's expansion will help Pensacola grow as a city.
"This is going to be a huge draw for obviously the folks that are in the pipeline at our universities," he said. "Our talent that's here in Pensacola (will benefit), but also folks that are looking to move to Florida and work for a tremendous company like Navy Federal."
---
The breakdown of jobs created in Pensacola by Navy federal as of November 2016:
Construction (261)

Retail (448)

Finance and Insurance (5,446 — which includes Navy Federal and other industry jobs)

Professional Services (268)

Administrative, Support and Waste Management (371)

Health Care (452)

Accommodation and Food Service (533)

Other Services (302)