John David Johnson Talks About New Gun Range in Midway
Talon Range is state-of-the-art shooting fun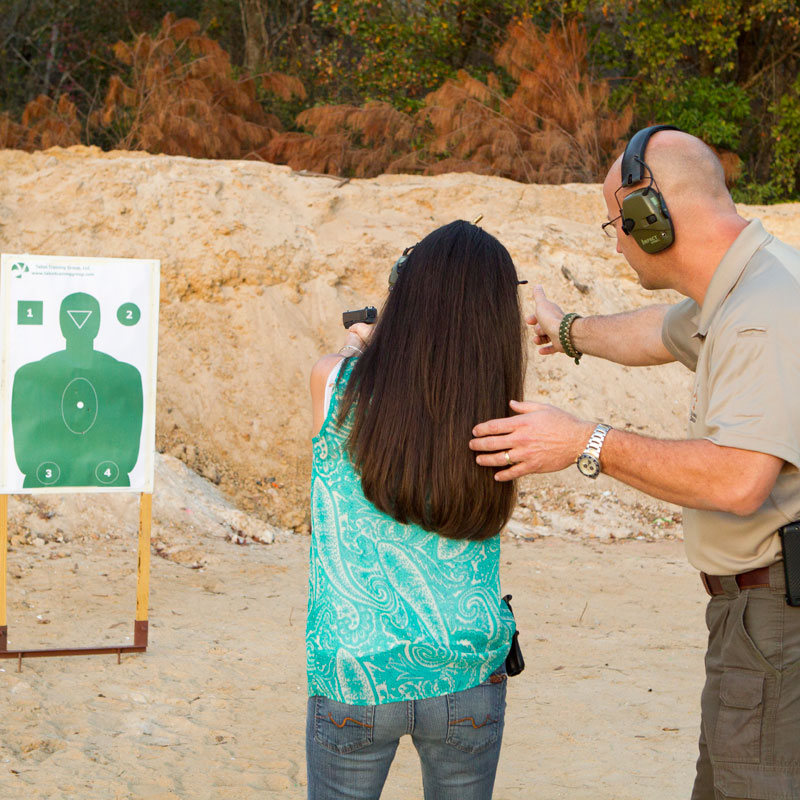 John David (J.D.) Johnson talks about the new Talon Range in Midway with no small hint of pride in his voice. Especially when he talks about the vacationing Chinese family that showed up out of the blue one day to see what the range was all about.
"I don't know how they found us, but they went through the safety briefing and got to shoot guns," he said.
Coming from a country where private gun ownership is generally outlawed, the five-member family was able to get a taste of what the Second Amendment is all about. They rented a .22-caliber semi-auto rifle and a handgun, the Talon staff reviewed safety procedures with them and before long they were plinking away on one of the three-sided pistol bays. It may have been the highlight of their trip to the States.
"They had never shot or owned a gun before," Johnson said. "But they had the biggest smiles on their faces when they left. We made their day and maybe their whole vacation. Things like that is why we're doing what we're doing."
Johnson is one of the co-owners of the new range, along with Charlie Strickland and John Rasmussen. Located in Gadsden County near Midway, the range is right across the Ochlockonee River west of Tallahassee and is strategically located next to Interstate 10 (Exit 192). This site was chosen specifically because not only was the right amount of land available, but hotels, gas stations and restaurants are all just a few minutes away from the range. Having those accommodations close at hand is important. The range is expected to play host to a variety of high-profile shooting competitions that are sure to pull in shooters and families from all over the Southeast — and bring some needed cash flow into the local economy.
Strickland in particular is hoping the range does well, considering the various challenges associated with an enterprise of this nature.
"It was a huge endeavor. We're not developers. It was a bit overwhelming," Strickland said. "But thankfully our friends at Ram Construction and Genesis Engineering walked us through it, figuring all this out. They helped us out a lot."
Indeed, for what the business partners wanted to accomplish, it's no small-time setup. The full-service outdoor range features indoor, air-conditioned classrooms and restrooms (complete with all the amenities, including hooks to hang your gun belt), a pro shop stocked with shooters' supplies (and guns you can rent) and a clubhouse. Outside, the range itself features several private shooting bays, each isolated from the others by tall earthen berms on three sides. There are 10 individual shooting ranges for handguns (five 25-yard bays and five 15-yard bays) and five competition ranges (three 30-yard bays and two 50-yard bays). Plus, there's a 200-yard rifle range, 400-yard rifle range, a trap/skeet range for shotgun shooters and an area set aside for archery. The range was purposely designed to appeal to a wide range of shooting enthusiasts.
Johnson, the "sportsman of the bunch," relishes having a facility where competitive shotgunners, archers and bow hunters can polish their craft.
"Hunting was a huge tradition in my family, especially quail hunting. But in this country, unless you own a plantation or have access to one through whatever affiliations, you really can't quail hunt anymore. It's difficult. You have to own a lot of land or know somebody. So I'm looking forward to getting the trap and skeet and sporting clays going," he said. "Most people that like guns and target shooting are into archery as well and hunting with bow and arrow, which is why we're doing a 3-D archery trail, with life-size 3-D targets in a hunting situation, in the wood where you walk the trail and look for the animal and shoot the target."
Scott Holstein
Operators hope the recently opened Talon facility will grow large enough to host NRA-sponsored competitions in the future.
Meanwhile, competitive pistol shooting is also a huge sport that Talon hopes to draw. The United States Practical Shooting Association (USPSA) fields some 400 affiliated shooting clubs across the nation. The International Defensive Pistol Association (IDPA) boasts a membership of 22,000 and has members from 50 foreign countries. The Steel Challenge Shooting Association likewise has a large following.
Rasmussen, a 17-year competitive pistol shooter, said the range is now hosting Steel Challenge and USPSA events, and he's banking on the economic boost the range could have as other types of shooting events are added to the lineup.
"I've been shooting here in Tallahassee for probably 13 years. And since I've started shooting here, we've never had an adequate facility to shoot the type of active games I shoot in, and that was one of the main focus points when the range was being conceived," he said. "Within a year we plan on hosting large state level matches. Hundreds of people will be coming here, staying at hotels and spending money. That was one of the key things for arranging the location. I go all over the country and rarely do you find a range that is in such a good location. You're usually a half-hour to the nearest hotel or restaurant, and we chose this location because it's easy to get to and find."
The location may be easy to find, but it also proved to be something of a challenge right up to opening day. Strickland and crew learned that building and opening such a business isn't for the faint of heart. Especially when it's an outdoor shooting range literally carved out of swamp adjacent to a river prone to flooding. It was unusually rainy throughout the Panhandle over the summer, especially in July. Midway in particular got its share. Staff and shooters had to slog, sometimes paddle, their way through flooded shooting bays and roads.
"We didn't anticipate getting 15 inches of rain during our first month of operation," Strickland said. The rain also caused some problems for the earthen berms, which had to be constantly maintained during the deluge.
Strickland said the owners want Talon Range to be the best and safest facility of its kind. Anybody who comes here for the first time has to take a safety briefing and pass a test on the rules of the range.
"We are an organization run by the rules. We are sticklers for the rules and making sure this is the safest range around," he said. "That's how we market it. We want this to become a safe, family-friendly place to shoot. We want families to be able to come here, rent a .22 and some ammo and plink as much as they want. But everybody has to go through the same safety briefing. Sign a waiver, and you're good to go."
Following the rules is important and not open to debate. Strickland, Johnson and Rasmussen are all Leon County Sheriff's officers. Strickland is watch commander and SWAT team leader; Johnson is a deputy and training officer, and Rasmussen served as a patrol officer and a SWAT team member. They've taken great pains to draft rules and regulations to ensure safety for everyone. However, they're not going to have a range safety officer on each shooting lane. They rely on the shooters to police themselves accordingly and observe range etiquette at all times — as well as exercise some good ol' common sense. Bad, or careless, behavior won't be tolerated. The success of this venture depends on it, Johnson said.
"We wanted to have a state-of-the-art facility that would be attractive to people who would want to travel to use it," he said. "We want people to come to Tallahassee and appreciate us and know that Tallahassee is a great place to come and enjoy firearms and the shooting sports."