Jim Moran College Provides Training Wheels To Students
Entrepreneurship programs provide a safety net for budding business owners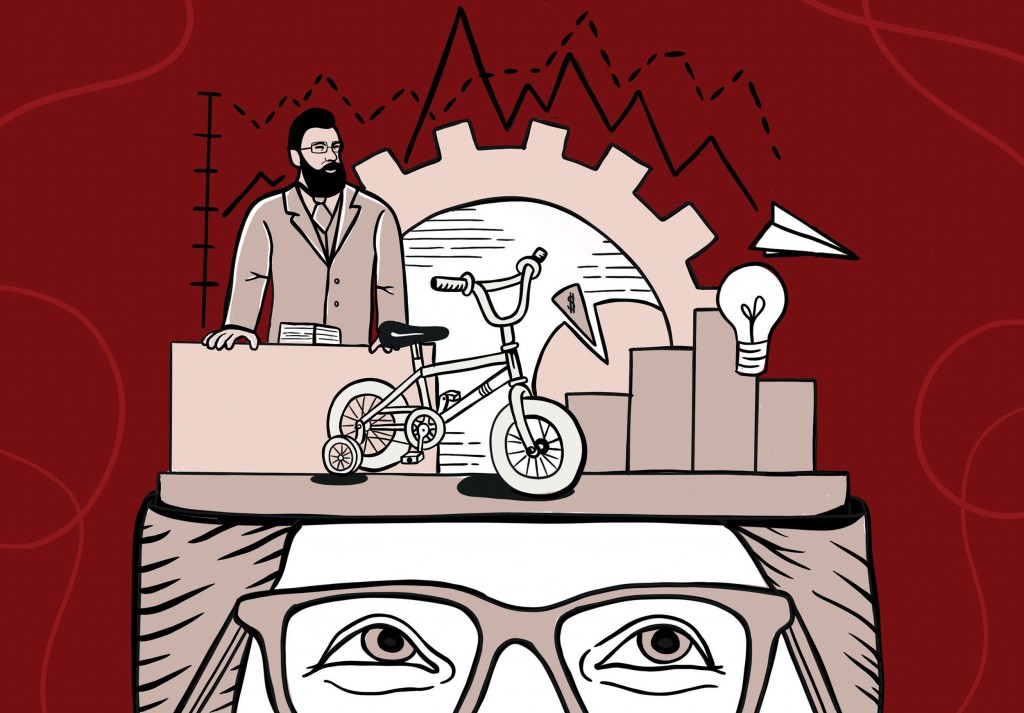 In his book, Find An Old Gorilla, Bert Thornton, vice chairman emeritus of Waffle House and an entrepreneur in residence at the University of West Florida, compares being in business to navigating your way through a jungle.
"The premise of the book," Thornton said, "is that if you discover one day that you have to go through a jungle, it would make sense to find an old gorilla and take him or her along. Old gorillas know where all the good paths are — and also the quicksand."
Aspiring entrepreneurs and business people have many "old gorillas" to turn to in North Florida. They include faculty members and others at entrepreneurship programs, including those at Florida State University in Tallahassee, Gulf Coast State College in Panama City and UWF in Pensacola.
These programs offer more than sage advice, additionally giving students the chance to experiment, dream, develop and test their ideas in a supportive, nurturing environment.
FSU's Jim Moran College of Entrepreneurship is the nation's first and only stand-alone college of entrepreneurship. Founded with a $100 million gift from Jan Moran and the Jim Moran Foundation in December 2015, the college opened its doors in fall 2017 and welcomed a class of 80 students. Today, it includes roughly 800 students, 70 graduate students, 25 faculty and 11 staff members. Its first graduating class received diplomas in May 2019.
The college offers three undergraduate majors (commercial, social and retail entrepreneurship), 10 minors and three new master's degree programs (Product Development, Hospitality, and Textile and Apparel Entrepreneurship).
This year, according to Susan Fiorito, the college's dean, a master's degree in Social and Sustainable Enterprises is being added.
One of the first classes students undertake after joining the college in their junior year is called "Experiences." Students work in teams and start a business with funds provided by the college. If the business fails during that year — and many do — the student must start another one.
"Those who are doing well at the end take a lot of pride in giving us a check to return the money that we've given them," Fiorito said. "So that helps to continue the fund. There's competition there, and we have found that enhances the class. It's been really a joy."
The program teaches details of business, trademarks, funding, personal finance and money management.
"Starting a business today requires a lot of capital, and some of these students are 22 or 23 years old," Fiorito said. "We encourage them to find work in an industry where they have an idea that they want to start a business, that is, to learn and make mistakes with someone else's money."
That way, she said, young people can work, gain experience, save money from their salary and maybe start their own business on the side.
"You know, we can't teach them everything," Fiorito said. "We try to teach them entrepreneurial thinking and not to be discouraged by failure, but actually to learn from your failures and start again. The best entrepreneurs have done that. They've failed two, three, 20 times before they actually get it right."
Dr. Emmanuel Hernández, an associate professor for entrepreneurship and organizational management at Gulf Coast State College, agrees with that approach.
"Our program allows students to experience the same excitement of innovation and creativity of starting a business, but they know they are in a safer environment," he said. "Maybe they are considering launching a business, but don't know what it really takes. The safer way is to go through the class, go through all the projects and see if that's actually something they want to do. We'll have about 10 or 15 percent of the students make a decision that this is not for them, which is great because, you know, that's a safer and more affordable way to do it than actually trying to launch something and then failing."
It's like training wheels.
"Students use the course as an experimentation in a safe environment," Hernández said. "Once they know what it really takes, many make the mature decision that they really want to grow more into their career or industry. Then maybe after they've gained experience and made some connections, they will launch their new business."
Gulf Coast's Business Innovation Center fosters entrepreneurship by providing a supportive environment to start-up businesses and increasing the probability of success.
Programs include classes, initial discovery sessions, direct business assistance, guidance and mentoring, networking, capital access, incubation space and other technical resources.
According to Hernández, Gulf Coast has two major entrepreneurship programs. The first takes place over just one semester. Students earn 12 college credits and a certificate. It gives students who either have a business or just dreams of starting one a foundation in customer discovery, how to create business models, principles of marketing, business planning and either accounting or entrepreneurial finance.
The other program culminates in a bachelor's degree in organizational management. Specialization in corporate entrepreneurship helps students get the skills to either launch a business or understand the principles to create new businesses or new divisions within an established organization.
Most of Gulf Coast's entrepreneurship students are more than 30 years old, and most have a job. They want to move up in their career or business organization or maybe transition to a new industry. They are looking for management and innovation experience.
The degree program, Hernández said, "has a twist of corporate entrepreneurship to fulfill the gaps of those wanting to take things in their own hands and do their own thing. They develop the skill set, so they can branch out on their own or use it within their current profession or career path, as well."
The University of West Florida Center for Entrepreneurship revolves around mentorship. It promotes entrepreneurial spirit, provides mentorship and influences economic growth.
"There are a couple of different vehicles in which we do that, but one of the most rewarding is inviting successful, small business owners in the community to share their experiences in growing a career," said the center's director, Dr. Ed Ranelli.
The University of West Florida College of Business offers degree and certificate programs in entrepreneurship. It offers an entrepreneur-focused MBA program and also provides an undergraduate certificate in small business management/entrepreneurship and a graduate certificate in entrepreneurship.
The university is also home to the Veterans Florida Entrepreneurship Program, a free course that walks qualifying veterans or active-duty members within one year of discharge who are new to entrepreneurship through marketing, finance, idea discovery, legal and human resources, veteran's benefits, financing for veterans, transitioning to civilian life and business plan development.
Since its inception in 2016, the Center of Entrepreneurship has reached more than 2,200 students and hosted or supported more than 115 events on campus and in the community. It is grateful for the support received by entrepreneurs in residence Thornton and Quint Studer.
Through their contributions and those of other "old gorillas," the Center has provided students with connections to over 300 academic, business and community leaders who have shared their time and knowledge to advance students' dreams.