Jennifer Conoley
Senior Economic Development Representative, Gulf Power Co.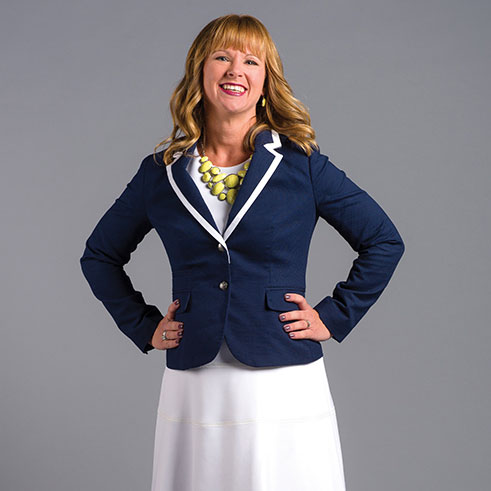 Growing up, Jennifer Conoley and her parents and her brother were profoundly affected when the paper mill in Port St. Joe was shuttered. Her father had worked as an electrician at the mill and there would be no way for him to replace his income in that small town. Relocation was inevitable.
Conoley could not know as much at the time, but that experience would one day fuel her passion for economic development.
"There is no greater feeling than creating high-paying jobs for people so that they can do well without having to leave their communities," she says.
Conoley graduated from Port St. Joe High School and Florida State University in Tallahassee before moving to Panama City, where Dr. Ed Wright proved to be her champion in significant ways.
"God has a way of putting the right people in your path at the right times," Conoley says.
Wright served as the dean of the FSU-PC campus before moving on to become interim executive director at Early Education and Care in Panama City.
"He saw something in me that he liked and gave me a job at EEC, and then he became interim executive director at the Bay County Economic Development Alliance, and he hired me as marketing director there," Conoley recounts her career.
At the EDA, Conoley learned a great deal from Neal Wade, now with the University of Alabama, during his turn as executive director there. Wade supported her when she applied for an economic development position at Gulf Power.
These days, she may find herself at the International Air Show in Paris one week and meeting with site selectors in Atlanta the next, all the while working to make Northwest Florida top of mind among corporate decision-makers.

Conoley is vice chair of the Career Source Gulf Coast board, co-chair of the Alliance Bay County operations board, and co-chair of the Business Vitality Council created by Florida's Great Northwest.
The best advice she ever received, she says, came from her parents, Nancy and James Craig, who encouraged her to respect herself, respect others and know that the way in which you treat people will come back around.
That is advice that she and her husband, Kevin, are working to instill in their boys, Braxton and Chase.