Jackson Hospital Celebrates 75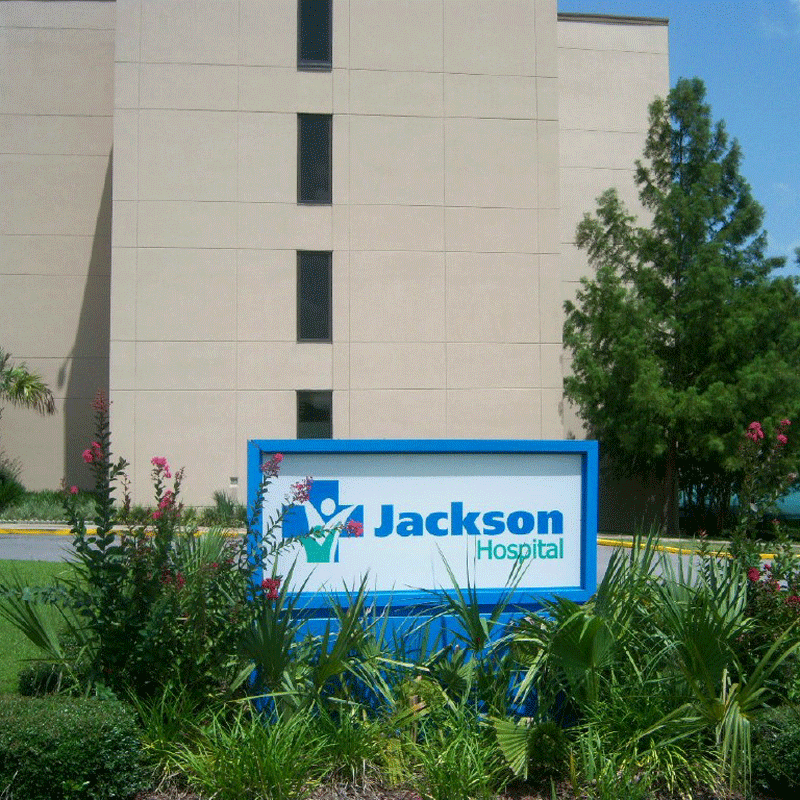 Courtesy Jackson County Hospital
Jackson Hospital has expanded its offerings — from cancer care to elective knee replacement.
Most 75-year-olds are playing it safe and taking it easy during their "sunset" years. As it celebrates its 75th anniversary in 2014, Jackson Hospital in Marianna has never been more active, cutting-edge or healthy … so to speak.
The 100-bed community health care system, founded the same year World War II began, has always been committed to quality service. But in recent months, it has experienced more growth than any period in its long history. Today, the hospital employs 425 professionals, including more than 30 medical staff and consulting with 65 additional caregivers, dedicated to providing exceptional care across more than a dozen specific health care services every day.
As the U.S. population grows and the Baby Boomer generation eases into its senior years, medical care facilities all across the country are challenged to answer the demands of its residents' health care needs. Jackson County Hospital is answering the call by adding new state-of-the-art treatment centers, upgrading to cutting-edge equipment and expanding both its medical care services and quality medical staff.
"During these turbulent times of health care reform, Jackson Hospital is plowing ahead with positive change and preparing for the future," says Jackson Hospital CEO Larry Meese.
Jackson Hospital's 75-year anniversary is just the beginning of several milestones worthy of celebrating. Just after the New Year, thanks to proceeds from several community fundraisers and a $150,000 gift from the Jackson Hospital Foundation, the community welcomed a special delivery — newly renovated and modernized Labor & Delivery suites.
But that was just the beginning of gifts for the community. In late January, the hospital opened the doors to the Infusion Center. Located on the first floor of the Hudnall Building, the Center gives Jackson County residents the opportunity to have chemotherapy, antibiotic therapy, IV therapy or blood transfusions locally performed.
"The Center has allowed us to double the number of infusion chairs from seven to 14. This obviously allows us to better serve the needs of the community," Meese says. The impact on this rural community is expected to be far reaching. Meese projects that the newly expanded Infusion Center will treat as many as 3,300 patients in 2014 alone.
Jeff Massey, president and CEO of the Jackson County Chamber of Commerce, understands the personal impact of this new addition more than some. "Now people don't have to go to Tallahassee, Panama City or Dothan to get chemotherapy if they are a cancer patient. They can get it right here, which is huge, because these people don't feel well. Being a person who had to drive to and from 42 radiation treatments, I can identify with the benefit of having it here in our community. That's one great service that's been added," he says.
In February, the ribbon was cut on the Starlight Fun Center, another state-of-the-art improvement for the hospital's youngest visitors. The Center offers the latest and greatest in pediatric gaming, which helps young patients forget about their treatments and conditions by providing them a fun distraction. The device is a hospital version of a Wii gaming system that can be rolled up to any patient's bedside. "This gaming machine changes hospitalization from scary to comforting," Jackson Hospital nurse manager Amanda Trino says.
And in April, Jackson Hospital added a specially equipped member to its medical team to fight the fourth highest cause of death in the United States — the InTouch RP-7 robot. The telestroke robot allows the hospital's medical staff to use web-video streaming to consult with Panama City neurologists to assess a patient in real time, diagnose if a patient has had a stroke and decide upon the best plan for the patient. Trino says the robot is a valuable addition, because every second counts when it comes to a stroke. "This device allows the patient to be assessed by the neurologist within the first 10 minutes of stroke symptoms," she explains.
What does it mean that Jackson Hospital is now able to provide all of these new specialty services? Massey says it is a win-win on many levels, and ultimately it is about improving the community's quality of life. "Jackson Hospital is attracting good, qualified doctors, so our level of expertise gets better all the time. Now folks who may have had to go to Dothan to see a certain doctor, can see them right here now," he says. "You combine that with the renovations, the upgrades to make sure it's a great place to stay if you are sick and ensuring the doctors have what they need to do their job, altogether it means that we, as a community, are that much stronger because of the continued growth of Jackson Hospital."
If Meese's five years at the hospital's helm are any indication, this valued asset will only make the entire area "healthier" as it matures. "Jackson Hospital has supported the community for 75 years, and we look forward to providing quality care for the next 75 years and beyond," he says.