Jackson County is Adding More Value to the Tourists' Buck
'U-Pick' Tourism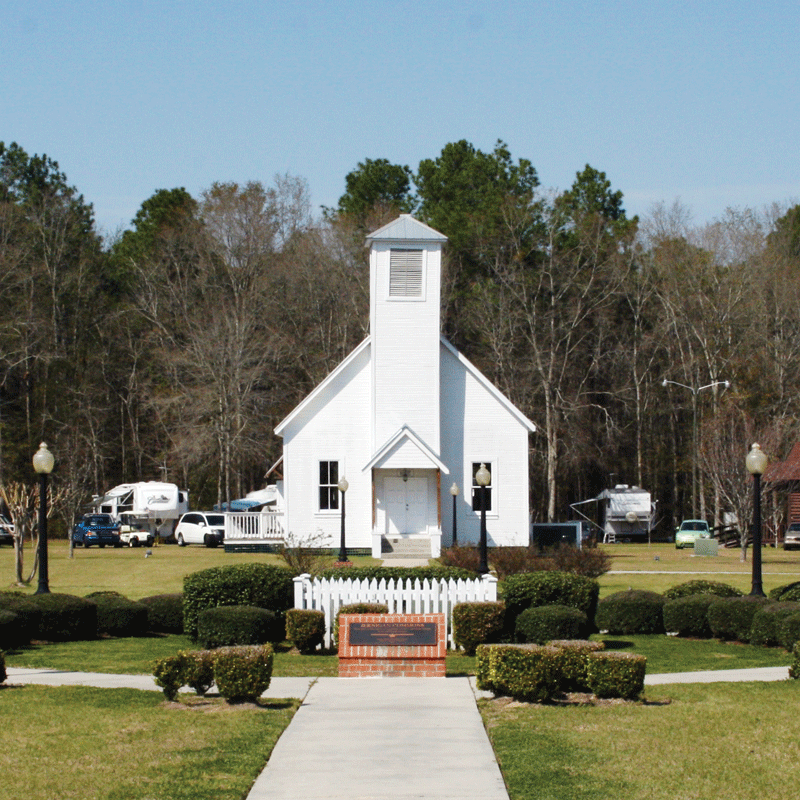 Courtesy Jackson County Tourist Development Council
Chacato Revolt in 1675 in Graceville, a stop along the Jackson County Spanish Heritage Trail.
Hey, there's a lot more to Northwest Florida than sand and surf. There's exciting history and colorful culture a daytrip away from the coastal resorts. All you have to do is get off the beaten path to see it. Jackson County in particular welcomes all visitors to fathom the mysteries of its caves, thrill at its ghost stories, walk in the footsteps of 17th-century Spanish soldiers and priests, and take in the wholesome goodness of its orchards, ranches and farms.
"Visitors are looking for something different," said Faith Clarke, coordinator and management analyst with the Florida Cooperative Extension Service in the College of Agriculture and Food Science at Florida A&M University. Clarke's job is to develop new forms of tourism that promote the region's agriculture. This new venue is titled "agri-tourism." And it's something Florida is working hard to establish to capture a new wave of tourists tired of the same old thing.
"The traditional tourism draws on sand, sea and surf. That's what our tourism has always been about, but there comes a time when visitors are looking for something different and are eager to explore beyond the theme parks and seaside," Clarke said. "They're looking for something different, and tourists have evolved in terms of taste and what they want to do."
The way Clarke describes it, agri-tourism is all about venturing out into the heartland's farms, ranches, groves and fields for some quality time with our roots. Literally. For some, it may mean a close look at how food is grown and harvested.
"They want to get off the bus, and walk in your fields and orchards, pick your strawberries and blueberries," she said. "They want to see where their food comes from. And urban families want to get away for the weekend, to get away from the hustle and bustle of the urban landscape and do something different."
And as this venue is developed over time, there could be other activities for visitors aside from stopping at a U-pick field. Think of the possibilities for barn dances, hayrides, music and other types of fun, farm-related entertainment, she said.
"It's definitely a new enterprise," she said. "It offers the potential for farmers to increase their profits and the activities they can offer."
Agri-tourism isn't the only venue being developed. There are plenty of historical attractions in Jackson County to sate the appetite of visitors longing for interesting new things to do. With agri-tourism, these venues belong to a new category of "rural tourism" that local stakeholders are actively promoting.
"The author Sam Ewing once said the average tourist wants to go places where no tourists go. And that's true for us when we go out and we tour the rivers and the streams and the parks and the trails. We enjoy being out in nature," said Chipola College President Jason Hurst during the Rural Tourism & Economic Development summit held in April. "We like going places where there aren't thousands and thousands of people. So that's important to me and my family. And that's what rural tourism is all about."
As it relates to cultural tourism and eco-tourism, the Jackson County Spanish Heritage Trail, the Bellamy Bridge Heritage Trail and the Battle of Marianna Walking Tour provide visitors a glimpse into Jackson County's past.
The Spanish Heritage Trail is a 150-mile trail consisting of 11 historically interesting sites that tell the story of the Spanish presence in Jackson County back in the late 17th century. The Bellamy Bridge over the Chipola River is perhaps the oldest standing bridge in all of Florida. The trail is a half-mile-long multi-use walking trail that leads visitors through a beautiful floodplain forest and culminates at the bridge itself. Interpretive kiosks tell the story of the surrounding natural setting and the history of the area — including the legend of the Ghost of Bellamy Bridge, a spirit you might be able to glimpse flitting through the trees. And unlike many other Civil War battlefields, the battlefield of Marianna is the town itself — which makes touring it convenient, because you can have lunch in a downtown restaurant and still be able to see the battlefield. The city and Jackson County are currently gearing up for the 150th anniversary of this battle in September.