Jackson County, A Transportation Gateway
Jackson County proves it's all about location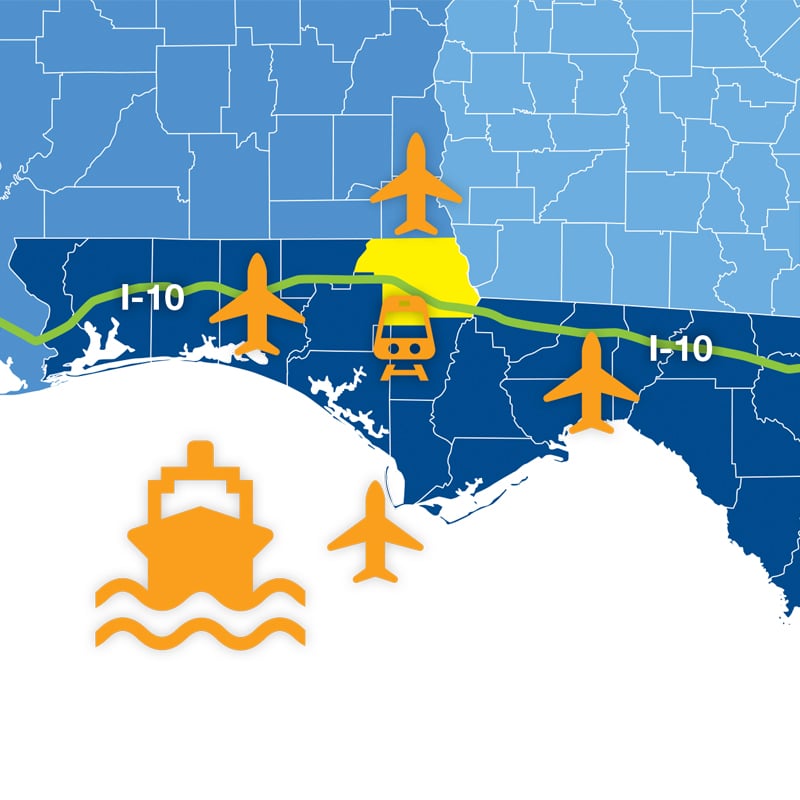 If there was one spot in all of North Florida that had just the right balance of highways, airways and railways, Jackson County would be that spot.
"Jackson County is located as a gateway for both Alabama and Georgia into Florida," said Bill Stanton, executive director of the Jackson County Development Council. "People don't realize how strategically located we are from a transportation standpoint in terms of these other states."
Stanton's not the only one who recognizes Jackson County's many advantages and its potential for success.
"(Jackson County) is just well-suited from a standpoint of logistics and distribution," said Jim Brook, executive director of Opportunity Florida and co-managing partner of the Florida Rural Broadband Alliance. "The port in St. Joe is being renovated and will offer future capacity. It'd be hard for Jackson County to fail in these endeavors because of all these advantages. I survey counties, and we don't pick one over another, but there are just a lot of advantages in Jackson County."
Planes …
Jackson County is a one-hour drive away from major airports in Panama City/Bay County, Dothan, Ala., and Tallahassee. Go a little bit further, say an hour-and-a-half west on Interstate 10, and you'll be at the Northwest Florida Regional Airport in Fort Walton Beach.
"We are strategically located where we have all these available to us, and for a comparison, Tallahassee only has (the Tallahassee Regional Airport) within a one-hour drive," Stanton said.
In other words, Tallahassee residents only have one nearby option for flying, and with no competition the fares can be expensive. But in Jackson County, there's so much competition from other airports that residents here have a choice between Dothan, Tallahassee or Panama City and can go wherever they want to go, with Northwest Florida Regional being a close fourth on the list.
"From an air transport standpoint we are better situated than anybody else in North Florida. That includes Jacksonville, Tallahassee and Pensacola. And I think that's a very important statement," Stanton said. "When we try to attract business, invariably aviation is a factor. It's not a drop-dead issue, but it is important."
Adding to the county's airpower is the Marianna Municipal Airport, a former Army airfield that's now a general aviation airport. The airport has two runways that are nearly 5,000 feet long, and one is being extended to 6,500 feet. The airport's longer runway ought to make it a desirable roost for corporate jets needing an extra bit of space.
"A lot of people who have never done it just don't know what a terrific business tool general aviation is," said John Alter, chairman of the Jackson County Chamber of Commerce. "I see great potential in our airport. We have a tremendous infrastructure at this airport in terms of good, well-built runways. I see that as a potential part of our transportation infrastructure."
Trains …
Railways are important cargo movers today, and Jackson County enjoys a distinct advantage in that regard. Not only does the biggest national carrier, CSX, run east and west through here, but the Bay Line Railroad intersects it at Cottondale. The Bay Line is interesting because it runs from Port Panama City on the coast north to Dothan, where it then intersects with the Norfolk Southern Railroad. From there, Stanton said, cargo can go anywhere in the United States.
That makes the rail system in Jackson County a unique commodity for commerce.
"If one had a business and wanted access to rail to go east and west across the country and north and south and had a reason to connect with a port, (Cottondale) is the only point to do that," Stanton said. "And the biggest single project that has located in Northwest Florida in the last 25 years is at Cottondale, Green Circle Bio Energy."
Green Circle Bio Energy is perhaps the world's largest wood pellet plant and started production in North Florida in 2008. It cranks out an annual capacity of 560,000 tons of pellets that are shipped as fuel to clients overseas.
"They use the Bay Line Rail Road and they use the Port of Panama City, and without the railroad and the port that project would not have located in this area, period, and would not be in Northwest Florida, period," he said.
… And Automobiles
Just as Jackson County's railroad network makes it a vital economic link, so too does its highways and roads.
"We have the best highway transport corridor system in North Florida, and it's for the same reason I say we have it for rail," Stanton said.
U.S. Highway 231 — the primary route between Atlanta and Panama City — runs north and south through the county and intersects with Interstate 10 and U.S. Highway 90. Highway 231 is a four lane highway from Panama City up to Dothan. At Dothan, 231 goes northwest to Troy while Highway 431 goes northeast toward Columbus, Ga. These highways in particular are "increasingly important" as the primary gateways into and out of Florida, from not only a passenger traffic standpoint but cargo hauling as well.
"To sum up, on the transportation and logistics, logistics is the other word to apply, combining the assets we have — air, rail, truck and vehicle auto — we're arguably the most strategically located area in North Florida," Stanton concluded.
Aside from cargo, these interconnected roads will prove vital as the county pursues ecotourism opportunities, Alter said.
"We see ourselves nicely positioned there as potential stopping points as we bring tourism on line more and more," he said.
Broadband Bump
Infrastructure isn't just roads, airports and rail. The Internet needs a strong foundation as well. The Florida Rural Broadband Alliance received $23.7 million in federal grants through the American Recovery and Reinvestment Act to build a wireless network across 15 counties in Northwest Florida and Central Florida. In the Panhandle, this network is being built and managed by Opportunity Florida.
"It will help Jackson County by providing additional capacity and potentially reduces the capital costs of connecting businesses," Brook said. "It could reduce the capital required to reach local industry."