It's Not About Winning. It's How You Win.
In business and public service, Allan Bense has spent a lifetime winning 'the right way'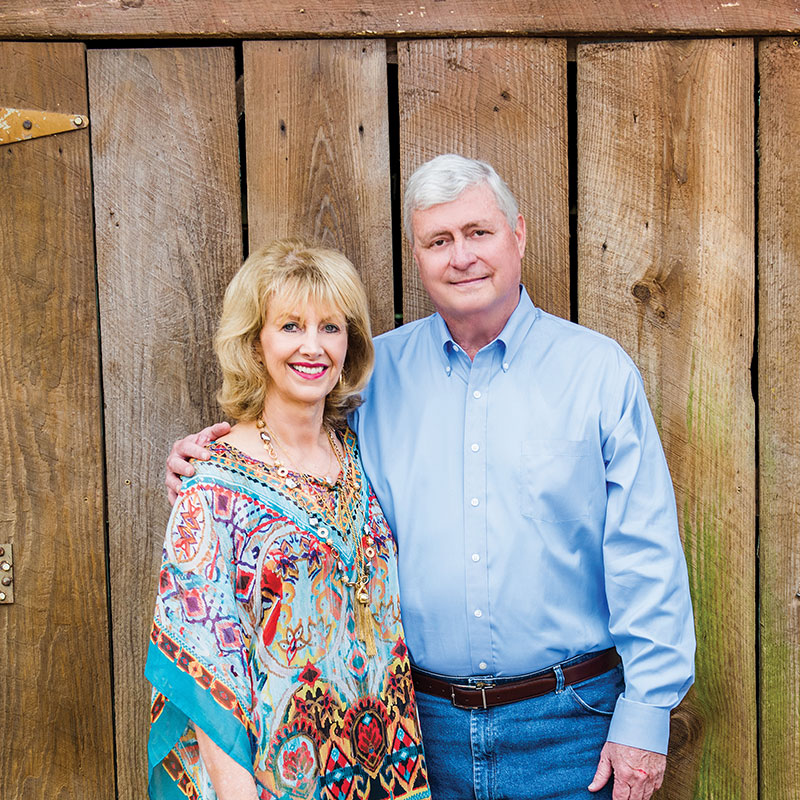 While working at a gas station during his college years, Allan Bense sat counting oil cans as he looked across the street at a Capital City Bank office. One day, he decided, he would sit on that bank's board of directors. Today, he does.
Allan Bense
Bense has always been a hard worker and a goal setter. And it has stood him in good stead. He's been successful in business, in politics and in life. And he's accomplished it all with a deep humility accompanied by an uncommon understanding of and compassion for others.
"My parents taught me how to work hard and play by the rules, to be honest and treat people fairly and to win. But don't win at all costs," Bense says, reflecting on how he came to be what he is today. "It's not about winning. It's how you win. I want to win the right way."
Bense displayed an acute business acumen at an early age. By the age of 10, he was selling Grit newspapers outside the Quik Chek grocery store on 6th Street in Panama City, where the main fire station is now.
"I'd stand out front, people would come in and I'd sell them a newspaper. It was my first venture into making money. I had a great schtick back then. I've always been a salesman!"
He never stopped working.
"Of the three of us, Allan was the only one that ever had money. We always had to borrow from him," remembers Judy Bense, president of the University of West Florida and Allan's older sister. "He has always been good with money. He knew how to get it, worked hard for it and kept track of it."
Bense's wife Tonie, who related the oil can counting story to demonstrate her husband's goal-orientation, says she liked her future husband the first time she met him. He was "positive about everything," exuded confidence and, as she came to learn, was a hard worker.
"He started with nothing," she remembers. "But he would set a goal and go after it. And he never gives up."
The Early Years
Allan Bense, now 63 years old, has lived all his life in Bay County. He was born in a house on his family's farm, about 3 miles north of where his businesses are now headquartered. His parents, transplants from New Jersey, each died at the age of 45 and are "buried on the hill up there, 2 miles away."
His folks were farmers but couldn't make a living at it. They lost the farm.
"They weren't successful at it, but we got it back and now I'm going to try to turn it back into the way it was when I was born," he says. "We're not gonna have cows, but we're going to grow hay. I haven't gone far from my roots."
After his father and then his mother died, Bense was raised by his grandmother. The two siblings (a third, Craig, has passed away) remember that the family had little money. So he worked to earn money to buy his school lunches. And then he worked his way through college at Florida State University, including taking on a janitorial job and waiting tables.
"I did everything known to mankind to get through," he recalls. "Worked straight through college. Got my MBA. Worked through summers because I knew if I ever quit and got a job I'd never go back. I knew I just had to keep on going."
Today he is chairman of the FSU Board of Trustees, and in March he was inducted into the FSU College of Business Hall of Fame.
Business Successes
Upon leaving college, Bense went to work for Southeast Banking Corporation. Soon he had his eye on buying a bank. In 1981, he convinced some friends to buy a bank with him. They sold it in 1985 and, according to Bense, "made a pile of money." He insists that timing, not brilliance, had a lot to do with that success. When they purchased the bank, interest rates were high. When they sold, the economy had bounced back.
Those earnings helped Bense on the way to his involvement with several different businesses, including GAC Contractors, Gulf Asphalt and Holiday Golf Club. Today he is chairman and CEO of Bense Enterprises, which is involved with road building, mechanical contracting, insurance and golf courses. And he recently decided to delve into the health care realm.
He credits his mother with his drive for success, especially remembering a particular Little League game in which he struck out 17 of 18 batters.
"She comes up after the game and says, 'I'm so proud of you. You did such a good job. How come you didn't strike out No. 18?' " he recalls. "She was quick to give you praise but always made you look to the next horizon. I'm sure that's why I have the drive I have in business."
Bense pauses a moment and then admits, "I just can't have one business. I have to have several. When am I happy? I don't know. Whenever Mom decides she's going to let me off the mat. She was a great driver."
And while he keeps the businesses running, he sits on a wide variety of boards and commissions.
Besides chairing the FSU Board of Trustees, Bense is chairman of the board of the James Madison Institute and of Gulf Coast Hospital. He sits on the board of Gulf Power Company and the Capital City Bank Group. He is past chairman of the board of the Florida Chamber of Commerce, the Florida Taxation and Budget Reform Commission, the Bay Economic Development Alliance and the Florida Council on Military Base and Mission Support. He's past vice chair of Enterprise Florida (the governor is honorary chair) and sits on the board of directors for Triumph Gulf Coast Inc., which oversees the spending of BP Florida claims related to the Deepwater Horizon disaster.
He credits his success in the business world to a few simple principles.
"If you're honest, you work hard and provide good service, you'll be successful," he says. And, "I don't do stupid things."
Bense considers himself a "singles and doubles" kind of guy. He didn't make a lot of money fast. "I just pounded away every single day. Little singles, little doubles."
In his construction business, he does about $50 million a year in volume and won't bid on giant jobs of $100 million or more because he considers them too risky. He is also prepared for failure but insists the real winners are those who, "when they fail, get up, dust themselves off, hitch up their pants and go after it again. Those are the ones I'll put my money on, because you're not always going to bat 1,000."
Bense concedes he's made his share of mistakes, "just not major ones." And he'd do it the same way all over again if he had the chance.
"I wouldn't do anything different," he insists. "Nothing."
Foray Into Politics
When he first ran for a seat in the Florida House of Representatives in 1998, Bense entered the political arena because he wanted to make a difference. He had grown up with a love for Democratic President John F. Kennedy, a favorite of his parents.
"I think he was the greatest president of this country, except for George Washington and maybe Abraham Lincoln," Bense says. "That's surprising, because I'm a Republican. But he opened the door on civil rights issues and so many other great things."
Bense recently came across a saying that he feels is important for all politicians to remember: "The true test of a man's character is how he treats people he can't use." And he still remembers the early words of advice he got from a local Bay County politician: "Mr. Bense, the Chamber (of Commerce) doesn't get you elected. It's the working man and working woman."
After his election to the House (the same year that Jeb Bush was elected governor), Bense worked his way up to the position of speaker, a post he held from 2004 to 2006, the last two years of Bush's administration. He admits that he and Bush — just like he and some of his Democratic colleagues in the chamber — didn't always agree. But when it was over, it was over. It never got personal.
Bush calls Bense "a class act. I really enjoyed working with him. He was a straight shooter . . . strong, principled, serious and of good spirit. Everyone, both friend and foe alike, respected him when he was speaker. I am fortunate to have him as a dear friend."
And Bense never used a trick employed by other House speakers to limit debate, especially from members of the minority political party. It's a respect he showed other elected officials that he laments is missing in today's politics.
Allan Bense and his wife, Tonie, at the Bense family farm.
"Sometimes there were 30 Democratic microphones raised (to debate), but we took the time," Bense says. "I had the votes to get most of what I wanted to do. But it was the right thing. Today's world is different. It's Democrat versus Republican. It's 'I hate you' and 'You hate me.' It's just not healthy."
Tonie Bense remembers that when her husband drove to work after being elected speaker, he always chose to enter through a back entrance to the Capitol so he was able to interact with a variety of workers.
"He worked hard to include and listen to everyone, and he's good at looking behind the scenes," she says. "He'd always come in the back way so he could say hello to the workers. He'd recognize the janitors because he was one of them."
At the end of eight years in the Legislature, however, Bense was ready to call it quits.
"I liked it, but I didn't love it," he says. "I could have run for the Senate, but I was done. I'll never figure out why so many people spend so much time on getting re-elected and getting re-elected. Being speaker of the House was pretty cool, but in my second year of being speaker I was ready to come home."
Cheating Death
Nearly two years ago, Allan Bense found himself at Bay Medical Center, totally paralyzed. He had been stricken with Guillain-Barré syndrome, in which the body's immune system attacks part of the peripheral nervous system. He lay in the fetal position perhaps 70 percent of each day and had "more tubes in me than you could count."
With still a look of amazement on his face, he now says, "And here I am today. For some reason, God just said, 'Bense, I'm not ready for you yet.' " Then he smiles and adds, "When I got sick, I got more cards, email and letters from Democrats than Republicans. It was maybe 75 percent from Democrats."
Asked if he has learned anything from the illness and his long recovery, Bense reflects for a moment and says he learned to take life a little slower, conceding that he has kept a lot of balls in the air for most of his life.
"I've always moved at a fast pace all my life, and it's time to slow down," he says. "I didn't come into the office today until 10 o'clock. I was at the farm, but I call that playing. I used to work six days a week. I never went to football games on Saturday because I worked all day on Saturday. I was a little too focused."
But then again, that's Bense's nature, says sister Judy. Asked to describe her brother, she immediately replies, "Relentless." He could have retired, she adds, but didn't because "he loves the chase. He's got a lot of guts. He's mellowed, he's older, but he's still the same old fighter he always was. The illness brought out his fighting ability. It's always the same approach he's had to business."
Add to that the fact that the Bense siblings know how to pick themselves up and dust themselves off. Says Judy, "We can deal with a hard lick."