Inside Walton Works Training Center of Excellence
Innovative partnership provides for student education, inmate rehabilitation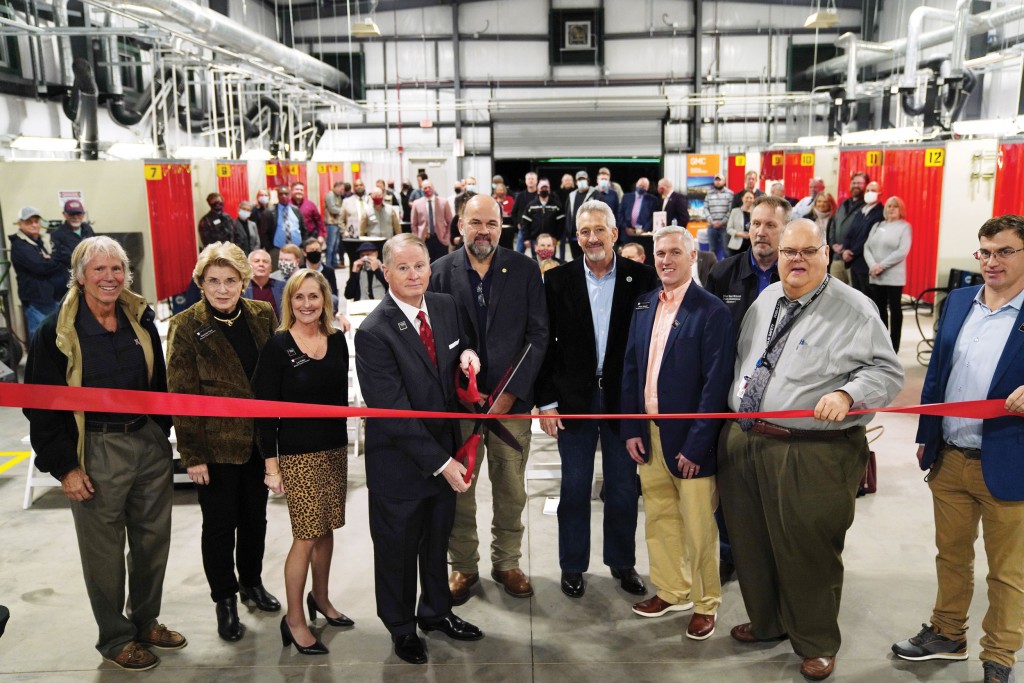 With dollars awarded by the Triumph Gulf Coast Board, the state's disburser of damages paid by BP owing to the Deepwater Horizon oil spill, the Walton County Sheriff's Office is turning its DeFuniak Springs "campus" into a center of not just law enforcement, but also education and rehabilitation.
In that effort, the Sheriff's Office is partnering with Northwest Florida State College to create what Sheriff Michael Adkinson and NWFSC president Devin Stephenson believe will be the finest public service academy in the state.
"I don't need to tell you about the value of competent, capable professional firefighters and paramedics and law enforcement personnel," Adkinson said. "They literally have lives in their hands. And they are stewards of the people's authority, so it's important that they are not only professional, but tempered in their approach to difficult circumstances."
Public safety training will be "bifurcated," Adkinson said, in that classroom sessions will be conducted at NWFSC's new Walton Works Training Center of Excellence on U.S. 90, while training of a hands-on sort will take place at the sheriff's campus and will utilize assets including a driving pad and a burn tower. Those assets were acquired with a Triumph grant award that the college obtained pursuant to the Walton Works Center project.
About the hands-on training, Adkinson is especially excited. He counts it as one of the distinctions that sets the public safety academy in Walton County apart from other such programs.
"You may go to school to become a correctional officer and never set foot in a jail until you graduate," the sheriff said. "When you receive training at our campus, you will learn what lock and gate mechanisms look like. It's important for a deputy sheriff to know where things are on an ambulance. The paramedic/EMT/firefighter and the deputy wear different uniforms, but they work together as members of the same team."
The burn tower, Adkinson explained, will enable trainees to work with live fire, learn how to navigate stairs during a blaze and how to contain flames during an event at a multi-level structure.
The Sheriff's Office, which runs Walton County Fire & Rescue north of Choctawhatchee Bay and is the largest such department in the county, donated retired fire trucks and ambulances to NWFSC for use in training.
Adkinson said some classes will include both students seeking certifications and established public safety officials satisfying continuing education requirements.
Already, Adkinson is engaged in giving inmates job training in areas including welding, heavy equipment operation and restaurant work. The driving pad means that he will be able to add commercial driver's license training to the available skills choices. The Sheriff's Office has gone so far as to acquire a semi for training purposes.
"My philosophy is that when you have a facility like that you are losing money when it is sitting vacant," Adkinson said. "You spend $30 million or $40 million on a school building that closes at 3 or 4 in the afternoon and may be closed for the summer. It is important to give the people a maximum return on their investment. At the driving pad, we're going to wear the asphalt out by using it both for inmate rehabilitation and public safety training."
Adkinson is fully aware that there are people who don't support devoting training dollars and facilities to inmates.
"I think it is the morally right thing to do," he said. "But if you can't buy that, I'll give you an economic argument: It's expensive to keep people in jail. I joke with the inmates, I'm doing this and you're not able to vote for me. It's funny, but the 'why' matters."
About vocational training for inmates, Adkinson said, "This is not the answer, but it is an answer." He then cited a quotation from Voltaire: "Don't allow perfect to be the enemy of better."
"Elected officials are risk averse," Adkinson said. "They get so afraid of making a mistake that they become paralyzed."
(I commented to Adkinson that he was the first of many sheriffs in my experience who had ever quoted Voltaire. "I don't know if that is a good or a bad thing," he said, and then hit me with a Latin phrase, res ipsa loquitur — it speaks for itself.)
The inmate rehab effort, to be sure, has been a learning experience for Adkinson, too.
"With our welding program that NWFSC helped us out with, we discovered that welders need to understand how to use Microsoft office," Adkinson said. "A lot of welders are independent contractors. You need to be able to set up your email and communicate that way so you can get jobs. That was an exit point that was easily corrected."
As part of the contract that the Sheriff's Office entered when it received Triumph funds for inmate rehab, it agreed to a partnership with the Florida State University School of Criminology, which will conduct a long-term efficacy study of the program.
"I'm a trust-and-verify kind of guy," Adkinson said. "I don't want to run out and spend a bunch of money on something that doesn't work. I need to be willing to change and adapt."
The efficacy study, he said, will be the first of its kind in the country. He said he appreciated the Triumph's board openness to new ideas and its preparedness to ask tough questions. And he is grateful for his office's relationship with NWFSC.
"NWFSC by moving forward to work with us gives us the opportunity to have a preeminent public safety training center," Adkinson said. "And, at the end of the day, citizens of Walton and surrounding counties will benefit."
Dr. Michael Erny, the dean of career education at NWFSC, summarized a joint use agreement between the school and the Sheriff's Office.
The school's Law Enforcement Program is entitled to use of the firing range and driving pad at the sheriff's campus. Students attend the college campus facility for classwork and activities and complete firearms training and vehicle operations training at the Walton County Sheriff's facility.
Students in the Firefighter Program report to the college campus for classroom activities and meet at the burn tower located at the Walton County Sheriff's Office for hands-on training activities. The Walton County Sheriff's department can use the tower for continuing education and skills training for its employees.
A ribbon-cutting ceremony was held at the Walton Works Training Center of Excellence in February.
In his remarks at the event, NWFSC president Stephenson made a point of noting the success of a student who obtained a welding certification at the school and immediately thereafter went to work making $38 an hour.
It was the applause line of the night.
The center, Stephenson said, "is all about taking people where they are and bringing them to a higher standard of living so that they can comfortably sustain and raise their families." To do so, the school will closely align center curricula and programs with the needs of area employers.
The project was funded substantially with a $2.7 million Triumph award.
NWFSC, Stephenson said, has been awarded a total of $ı0 million in Triumph funds, more than any other school in the region.
Looking about the Walton Works building, located next to the NWFSC Chautauqua Center, Stephenson said, "This is a dream and a vision that has been brought to reality." It will succeed, he said, on the strength of partnerships with the Walton County Sheriff's Office, the Walton County Board of Commissioners, CareerSource and others.
"We can bolster community education by working together," Stephenson said. "I don't care who gets the credit just so long as we make a difference."
As a condition of the Triumph funding award, NWFSC entered into a contract with Triumph Gulf Coast whereby it pledged that students will obtain ı,570 industry-certified credentials within five years. Via established career education programs, some 300 students, including the welding student that Stephenson singled out, already had secured credentials in February.
"We're on track to meet our goal," Stephenson said.
The center offers cybersecurity, welding, paramedic, EMT, firefighter, law enforcement, building construction, plumbing, carpentry and HVAC programs.
Lori Kelley, a Freeport native and chair of the college's board of trustees, saluted the efforts of NWFSC faculty and staff and their "laser focus on career education to meet industry needs."
The center's impact, she said, will be "transformational."