Innovators are Revolutionizing Military Training
Beast Code's software will save the naval force millions.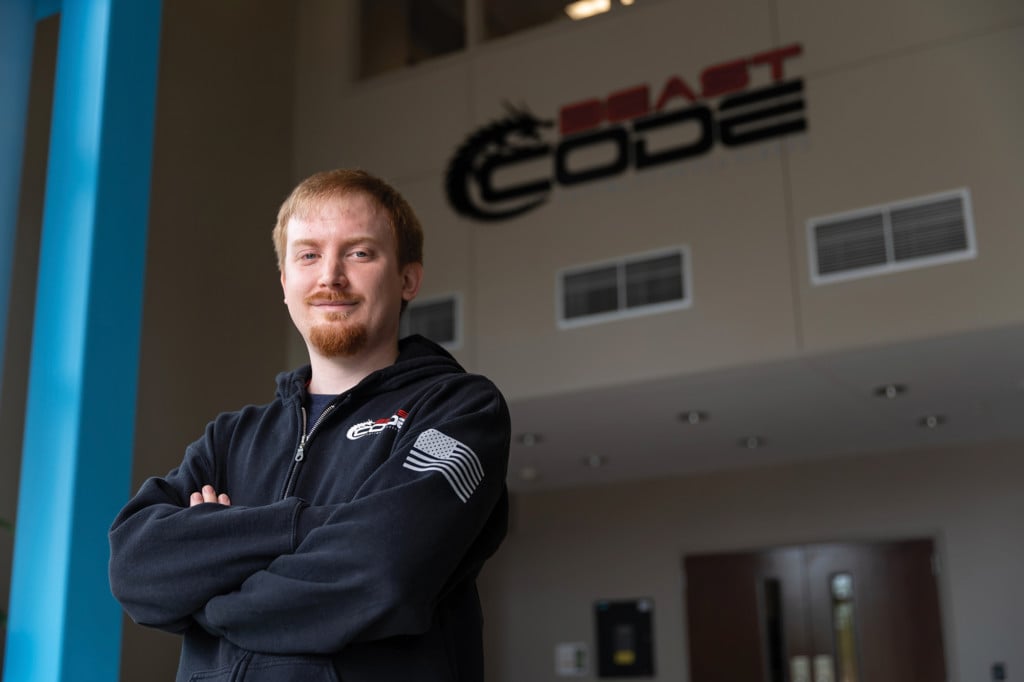 Matthew Zimmerman firmly believes he can provide a software engineering solution that will change the future of training for the Department of Defense while boosting mastery of the skill and saving the military millions of dollars.
He began this journey in 2014. The 29-year-old is the founder and chief executive officer of Beast Code, a small software engineering company.
Zimmermann and his team of 70 employees successfully demonstrated and applied their game-based, interactive software application aboard the Navy's new guided missile destroyer, the USS Zumwalt (DDG1000).
The solution provided a fully interactive suite of digital tools, blending the ship's technical manuals, structure, systems, logics, procedures and courseware into a tablet-based training and maintenance support application.
"We have a whole ship on a tablet," said Zimmerman of the mobile application called an Integrated Training and Maintenance Support System (ITMSS).
He said the Zumwalt received more than 400 hours of PowerPoint training, which was converted and provided on a tablet.
The 3D solution included the ship's engineering rates, damage control, combat information center and some of the ship's bridge training.
User-friendly, visual indicators show the cause and effect of opening or closing a valve, a fault indication or system failure warning on the ship's operating system.
"They used our simulation for their light-off assessment," said Zimmerman of the ship's engine start inspection. "This is normally done with the ship's hardware. They can do it all from a tablet."
Five years ago, Zimmermann graduated with computer science and software engineering degrees from the University of West Florida. He took a leap of faith.
Leaving an internship to start his own company, he encouraged Christian Wirth, a fellow intern at Applied Research Associates in Niceville, and five other colleagues to join him.
They worked out a strategic business plan, which included a Navy client they had cultivated as interns. This introduction to the Navy sparked their business idea.
"We didn't know we could do this for the Navy fleet," said Wirth, 25, the director of engineering for Beast Code.
"Once we built this analysis tool and shared it with the ship's crew, they just fell in love. They got hooked, and we rode the groundswell. ITMSS illustrates how one fault indication warning or valve relates to the rest of the ship, and how to not break a multi-billion-dollar vessel."
Wirth said the crew showed the tool to the ship's captain. The captain liked it and asked how he could obtain it.
Beast Code used crowdsourcing at the sailor level to figure out what were the right tools, what was needed and what fit with the younger generation's learning style to refine the training solution.
With buy-in from both the crew and shore-based program managers, Zimmerman said, "We forged relationships on both sides. The managers had a relationship with the program office in D.C., and that's how we got into meetings to talk with captains who are in program management."
The Navy realized greater training efficiency using the application and cost savings of over 85 percent compared to existing training systems, according to Gerry Roncolato, a retired Navy captain and senior advisor for Beast Code.
"This is a generation that learns by interactive games," said Roncolato. "We provide a training product far removed from the traditional death by PowerPoint."
Beast Code was awarded Navy contracts, sub-contracts and partnerships with giants like L3 and Lockheed Martin Corporation.
What started around a conference table five years ago grew into a company that's on track to realize $10 million in revenues for 2019.
Beast Code's name was derived from football player Marshawn Lynch's "Beast Mode," a term for doing hardcore, focused activity.
According to urbandictionary.com, it also means a "superhuman state of being, in which animal instinct takes over mind and body." The lifestyle at Beast Code requires such instinct, focus and agility.
To deliver new products on a fast deadline, usually, a couple of weeks, adds pressure. Pressure, they thrive on.
Styled after Silicon Valley titans, management fosters collaboration and innovative ideas.
In The Pit, a large area of low-walled rows of cubes, lighting was dimmed in half the space for those who prefer to work in the dark. For those who thrive in light, they had a bright side.
There are no seat assignments. Free food, snacks and beer are on hand in the galley. Coders ranged in age from 25 to 27 years old, aside from a couple of interns.
A few workplace rules have developed among the self-proclaimed "nerds" who work around-the-clock. No Stinky Nerds came about after the gym was installed. "Software never sleeps and neither do we," said Zimmermann.
While the office environment was collegial and many company social events in town infuse their lives with fun, they have experienced business challenges.
"We're going to take on the entire fleet," said Zimmermann. His mission to bring their application to multiple platforms across the Navy and distribute it to different customers like the Air Force, Marine Corps and Army means having the technology to automate the application's updates.
"We started with input from the shipyard. Taking the 3D rendering, tagging all that data and automating it," explained Wirth.
The Beast Code model became more cost-effective and a departure from the traditional, by hand, method used by competitors.
"The Navy spends hundreds of millions on training," said Zimmermann. "We're talking about tens of millions to integrate the entire fleet and provide a cost-effective method for maintaining those capabilities."
To support this scaling, Zimmerman said he will grow the company roster by 40 people.
Potential candidates are messaged on LinkedIn, live in the area or have decided they want to work here.
A Beast Code interview takes about an hour, but it's intense. The applicant has to pass a coding test and be innovative and passionate. They take only the best.
Located in Fort Walton Beach, Beast Code was recognized at the Grow Florida Companies to Watch Awards as one of the top 50 small businesses to keep an eye on.