Industrious Development
Proactively working to bring in new business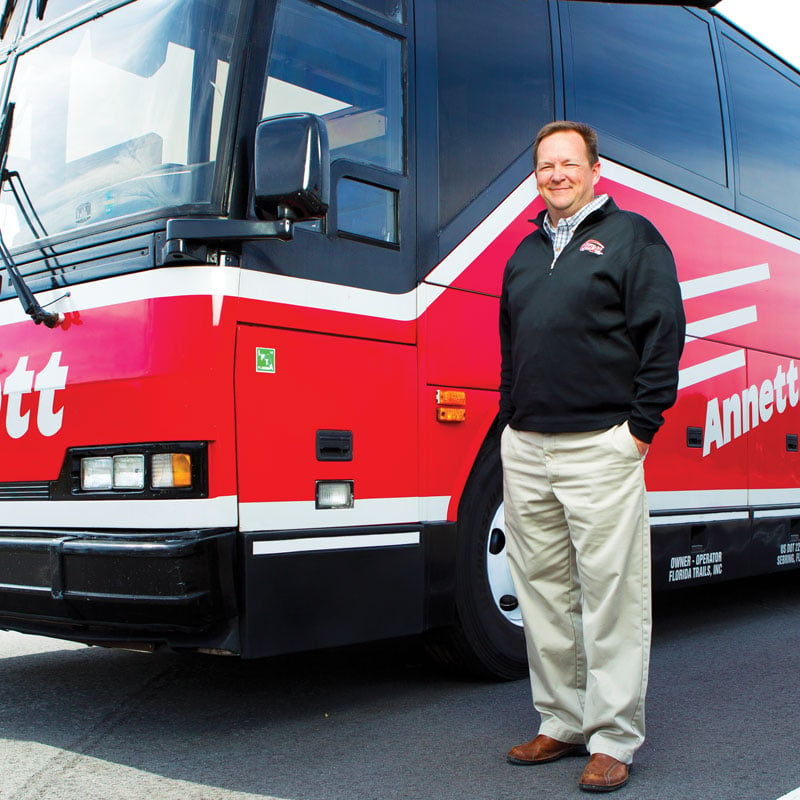 Bob Williamson was looking for a place to retire. Brian Annett wanted his kids to grow up with dirt between their toes. Both men found their way to Madison County in the past decade — and economic development for this rural community quickly followed.
"My parents went on a six-month search and looked at 48 plantations. They bought the property back in 2008. It was just raw land," remembers Jon Williamson, president of Honey Lake Plantation. Although his parents were looking for their retirement home, it wasn't long before they realized their location near Interstate 10 — along with close proximity to Tallahassee, Jacksonville and Orlando — made Honey Lake the perfect spot for weddings, hunts, corporate retreats, family reunions and more.
The plantation hosted about 14 major events in its first year of operation — "just to cover overhead" — and did 75 last year. "It's evolved and continues to evolve," Williamson said of the operation. "Our business triples about every year, which I think we will sustain for the next three years."
Scott Holstein
Brian Annett opened a branch office of his bus company in Madison to meet a growing demand in North Florida.
Annett's family business was centered in Sebring, where his parents began Annett Bus Lines in 1976 with one motor coach that traveled 65,000 miles in its first year. Now one of the largest motor coach companies in the U.S., it is owned by Brian and his brother David.
In 2007, Brian Annett and his family moved to Madison, looking to reconnect with the small-town atmosphere he enjoyed as a youth in Sebring. He had attended North Florida Community College to play baseball and met his wife in Madison, so they were no strangers to the area.
While his brother continues to man the company's Sebring office, in February Brian Annett held a ribbon cutting ceremony for a new office in Madison.
"The Panhandle has been a growth market for us," Annett explained. "We continually see more business popping up and thought it would be a good idea to try to build a larger presence up here."
The company's largest market is student travel — and collegiate use is a big part of that. Situated within easy travel distance of Florida State University in Tallahassee, the University of Florida in Gainesville and Valdosta State, the company's motor coaches can cater to those schools' traveling sports teams, visiting sports teams and groups wanting to attend games at the universities. "We're kind of in the middle," said Annett of his new company location, which is also convenient for organized groups traveling to and from the state Capitol, especially during the annual legislative session.
A Welcoming Environment
Not only have Honey Lake and Annett found their businesses conveniently located, (Annett's buses are located at the county industrial park adjacent to Interstate 10), they and others have found a great partner in Madison County.
Scott Holstiein
Bob Williamson planned to retire at Honey Lake Plantation but then saw the property's business potential.
"From personal experience … from a permitting standpoint, the county has been great to work with," said Williamson. "And they helped us develop relationships with key people who helped us with their business."
The biggest economic driver Madison has going for it is its location on a coast-to-coast interstate (the county has four interchanges) and the relative ease with which any Madison business can engage in interstate commerce.
"The county's leadership really wants to grow around the I-10 corridor," Annett said.
Lisa Davies is the sales manager at Florida Woodland Group, the brokerage firm working on behalf of the owner of a 1246-acre parcel situated on the interstate that's being marketed for its commercial, industrial or residential potential. For Davies, one of the biggest selling points of her listing is Madison County's economic-development minded local government.
"Madison County is very pro-business," said Davies. "They're wanting to move this thing down the pipeline."
Dennis G. Lee, the president of Florida Woodland Group, gives the county a resounding recommendation for its support of new businesses coming to town.
"Our group has been doing business in Madison County since the late 1970s — over 30 years. As a result, we have dealt with a variety of public officials — elected, appointed and career service — and have appeared many times in many different settings to seek required approvals, assistance and cooperation from the local government," Lee says in a recommendation listed on the county's economic development site. "Madison has proved to be a willing and able partner to sound economic development and community prosperity."
Not only do local officials help with development issues in their own county, they will work with regional councils and other economic groups to facilitate a Madison-based project.
"The importance (and rarity) of this personal involvement cannot be overemphasized," Lee said.
Part of the commitment to economic development includes the extension of key infrastructure to the Interstate 10 corridor to accommodate business growth.
"Florida Woodlands got water, sewer, electric and gas to its 1,200 acres on the south side of I-10," said Crawford Powell, the county's economic development consultant. "The only thing that site does not have is rail, and a lot of logistics folks don't need rail. It's a great spot for warehousing distribution or food manufacturing."
The city and county, Powell emphasized, understand the vitality that economic growth brings to a community and have stepped up in a big way to help that growth.
"If you get the leadership going in that direction, the energy and resources will follow," Powell said. "They are trying to proactively develop industry."
The county has spent between $8 million and $10 million to put infrastructure in place where economic development will most likely occur in the near future, at three of the county's interstate interchanges.
To help incentivize Annett's move into the county's industrial park on I-10, the county voted to give the company land so all the signage and buses could be seen from the highway.
"I think we're very responsive to a business that is interested in coming into our county," said Allen Cherry, Madison County coordinator and director of economic development. "The fact that we're small means we can make sure there is no hold up on permitting approvals. The permitting is done in the same building that I'm in."
Losses and Gains
Madison County, like many of its North Florida neighbors, has experienced the ups and downs of the economy, first losing long-time employers like a meat and a furniture plant and then gaining new ones as times improved.
"The meat and furniture plants together had about 1,000 employees. The meat plant was owned by Winn Dixie, then sold to Smithfield, which closed it. It was a sign of the economic times," said Cherry. "A lot of those (workers) are still around."
Some of those workers are now employed by the new Stahl-Meyer Foods meat processing plant in Madison.
Meanwhile, other companies, like Nestlé Waters Florida, have been around awhile.
Scott Holstein
Madison Coordinator Allen Cherry says the county is "very responsive" to any interested business.
Nestle´, which employs about 200 workers at its Madison plant, recently celebrated a 10-year anniversary. It produces Zephyrhills Natural Spring water, Deer Park Natural Spring Water and Nestlé Pure Life from local spring waters. The Madison bottling facility is Florida's largest "green building."
The county recently held an event for site selectors — those who are hired to help companies find locations where they can relocate or expand — to give them a "soft sell" on the benefits of coming to Madison.
"We wanted to introduce ourselves to them and let them know we're available. We've already had some follow up to that," Cherry said. "I'm selfish. I'd like to have a project come to Madison. But if it comes to Suwannee or Jefferson, it still benefits us, like the lumber mill in Suwannee that's only 10-15 minutes from the county line."
Other new businesses have popped up in the small town of Lee, where the town council bought a vacant school building and turned it into an Enterprise Zone and a business incubator. The city provides office space at a reduced rate and support in obtaining loans. The building has 9,298 square feet of office space divided into 19 available offices. Businesses that have sprung to life there include Everything Pecan, which opened May 2013 and is a small bakery that sells all natural baked goods, and a day care center that in the first six months took in 65 children and hired eight employees — then moved into a new location when it was able to buy its own property.
Ready Workforce
"We have the workforce, and we have the community college here. There's a lot of training that could be available to a company coming in," said Cherry. "We have a low cost of living and a great quality of life, with some of the prettiest scenery and rolling hills."
Brian Annett said he continually gets compliments from clients about the demeanor of his employees who work out of the Madison facility.
"We have found the work ethic and overall attitude of the folks in North Florida a good match for a service industry such as ours," he said.
Powell said the county has an available pool of engineering talent, and North Florida Community College educates the entry-level managers, while there are trade schools in Perry and Tallahassee that will provide needed labor.
"And the cost of living is less, so you can scale down wages, especially if you want to edge into a market," he explained. "Madison has a little slower pace, a slower lifestyle, where you know your neighbor by name. But it has a committed workforce committed to making your business successful."
Annett sees continued growth in the region and is positive about Madison's future.
"Every county doesn't have the luxury of an interstate dissecting the entire county. Madison does. More traffic equals more exposure, and exposure equals more opportunity along the I-10 corridor," he said. "We are excited to have seen this movement first and even more excited to anchor the Madison County Industrial Park as a gatekeeper to the county from the east."