Industries' Interest in Bay County is Spiking
The community is ready to hit the ground running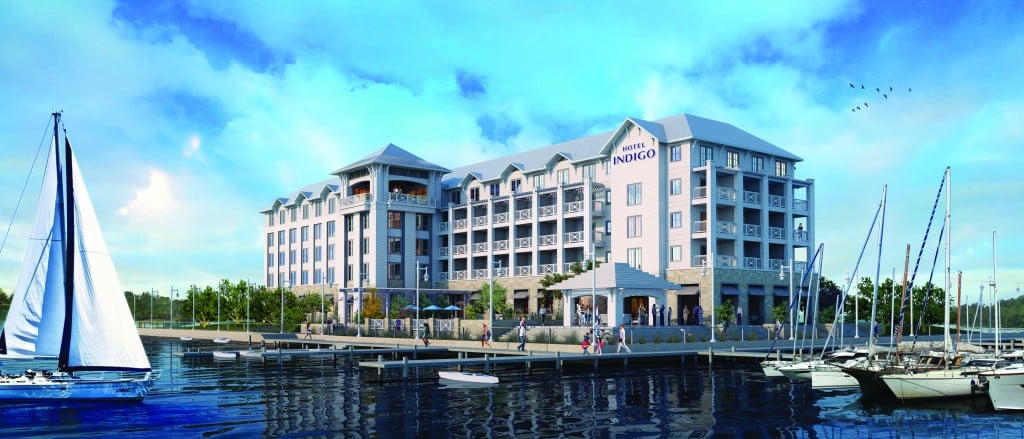 Even as the pandemic ebbs and flows, many organizations are optimistically looking to expand their reach and get back to business stronger than ever.
Bay County, said Bay County Economic Development Alliance president Becca Harden, is reaping the benefits.
"Now that the vaccine is out, our project activity is out of sight," Harden said. "It's like someone turned on the faucet, and we're doing the best we can to keep our heads above water."
For the seven years Harden has headed the Bay EDA, she's never seen project activity and construction as robust as it is now. Visit the region today, she said, and you can feel the energy.
In August, Florida State University Panama City wrapped up construction of a student housing project that will, for the first time, allow for the recruitment of students who will live on campus. Students from both Gulf Coast State College and FSU PC will live in the complex known as Seminole Landing.
The St. Joe Company continues the development of initial phases in its Latitude Margaritaville Watersound retirement community north of Panama City Beach off State Highway 79. St. Joe, in cooperation with Tallahassee Memorial HealthCare, Inc. and the Florida State University College of Medicine, announced plans this summer to develop a health care campus just minutes away from Margaritaville, which is projected to total ı70,000 homes at build-out.
Too, the private developer is partnering in a ı24-room boutique Indigo Hotel on St. Andrew Bay that will provide some much-needed love to Downtown Panama City. Construction of that project is underway.
And that's just the tip of the iceberg as to what's in store for Bay County. Harden said four projects related to aviation, defense, logistics and distribution are "on the bubble of completion." She said in June that official announcements could come as early as this fall.
"Many companies have been sitting on growth plans for over a year now, so a lot of the people we talk to are ready to implement them quickly," Harden said.
Due to last year's travel restrictions, the Bay EDA relied on digital marketing plans and virtual site visits. Domestic project activity fared far better than those of international companies, said Harden, as "companies aren't going to make multimillion-dollar decisions about property they've never visited."
Other projects have picked up where they left off.
Before the pandemic arrived, the Suzuki Motor Corp. secured a 20-acre site on St. Andrew Bay that will house Suzuki Marine Technical Center USA. The research and development integration facility represents a $25 million capital investment that will create an estimated 35 jobs for starters. According to Harden, Suzuki has completed a master site plan and is in the process of obtaining DEP permits for the site's infrastructure. Suzuki has already begun testing activity and will temporarily utilize another building as construction continues.
Port Panama City has more to offer on the international front, serving as "a huge economic driver not just for Bay County, but our entire region," said Harden. "They recently opened the new east terminal and warehouse and are in the process of building another one, so they are blowing and going."
The $60 million East Terminal project, comprising a 900-foot berthing area, 260,000-square-foot warehouse and 40-car rail yard, will process an estimated 350,000 to 400,000 tons of cargo each year. With plans underway for more berthing space and an additional warehouse by 2024, it is the Port Authority's largest project to date.
U.S. Rep. Neal Dunn, R-Panama City, headlined a dedication ceremony for the new terminal in the spring and said the project will "provide a huge opportunity for growth in the region and generate over 300 direct jobs."
The EDA has been marketing certified industrial sites at the Panama City Port Authority's Intermodal Distribution Center on U.S. 23ı and is currently in talks with a potential tenant who will "take most, if not all of our certified sites," Harden said. "We're very excited to move that along."
Too, Harden is excited about strides being made in Bay County's manufacturing sector. In partnership with Gulf Coast State College and local manufacturers, the EDA recently launched the Gulf Coast Federation for Advanced Manufacturing Education (FAME) Chapter, a program that hopes to bring about an appropriately tailored talent pipeline.
Recruitment for the fall semester program, designed to give students insight into the manufacturing industry and real-life work experience, began in the spring. Harden called it a "win-win" for both students and participating companies.
"This is an opportunity for local manufacturers to have a student on their payroll and, for lack of a better word, test-drive their employees before they hire them full time," she said. "A key question for companies is always, 'How are you going to meet our workforce needs?' This is an answer we can provide."
Harden said the EDA will continue leveraging the region's assets to diversify its economy.
Visitation via the Northwest Florida Beaches International Airport (ECP) is almost back to its pre-pandemic numbers, Harden said, and is a big factor for prospective business.
The reconstruction of Tyndall Air Force Base as the base of the future and the region's ever-growing military presence continues to result in an influx of defense-related projects.
For Harden, some elements of the shutdown were a blessing in disguise.
"The pandemic and the opportunities we had throughout caused us to adjust the way we do business, but it also helped us catch our breath after the devastation of Hurricane Michael," Harden said. "You could feel the emphasis on rebuilding our community, and now, coming out of COVID, we're hitting the ground running."