Industrial Evolution: Manufacturing Goes Technical
Smoke stacks are 'out' while knowledge of math and science is 'in'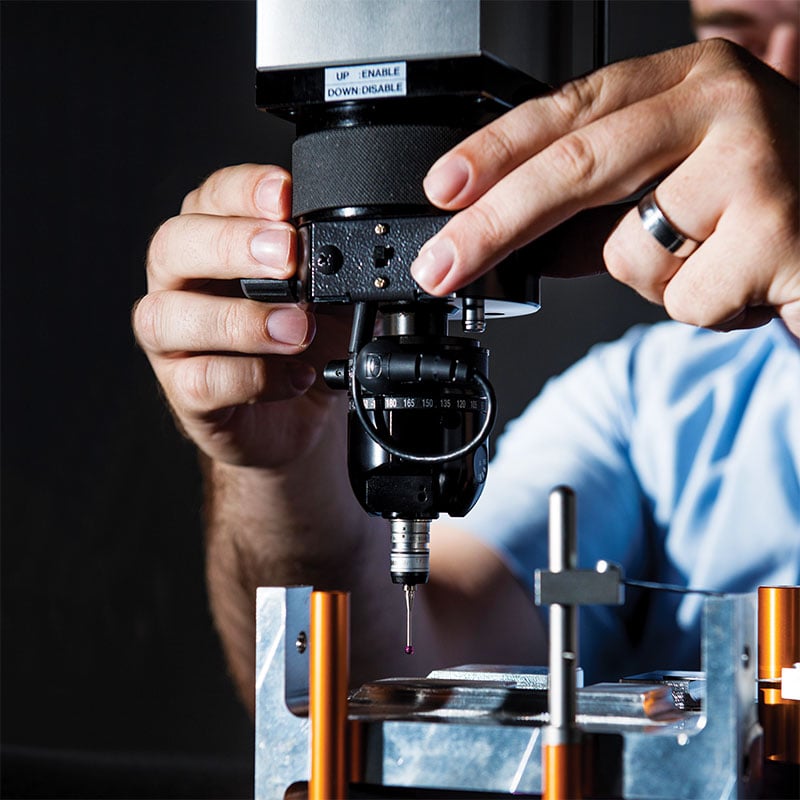 Mention manufacturing to the average person and it's likely to conjure images of grimy factories, belching smokestacks and haggard workers toiling at dreary assembly lines. Or to the more historically minded, it may suggest the Industrial Revolution, pioneer automaker Henry Ford and the Great Lakes' Rust Belt. Granted, these perceptions are not without basis or bias, describing certain aspects of manufacturing that do persist to the present in some form or fashion in this and other countries.
Overall, however, manufacturing has traveled far from its yesteryears and never more so than in recent decades, when the industry has undergone changes possibly no less revolutionary and transformational than when it converted from manual to machine-produced goods in the 18th century. Consider such developing technologies as robotics, advanced materials, 3D printing and biomanufacturing — all of which are reshaping the manufacturing landscape even now. The fact is that the industry has evolved and continues evolving. And modern-day manufacturing is apt to be clean, safe, increasingly green and technology-driven to one degree or another, with significant implications for the work force.
"What we like to tell people, when we have a chance to preach our sermon, is that this isn't your grandfather's manufacturing anymore," says Cindy Anderson, executive director of the Northwest Florida Manufacturers Council (NWFMC), a group that speaks for manufacturers in the 12-county region between the Alabama border and the Apalachicola River.
In general, though, how does U.S. manufacturing today compare with your grandfather's day? Arguments for both the sector's decline and resurgence abound, from the president on down. Those who argue the former point of view cite, among other developments, the overall drop in manufacturing employment (a loss of some 7.5 million jobs since the peak year of 1979); the rise of Chinese manufacturing compared to the United States in terms of output; and the offshoring trend among American companies.
True, counters the other side, manufacturing has fallen as a percentage of the U.S. economy, but only because other sectors, most noticeably services, have grown faster. And yes, manufacturing employment has plummeted, but production increases annually, with output now exceeding the peak before the Great Recession. Moreover, say resurgence advocates, many American companies are reshoring (returning their operations home) or nearshoring (relocating in Mexico and other nearby countries) after taking stock of transportation costs, communications logistics and other factors.
Both sides are in agreement, however, that technology is increasingly redefining industry, with resulting job losses domestically and abroad, as machines more and more take over routine tasks.
Suffice it to say that technology has somewhat divided modern manufacturing into the traditional (involving the more labor-intensive, mechanically driven processes) and advanced (the information technology-based processes). Whichever form it takes, however, manufacturing is a recognized powerhouse in the U.S. and Florida economies.
According to the most recent data from the National Association of Manufacturers, the country's largest manufacturing association, the sector contributes $2.09 trillion to the U.S. economy and accounts for 12 percent of the Gross Domestic Product. It also employs more than 12 million Americans and supports another 5.6 million jobs. Manufacturing, moreover, is credited with conducting more than three-fourths of U.S. private-sector research and development, driving more innovation than any other area. And U.S. manufacturing workers on average earn significantly more than their counterparts in other industries.
In Florida, the total manufacturing output in 2013 was $39.62 billion, accounting for 4.95 percent of the Gross State Product, and the state's exported manufactured goods totaled $56.43 billion, ranking it sixth in the nation for overseas sales. The Manufacturers Association of Florida counts 19,159 manufacturers in the state, and "that number continues growing," asserts Nancy Stephens, the association's executive director. Manufacturing workers, meanwhile, number upwards of 317,000 and on average earn $54,087 annually, compared with an annual average of $43,651 for all other workers in Florida.
In the Panhandle, Florida's Great Northwest lists 850 traditional and advanced manufacturing companies and more than 25,000 manufacturing workers in the 16-county region that it brands and markets for economic development purposes. That region extends from Escambia to Jefferson County. Those manufacturers produce a host of products ranging from wood, paper and plastics to computers, medical devices and aviation/aerospace components. The region's highest concentrations of manufacturers are found in Pensacola, the Fort Walton/Destin/Niceville area, Panama City and Tallahassee, but individual companies and/or small clusters exist in every one of the 18 counties that make up the 850 area code.
Ask Stephens of the Manufacturers Association of Florida how manufacturing is faring and she responds, "Great. There's a lot of enthusiasm."
Nowhere is that enthusiasm more evident than in Northwest Florida, which economic development officials and manufacturers alike predict is poised for growth. Projections, in fact, call for the region to grow in manufacturing at a faster pace than any other part of the state. The reasons cited include availability and affordability of land; proximity to southeastern U.S. markets; a positive business climate; a skilled work force (thanks to numerous learning institutions and military bases); and a superb network of roads, rails, ports and airports that facilitate transportation.
Add to that a multitude of economic development organizations working independently and in concert to attract foreign and domestic manufacturers, including U.S. companies that are reshoring.
"Another important aspect is the several OEMs (original equipment manufacturers) around us," offers Larry Sassano, president of Florida's Great Northwest. "These assembly operations require suppliers and need manufacturing to help assemble their products. There's Embraer in Jacksonville, Gulfstream in Savannah and Boeing in Charleston. The newest is Airbus, just to the west of our region."
No other development in recent years has singly generated as much regional buzz as the European airplane manufacturer's decision to construct a $600 million aircraft assembly facility in Mobile, Alabama, some 50 miles west of Pensacola. Scheduled to begin rolling out planes in 2016, the Airbus facility's expected regional spillover effect, including spinoff jobs, can't be overstated, particularly on the Panhandle's already dynamic aerospace/aviation sector.
Greg Britton, chairman of the Northwest Florida Manufacturing Council and CEO of Fort Walton Machining
"In my opinion, Airbus is going to be the start of growth for the region," says NWFMC Chairman Greg Britton, also CEO of Fort Walton Machining. "You know there's going to be a supply chain that follows Airbus. If you look at Embraer, Gulfstream and Boeing, it's just a natural progression for the I-10 corridor to grow in manufacturing. If you can picture the two ends, Jacksonville to Mobile, I believe you're going to see aerospace clusters starting on the west (of Jacksonville), and east (of Mobile), and working their way toward the middle."
The idea that Airbus will attract a host of suppliers and ancillary manufacturing operations into the region isn't lost on economic development officials. In 2013, Bay, Walton, Okaloosa, Santa Rosa and Escambia counties formed the Gulf Coast Aerospace Coalition and launched an initiative to attract aerospace suppliers and associated businesses to the region.
"It's ongoing," Okaloosa Economic Development Council Director Nathan Sparks says of the effort, mentioning trips to Germany, Seattle and Miami in pursuit of the objective. "We see this as a tremendous opportunity to position this part of Florida as a leader in the aerospace industry. We believe we're in the right place at the right time."
It's not only aerospace/aviation-related industries that economic development officials are pursuing, however. Take the Florida-Alabama Mega Team, composed of 12 Northwest Florida and Southeast Alabama counties. The group is trying to lure a mega-manufacturer — preferably an automotive assembly plant — to a 2,240-acre industrial site in Jackson County.
"We continue to market the site," says team spokeswoman Jennifer Conoley. "When you look at the timeline of communities landing huge projects such as auto assembly plants, it's a very long process. However, we're hopeful that if we continue to share our story about the available talent, transportation assets, low business costs, quality training programs and quality-of-life factors, then we can build our case that we're an attractive place to do business."
All of these efforts, if successful, will translate into jobs, many of them in advanced manufacturing. The NWFMC, for example, projects that in its 12-county area alone, 5,000 manufacturing jobs will need to be filled by 2020.
"This number includes growth in existing manufacturers, new industry development, and what we're finding is a huge challenge — baby boomers beginning to retire," Anderson says.
The question becomes, who will fill these jobs? A major concern of manufacturers — aside from the perennial ones of foreign competition, government regulations, high energy costs, affordable health care, etc. — is finding qualified workers, especially for the high-skill jobs.
"Finding qualified employees was pinpointed as a top challenge when the council was formed in 2013," Anderson says. "We did a survey of manufacturers in the region and asked, 'What is that one issue that you worry about keeping you from continuing to be successful?' And it came out that it was finding a skilled work force."
The problem isn't limited to Northwest Florida. Nationally, the National Association of Manufacturers reports that more than 80 percent of manufacturers experience moderate to severe difficulty finding skilled workers. It's the same story statewide.
"Our biggest, most perplexing, difficult and persistent problem is finding qualified workers," the Manufacturers Association of Florida's Stephens says.
Just in April, the Florida Trade Consortium, a coalition of 13 state and community colleges across the state, including Tallahassee Community College (TCC) and Gulf Coast State College, launched a statewide campaign to place 1,000 trade students into advanced manufacturing jobs within the year — an effort Stephens applauds.
Underscoring the point, economic developmental officials report that incentives, location and quality-of-life issues used to be top priorities in companies' site-selection decisions. Nowadays, however, work-force considerations have moved to the forefront, especially as the labor market tightens.
"The No. 1 component of site selection is work force," says Sparks, of the Okaloosa Economic Development Council. "Incentives are still in the top three. Location is critical to have a shot. But once you get beyond the dirt, or real estate piece, work force is the driver."
Compounding the jobs situation is an aging baby boomer generation that's eyeing retirement. Forbes magazine reports on a 2012 study by the Manpower Group that found that 53 percent of skilled-trade workers in the United States were 45 and older, and 18.6 percent were between 55 and 64. In Florida, the corresponding figures were 55.1 percent and 21.1 percent, respectively.
WestPoint Home in Chipley exemplifies the situation. The factory, which produces an assortment of bedding products, is the sole surviving U.S. plant of a textile manufacturer that once ruled home fashions.
"Through the years we've been ravaged by imports, downsized and our plant almost closed," says Terry Ellis, WestPoint's vice president of business development. "Because there's been so much consolidation, there haven't been many opportunities to grow. As a result, I have an older work force that has survived the downsizings but that's now nearing retirement age. Part of my challenge is making sure we've got younger folks to replace them."
Concern of a looming "skills gap," or shortage of welders, electricians, machinists and other skilled tradespersons in the foreseeable future, is widespread, growing and viewed as critical to U.S. manufacturers maintaining their edge in an increasingly competitive global economy. It explains why manufacturers at all levels are joining forces with educators, community leaders and government officials to address the problem.
"The biggest thing we're tackling right now with laser focus is work-force development," Britton says of the NWFMC.
Not that programs to develop the needed talent are lacking. The region's numerous colleges and universities offer a variety of degree and/or certification programs designed to turn out appropriately trained individuals.
Paul Dean, vice president of operations for Danfoss Turbocor Compressors in Tallahassee
One challenge, however, is capturing that knowledge, according to Paul Dean, vice president of operations at Danfoss in Tallahassee, a company that engineers and manufactures Turbocor oil-free, magnetic bearing, variable-speed centrifugal compressors.
"Most of the talent that graduates in fields of our interest often leave the area after graduating, which creates a gap in our qualified labor and professional pool within industry," Dean says.
Another challenge is that these programs simply aren't sufficient to meet the demand. The NWFMC, for example, estimates that the education/work-force development programs in its 12-county region will produce about 25 percent of the needed workers by 2020. The solution, Britton says, will require a mix of these programs as well as other measures, including raising awareness of manufacturing careers, recruiting retiring skilled personnel from the region's military bases for second careers and recruiting at a much younger age.
This explains the NWFMC's initiative, in partnership with the University of West Florida, to establish manufacturing academies in the region's middle and high schools with funding from the Florida Legislature. The idea is that students who successfully complete these academies will possess the necessary skills for entry-level manufacturing jobs, along with earning national industry certifications and up to 12 college credit hours.
"If you look at companies that have gone to places like Huntsville, Alabama, it's because of the work-force training programs there," says Russell Johnson, plant manager at Armstrong World Industries Inc. in Pensacola.
View the academies as a return, if at an enhanced level, to the vocational schools of old — which all but disappeared from the scene starting in the 1980s as high school education became increasingly focused on college preparation.
"We basically lost a couple of generations of individuals who came out of school with no interest in manufacturing," says Ed Phelan, vice president of operations at Maritech Machines Inc. in Panama City. "We're trying to step back into the high schools, where woodshop, metal shop and such have been eliminated, and trying to rebuild interest in manufacturing."
Unlike the earlier vocational training, which Phelan says essentially marked students as "losers," a paradigm shift has occurred, with emphasis now on a strong foundation of science, technology, engineering and math, necessary knowledge in today's advanced manufacturing world.
Phelan cites as an example certain computerized heavy equipment in his operation used to carve metal and commercial-grade plastics into precise and intricate components.
"It's no dummy that can just walk in and handle them," he says. "It takes a lot of training and skill. It takes the interest and ability to do some fairly basic math, and maybe even advanced math. You have to be able to perceive things in three dimensions, read blueprints, understand the writing on the blueprint and convert all that into actionable items. And then there is a coding process where you put that information into the computer in a special language."
Nor do the academies, or manufacturing jobs themselves, preclude going to college, manufacturers say.
"I've got folks who started out on the manufacturing floor who are now program managers," Britton says. "I've got another who went to school after he saved enough to become an electrical engineer. So it's another career path to college as well, and they don't have a lot of debt when they get out."
Equally important, manufacturers say, the academies offer a pathway to career opportunities for those who lack the ability, inclination or means to pursue a college education.
"I see a large percentage of our kids who don't graduate, or who graduate but aren't going to college," says Ellis, who also serves on the Washington County School Board. "They may have a different set of ideas or different talents or may not know what they want to do. Manufacturing provides opportunities for these kids and good-paying jobs that provide benefits."
Although not part of the NWFMC, Danfoss engages in similar efforts to develop the needed talent.
"We're working with TCC and the local community (primary and secondary education) to create beta programs that can drive higher levels of interest in the traditional labor market such as electronic techs, logic programmers, mechanics, CAD techs, HVAC techs and other skilled trades," Dean says. "For professionals, we're partnering with FSU to create joint (research and development) collaboration and the development of internships to help grow talent for our entry-level professional positions."
One of the obstacles manufacturers must overcome to attract younger workers entails dispelling misconceptions about the industry.
"When people think of manufacturing, they think of old manufacturing centers and their dads coming home covered in soot and dirty and nasty, and that's not manufacturing in today's world," Phelan says.
It will also require engendering a public rethink of the viability of trade jobs and the idea that college is the be-all and end-all for everyone.
"We all want our kids to go to college and be doctors, lawyers and engineers," Johnson says. "But there are ways to make a comfortable living as a plumber, electrician or mechanical technician, and those jobs are there. We have to start investing in that segment of the work force, because everybody can't be a doctor, lawyer or engineer."
Education is seen as key to the effort's success.
"We have to educate the public about manufacturing careers and how well they pay," Britton says. "It starts with the kids and parents and guidance counselors and teachers. I think everybody is starting to see that."
One of the ways manufacturers are getting the word out is through Manufacturing Day, celebrated nationally in October. It affords parents and kids an opportunity to tour manufacturing facilities and learn firsthand about manufacturing careers. Others are manufacturing career and job fairs, such as the ones colleges sponsor, and presentations before Rotarians, Kiwanians and other community groups.
Expectations are that as the economy continues improving and manufacturing grows, the demand for talent will increase. A certainty is that manufacturing will continue evolving and technology increasingly playing a larger role, in turn requiring ever-higher skill sets of workers. A 2012 report by the Institute for Defense Analyses, "Emerging Global Trends in Advanced Manufacturing," concluded that advanced manufacturing would increasingly "rely less on labor-intensive mechanical processes and more on sophisticated information-technology processes" at a likely accelerating level. Or as Johnson more plainly puts it, "In manufacturing, every year we're charged with reducing costs and doing more with less." Which typically translates into greater automation and fewer, if higher-skilled, jobs.
"So many people say that machines have taken over the jobs and no jobs are left," says Anderson, the NWFMC executive director. "Well, for every machine that takes a job, somebody must design, operate and maintain it. So the need for employees hasn't gone away. It just requires a higher skill set."