Improved Economy Boosts Construction, Jobs
Public and private projects abound.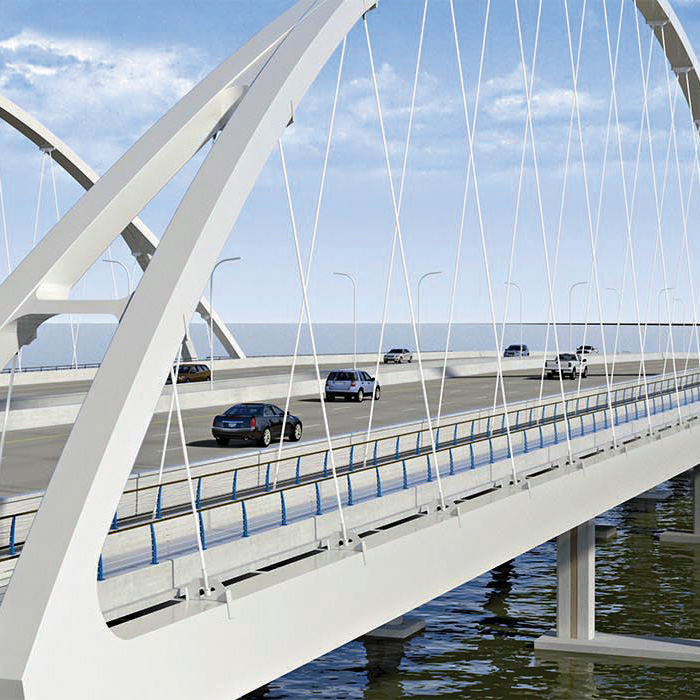 Asked how economic development in Escambia County and Pensacola has fared over the past year, Scott Luth pauses a moment before emphatically answering: construction.
"If I was to put a theme on it, it would be that it has been a year of construction," says the president and CEO of FloridaWest Economic Development Alliance. "There are projects already under construction, projects approved for construction and projects starting to break ground. There are big projects and little projects, a new hotel, more office buildings, a new half-billion-dollar bridge from Pensacola to Gulf Breeze that's been approved, more student housing being constructed at the University of West Florida. Escambia is doing very well."
Expansion of facilities and the creation of new jobs crosses a wide variety of industry sectors, from real estate and aviation to education and retail. An improved economy has helped drop the county's unemployment rate below 5 percent. That is attracting more people to the region and increasing the demand for services and housing. Two private co-working spaces have opened, and the focus on entrepreneurship is growing. And The Bluffs — Northwest Florida's Industrial Campus, a 6,000-plus-acre master-planned development — was designed to lure more industrial/manufacturing north of the city.
With support from local government, some resources from Tallahassee and private sector leadership, "we're hitting on all cylinders," says John Peacock, chairman of the Pensacola Downtown Improvement Board. He points out that downtown Pensacola, where redevelopment has been spurred by private investors such as Quint Studer and Bobbie Switzer, has become increasingly popular for residents and visitors. Few vacant storefronts are located along the city's major thoroughfares, which now offer a variety of entertainment, dining and shopping options.
"If a visitor comes for a week, you can only do so many beach days," explains Peacock, who lives and works downtown. "In the past, people used to go west to Alabama or east to Destin looking for something to do. Now they're coming downtown, so we're keeping more of the money here. We're improving the aesthetic appeal for downtown and promoting historical and cultural tourism. We haven't done a good job in the past of leveraging that."
Now there is also a focus on providing more residential options in the heart of Pensacola. Studer is building a 268-unit apartment complex that will provide affordable housing, and Switzer spent $7.5 million to purchase One Palafox, a 4.5-acre site that is the largest block in downtown and will be turned into an urban village with luxury apartments, retail and co-working space.
"Having grown up in the area, there was a time when I was younger when there was nothing in downtown," recalls Clay Ingram, president of the Greater Pensacola Chamber. "It was a dead area. No retail activity, a place you didn't want to be after dark. Now there has been an incredible renaissance."
Peacock agrees, adding, "There is something for everybody here. People were moving out, but now they're moving back."
Some economic development projects that have been on the drawing board for up to a couple of years are now coming to fruition. They include VT Aerospace's project at Pensacola International Airport.
Nearly five years in the planning, ground was recently broken for a 173,000-square-foot facility for VT Mobile Aerospace Engineering. The planned major-aircraft maintenance, repair and overhaul facility, which will sit on a 19-acre site at Pensacola International Airport, will create 400 new jobs. Design and construction of the $46 million project is being made possible through a combination of funds from the Florida Department of Transportation, the city of Pensacola, Escambia County, the University of West Florida's Haas Center Industry Recruitment, Retention and Expansion Fund and VT Mobile Aerospace Engineering. Expected to open in early 2018, the facility will accommodate two Boeing 777s, or four Boeing 757s, or six Airbus A-320-sized aircraft.
"After all the bumps and bruises, we finally broke ground," says Ingram, who used his position as a state legislator to work with city and county officials to get the project moving. "It's been on the radar screen for so long, people were wondering if it was ever going to happen. There's a pretty tangible feeling of progress."
Economic developers have targeted companies that fit in well with what is already in Pensacola, such as financial and business services companies, including Navy Federal Credit Union, information technology companies, and aviation manufacturing and port-related businesses. They also look to expand homeland and defense security work, especially in the area of cybersecurity.
"Cybersecurity and IT development, that's a new target for us and we've been working on that initiative for a while," Luth says. Considering the number of military bases and defense contractors in the region, and the push to teach cybersecurity at local colleges, it has become a natural target industry.
The UWF Center for Cybersecurity has become the regional hub for cybersecurity education and research, including multidisciplinary programs and certificates, research opportunities, outreach activities and industry partnerships. And it has been designated a National Center of Academic Excellence in cyber-defense education by the National Security Agency and the Department of Defense. Pensacola State College has also formed a cybersecurity center that offers help to local businesses.
---
Pensacolaby the Numbers
Greater Pensacola's October 2016 unemployment rate was

4.9 percent

, the state of Florida's was

4.7 percent

and the U.S. unemployment rate was

5 percent

(not seasonally adjusted).

The population of the greater metropolitan area is projected to increase

12 percent

from 2012 to 2020 (518,830).

The average age in Greater Pensacola is

38.3 years

, in comparison to the state of Florida's average age of 41.
---
Educational Attainment, Escambia County (percent of persons age 25 years and older, 2010-2014)
High school graduate or higher — 88.5 percent

Bachelor's degree or higher — 23.9 percent
---
Ten Largest Employers*
1. Baptist Health Care 5,571 | Health Care
2. Navy Federal Credit Union 5,325 | Financial Service Center
3. Sacred Heart Health Systems 4,820 | Health Care
4. Gulf Power Company 1,774 Electric | Provider
5. West Florida Healthcare 1,200 | Health Care
6. Ascend Performance Materials 830 | Manufacturing
7. West Corporation 800 | Business, Processing, Outsourcing
8. Innisfree Hotels 750 | Hospitality
9. Medical Center Clinic 500 | Health Care
10. International Paper 475 | Manufacturing
---
*Source: FloridaWest Economic Development Alliance. Employment figures current as of May 2016.