How Weddings Drive Big Business in Northwest Florida
Wedding Bells Ring Cash Registers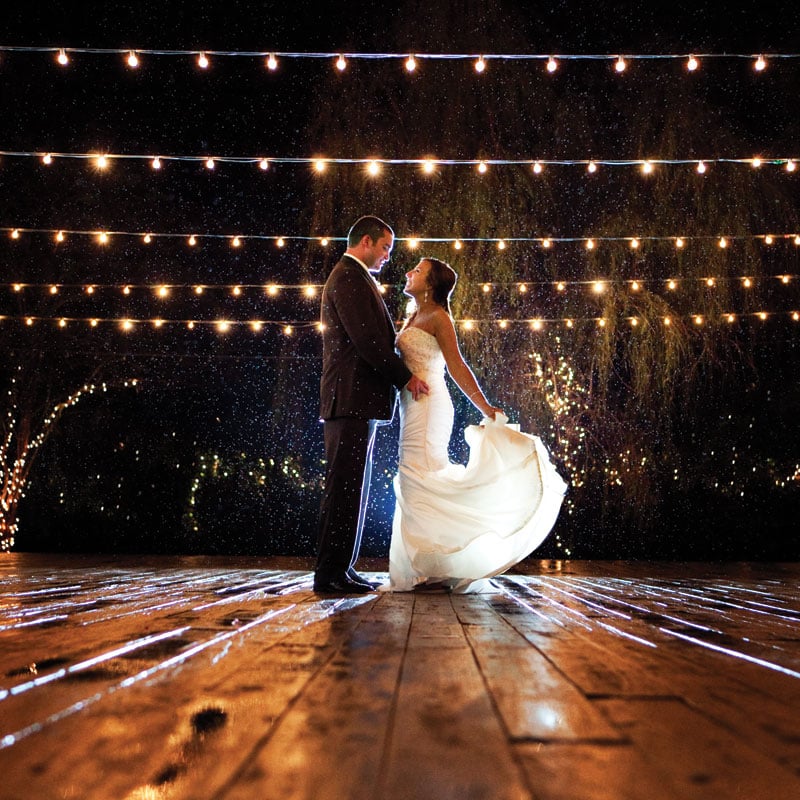 Planning a wedding is not for the faint of heart, whether you're the bride, the father of the bride or the vendor responsible for the three-tiered wedding cake, the shrimp and grits done to perfection or the bouquets of peonies.
For most brides, the concept of the simple wedding in the church followed by a punch and cake reception in the fellowship hall is ancient history. Today's bride has envisioned and planned her perfect wedding with the help of the Internet, Facebook and, perhaps most importantly, Pinterest. She knows what she wants — and there is a massive $47.2 billion industry waiting to help her get it.
Weddings are big business for the 850 region, whether they're planned for the hometown bride who has always wanted to marry under one of the area's majestic live oaks or the out-of-state bride determined to take her vows on an exotic beach against the backdrop of a spectacular sunset.
There are more than 2 million weddings a year in the U.S. In 2012, the average wedding cost $28,427, according to a survey of nearly 20,000 brides taken by The Knot magazine and WeddingChannel.com. And that total doesn't even count the cost of the honeymoon. The cheapest cost of the day (or weekend, or week) is usually the groom's tuxedo. From there, the sky's the limit. The only thing Americans spend more on each year is Christmas.
Cost-wise, the average Northwest Florida wedding isn't too different from those held in the rest of the country — although the price tag comes in far cheaper than New York, where an average Manhattan wedding budget is a tad over $76,000.
The size of an average wedding these days ranges from 120 to 150 guests. The average cost in Northwest Florida goes from $25,000 to $30,000. Weddings along the coast will generally be a little pricier than Tallahassee or the region's inland communities. But it all depends on what you really want — and what you're willing to pay for it.
Whatever the cost, the dollars spent on weddings in this region have a far reach into the local business community, helping to employ hundreds of people, from the catering staff to the cake bakers to the bartenders to the limo drivers to the monogram shops to the photographers.
Recession Proof?
Even in recessions, couples get married and brides want to have their day to remember.
"A wedding is such a special event in an individual's life," said Amy Wise-Coble, acting general manager of Homeowner's Collection in Seaside. "If it's their daughter's dream, parents will spend."
And indeed they did over the past several years. While some brides became a bit more cost conscious during the recession years, the falloff in business was slight to nil in Northwest Florida. That was as true in places like Tallahassee as it was in communities along the Gulf Coast.
"We had brides that were a little more budget friendly, but our business stayed pretty steady during the recession," said Michelle Griggs, vice president of marketing, membership and events for Golden Eagle Golf and Country Club in Tallahassee. "I think during the time of the recession, brides were willing to book places that they knew to be solid in the community."
James Murray II, owner and general manager of Sunquest Cruises in Sandestin, said wedding-related events represent about 50 percent of Sunquest Cruises' business on its boat, Solaris. And about three out of four are destination weddings. The business experienced a slight slowdown in 2010, but that reversed after the Deep Water Horizon Gulf oil spill as BP poured millions of dollars into promoting the Gulf Coast.
Florida's Emerald Coast, with its miles of sugar sand beaches snuggled against the clear emerald-tinged waters, has always been a wedding destination attractive to brides from North Florida and throughout the Southeastern U.S. But there are suddenly more inquiries from faraway places like Minnesota, Wisconsin, Los Angeles, New York, Europe and even Asia.
"BP threw so much money into the economy that we saw weddings spike tremendously," Murray said. "The economy was bad, but our wedding business skyrocketed, breaking records. And BP gave us international exposure. Our international markets are still on the rise. We're doing a big rehearsal dinner for a gentleman from Ireland who learned about us from the oil spill."
While summers are popular for weddings up north, April and October are becoming the most wedding-populated months in Northwest Florida, especially in the coastal areas. The air is clearer, it's not as humid, traffic is nowhere near as bad as during the summer months — and, to help with the cost, hotel room prices are far more reasonable.
"In some ways, the timing of the economy helped to bring girls here," said Tammy D'Agostina of The Eventful Planner in Destin. "When the economy took a turn, brides couldn't go to places like Mexico and the Bahamas, and they decided to stay in the U.S. It was cheaper to come to Florida."
Planning a Wedding
In the 2001 movie "The Wedding Planner," Jennifer Lopez pulls all the pieces and parts together to make her clients' wedding days come off without a visible hitch.
From set-up to cake delivery to vows to getting rid of the garbage left behind after the reception, today's wedding planners can — and do — do it all.
Local planners warn that if the bride wants to save money, especially by having family help with some of the major aspects of the event — perhaps a cousin will be the deejay and an aunt will bake the cake — think again. Disaster can often result.
"You're dealing with people who have no clue what they're doing," said the Golden Eagle's Griggs, who is involved with coordinating on the day of the wedding. "When you hire a professional, it makes things work."
Tallahassee-based John Gandy has been handling weddings for 19 years. Over that time he has seen the average wedding balloon into an elaborate event that can stretch over days or even encompass a season of activities.
"Twenty years ago you could do a small scale reception, but now it's a lot more detail oriented. It's almost like a commercial event," he explained. "In the past you could do butter mints at the church hall. Now it's more spectacular."
Simply put, Gandy said, it takes a village to have a wedding.
"It's not just coming in and throwing linens on the table and calling it a day. It's working with flowers, caterers, lighting, sound, making sure there are generators for backup and that someone is taking the trash out," he said.
Over the years Gandy has gathered a large collection of wedding-related items so that he can provide nearly any look a bride wants. He's keeps it all in a 13,000-square-foot storehouse.
Most importantly, planners say they and the bride need to have a good rapport as they work together to plan the wedding, from concept to completion.
Planners usually demure when asked if they have ever had a problem client. But, over the years, Gandy concedes he's had "some doozies," including a mother of the groom who wanted the rehearsal dinner to be more elaborate than the wedding reception. Still, he counts himself lucky that he's only had three "bridezillas."
Destin's D'Agostina has been in the event planning business on the Emerald Coast for eight years. About 90 percent of her business comes from brides, and she has to keep reminding herself that it isn't her wedding — she's there to guide the bride along the way.
"It's a lot of detail and organization and to-do lists, but that's the way my brain works, so it's easy for me. You need to multi-task and organize," she said. "The weather sometimes gets tricky, but as long as you have a Plan A, Plan B, Plan C, you should be covered. When you hire a planner, there shouldn't be any issues that haven't been thought out."
Terri Smith Photography
Say Cheese!
Terri Smith started her career taking shots of her girlfriend's wedding in St. George and fell in love with the idea of recording the special day for clients — no matter what she has to do to get the picture.
Hold that Pose
Probably the fastest growing segment of the wedding business is photography. And that's likely a direct result of the growing popularity of websites like Pinterest (dubbed a "mecca of wedding planning"), Facebook and other photo-sharing programs — not to mention blogs that will cover every aspect of what a bride needs to plan for.
"In this Instagram culture, there are so many people who are going to have pictures on a phone, online, on Facebook. People getting married know it's important to have real pictures of their day," said Kay Meyer, a Tallahassee-based photographer and president of the Tallahassee Association of Wedding Professionals. "Even grooms have Pinterest pages. There are wedding blogs. It has helped the business."
Terri Smith of Tallahassee never intended to be a wedding photographer. But then one of her girlfriends got married at the beach and asked her to take the photos.
"It was scary. It was someone's big day, and I didn't want to mess that up," she says. "She got married on St. George. There was one image I got of her walking down the pier with her mom, where they were looking at each other. When I saw that image, I woke my husband up and told him I'm shooting weddings. Next year I did 30 weddings."
Wedding photographers may have one of the most difficult jobs at a wedding. After all, most of the candid shots will only happen once and they want to be there to capture the moment, a job they're being paid thousands of dollars for. If they miss the first kiss of Mr. and Mrs., well, they missed it and everyone will know. And while some brides will pose like they're Cindy Crawford, others need to be coaxed and put at ease to get the best shots.
The professional's competition, of course, is almost every wedding guest vying to be the first to put a photo of the newly-married couple up on some social website. Then, of course, there is the favorite uncle or friend who is there trying to take every photo that the professional is trying to capture.
"There's a person that photographers like to call 'Uncle Bob,' " said Meyer. "It's usually a hobbyist or someone doing the couple a favor by following them around as much as possible, shooting the wedding and everything else. I talk to my brides about that ahead of time."
The important thing to remember, said Meyer, is that "it's their wedding, not a photo shoot. I'm not in control of the day. I let it take its natural course so it doesn't look strained or posed."
The business has become intensely competitive, with photographers relying on the work they put on their own websites — and often word of mouth — to sell their services.
There are a lot of wedding photographers along the coast, but Lindsey Bray, who shoots for Pure 7 Studios in Miramar Beach, said there is enough work for everyone to have a full calendar and for every bride to find someone who meshes with her personality.
"Photography is so personal, so specific, your work and personality have to mesh with the client," she explained. "We get to know these people and their families. We get to be a part of their lives, and that is really an honor."
Feast for Eyes and Tummies
Two aspects of a wedding that guests love to chat about after the big day are the food and the flowers. They're a must for every wedding. Flowers are usually selected based on the bride's preference. The food is more apt to be based on current trends.
Missy Gunnels has been in the flower business in Tallahassee for 20 years. She puts together her floral creations at her home studio/workshop. She only provides flowers for events and weddings, but still she jokes that "it's kind of impeding on our living space!"
Flowers have become a big — and worldwide — business. Gunnels gets most of her flowers from Amsterdam, which can FedEx the product to her overnight.
"The world of flowers is shrinking. If I can't get from California or Amsterdam or Peru … New Zealand is coming on strong because their seasons are the opposite of ours. Or I can get orchids from Hawaii or Indonesia. It's fun to find the product," she said.
Tulips are now available year-round as is the hugely popular peony. But Gunnels warns brides that they might not always get the exact shade of purple or blue or red or pink that they desire.
"I emphasize with clients that it is a fresh product," she said. "Climate, rain, fertilizer and temperature can change coloration, and the size of the product will vary based on the time of the year. I try to prepare people for that. In our consumer world, people expect to have it their way, but it's not a silk product. When you get your product, you're not exactly sure of the shade you'll get that week."
She does about 120 events a year, with 100 being weddings, and admits she is a micromanager about the flowers, often being at the airport at midnight to make sure the right flower came in. Sometimes she'll be putting arrangements together in the back of the van driving to the event.
"People love flowers. Even if they are bridezilla, they smile when you hand them that bouquet," Gunnels said.
While flowers are food for the eyes, one of the most anticipated events during a wedding is the reception — snacks or dinner plus the highly anticipated cake.
The current trend in wedding reception food is action stations, where guests can stroll around, filling small plates with local delicacies, comfort food, new twists on old favorites. It's cheaper than the traditional sit-down dinner and gets guests mixing and mingling.
Townsend Catering in Santa Rosa Beach won the Wedding Wire Bride's Choice award in 2013 for its fare. Owned by Donna and David Townsend, the company is going on its 11th year on the Emerald Coast, providing food for weddings from Panama City to Destin. A good 75 percent of their business is weddings — and 75 percent of them are destination weddings.
"We're an on-site cooking company," explained Donna Townsend. "We set up our own kitchens wherever we go. We have a kitchen tent with stoves, fryers, whatever we need."
Their No. 1 problem? Weather. Most brides want to get married on the beach, so they at times have to battle rain, wind, heat or cold. If there is high wind or blowing rain, "we have to tighten the tent up," she said. "Knock on wood we haven't had any dangerous weather. No one wants it to rain on their wedding day, but you have to go through with it."
Like the main course, the dessert also follows trends. Popular now are cupcakes, which are perceived to be cheaper than the big cake, although they're not. More brides are also choosing pie and dessert bars, which are more cost effective for the person paying the bill.
"People are being so cautious now, following a budget," said Megan Pietrodangelo, general manager for sales and marketing at Tallahassee's The Cake Shop. "We are constantly watching our price points, making sure we are competitive. The problem is that product prices go up, gas goes up."
To give customers consistency, The Cake Shop reviews its price list every other year instead of annually.
The store has only one pastry chef, Steve Newman, who often arrives between 2 and 4 a.m. to begin his work. He can make up to five wedding cakes in a weekend, and he personally delivers each one.
"For weddings, The Cake Shop has a name, a brand that people know," Pietrodangelo. "We're been in business for 35 years. We have couples in their 60s that we did the wedding cake for, and now we're doing it for their grandchildren."
Scott Holstein
Planning Ahead
Putting together a wedding with all the bells and whistles not only takes money but time. Event planners and venues are often booked a year or more in advance. Meetings with florists and caterers can come six months out or longer. As for planning the event itself, that can start years ahead of time, long before there's even a groom in the picture. Thank social media for that — but also thank social media for providing more information (and reviews) than ever about what will make that perfect day … perfect.
Of course, not everything will always go completely according to plan.
Photographer Terri Smith well remembers a wedding she was contracted to shoot at the beginning of her career. The wedding cake was up against a wall and the event planner wanted it moved. The bride agreed and then the event planner asked Smith to help.
"The cake had tall columns between the layers and as we started to move it, it began to topple. The event planner caught the top but the rest was messed up. I was mortified, but the bride was okay with it," she remembered.
Now, if anyone decides to do anything with the cake, Smith makes haste in the opposite direction.
"I don't care if it's the mom, the bride or the event planner," she said. "If they ask, I run the other way."
On the whole, wedding professionals are there to sweat the small stuff so that the bride doesn't have to. That's why they can charge what they do.
"When I see brides that obsess about details, I tell them it's going to be wonderful, be in the moment and enjoy," said Gandy. "When I see them after they've had the first child, they've had time to put things more in perspective."