How to assure customers your business hires only legal workers
Using E-Verify could boost your business image if your customers know your workers are legal.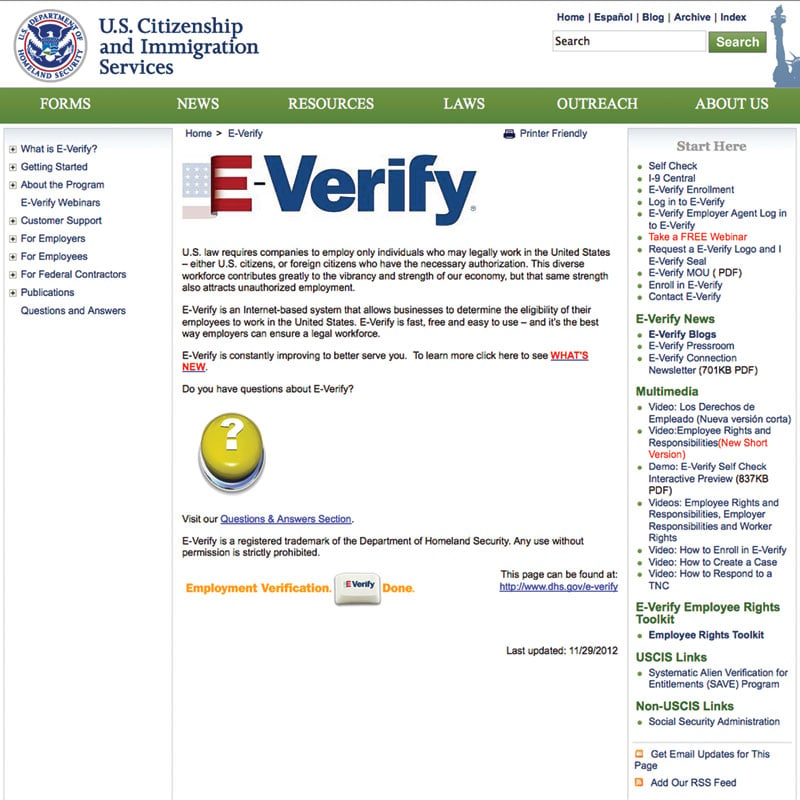 In 1986, the Immigration Reform and Control Act mandated that every company should verify the employment eligibility of its workers through the Form I-9 Employment Eligibility Verification. You know the one: the short, "I am a US citizen" questionnaire with signature that you have on file for everyone who works for you. Although easy to complete, the I-9 is not without its faults.
U.S. Immigration and Customs Enforcement (ICE) intends to ramp up its monitoring of all immigrants working in the country — from the western European violinist to the Asian Indian computer scientist. And just because you're not employing tomato farm workers doesn't mean you are out of the immigration woods.
Many companies get into hot water because they don't fill out the I-9 completely or correctly. More commonly, they don't follow the strict regulations about documentation paperwork that should accompany the form.
Like most other anti-discrimination measures, you must collect the same I-9 documentation information (such as photo IDs, Social Security cards) for all employees. So, if you hire a person that appears to be from another country — whether or not you are sure of their immigration or citizenship status — you cannot require them to provide photo identification, birth certificates, etc., unless you have those on file for every other individual in your company.
If you knowingly hire a person who is not eligible to legally work in this country, the U.S. government can hand down large fines — and even jail time — for habitual offenders. Most companies, however, put themselves in legal jeopardy by either not collecting any documentation with the I-9 or doing so irregularly.
The U.S. government sought to make this an easier and more streamlined process by introducing the "E-Verify" online system, a free service offered by the U.S. Department of Homeland Security. It is touted as a one-stop shop for employment eligibility verification, and proponents say it is the best way to ensure your workforce is in compliance.
In fact, E-Verify was hailed by President George W. Bush as, "the best means available to confirm the work authorization of the workforce."
Likewise, the federal government notes that other advocates of enrollment claim, "[the] statistics show E-Verify works … even for employees who receive initial mismatches and are later confirmed as work authorized, E-Verify informs them of possible errors with their government records. By clearing up mismatches sooner rather than later, E-Verify can save these employees significant time and frustration."
It Takes Only Seconds
E-Verify is the Internet-based companion to Form I-9 that allows an employer, in three to five seconds, to determine a worker's employment authorization status by comparing information listed on Form I-9 with some 455 million Social Security records and 80 million Homeland Security visa, citizenship and U.S. passport records.
The Department of Homeland Security strongly encourages, but does not currently require, states to mandate that employers enroll in E-Verify. Currently, only four states require that all employers be enrolled in the system while nine have some form of E-Verify requirement. There are seven states, including Florida, with pending legislation that would require enrollment. Also, as of September 8, 2009, certain federal contractors must enroll new and existing employees in the system.
Immigration was one of Gov. Rick Scott's key campaign issues. On his first day in office in 2011 he issued an Executive Order requiring state agencies to use the E-Verify system to verify employment eligibility of state employees and contractors.
Indeed, the E-Verify system provides all kinds of benefits to companies, even beyond state government. The system is business-friendly, with key conveniences such as 24/7 access, a full array of training and customer service, instant results and employee dispute information.
Find Your Match
One of the most convenient aspects of the system may be the photo identification process. When employers log onto E-Verify to look up employment eligibility, they are greeted with a file photo of the employee matching the information entered. The first step is making sure the person sitting in front of you is the same one on the screen.
The next step is compiling the required documentation and getting instant results from your search. If an employee is cleared for work, "Employment Authorized" status appears and you are on your way.
If the search returns a mismatch, a "Tentative Nonconfirmation" results. If this happens, employers need to print and review a notice with the employee that explains the cause of the mismatch and what it means for the employee. The employee has eight federal government work days to resolve the problem before being declared ineligible for legal work in the U.S.
It's rare that an employee runs into this kind of problem. In fact, the U.S. government reports only 1.7 percent of employees receive initial mismatches and 1.39 percent of those are not work authorized. The system actively follows these mismatches and encourages employers to inform employees of their mismatch status and how they can attempt to correct it.
Cautious Optimism
Of course, no system is without its faults or potential pitfalls. Those concerned with worker rights, such as the American Immigration Lawyers Association (AILA), claim that, "E-Verify does not effectively root out all undocumented workers. Some undocumented workers will be erroneously confirmed as authorized to work. E-Verify cannot identify counterfeit, stolen or borrowed identity documents. A worker may present 'good' documents that check out through E-Verify, but E-Verify cannot confirm that the document belongs to the person presenting them."
Similarly, AILA notes that, "Due to errors in the Social Security Administration and DHS databases, some citizens and legal workers will receive tentative non-confirmations, or even final non-confirmations, and will not be able to resolve the discrepancy or may not even know about the problem. They will be denied employment and paychecks."
This illustrates the importance of employers following the rules associated with common hiring practices and the need for comprehensive documentation for all employees, not just those known or suspected to be of non-citizen status. What's more, it's important to continually update the I-9 documentation you keep on file, since documents change through renewal or update on a regular basis.
A Golden Opportunity
Regardless of the legal requirement, I-9 compliance and E-Verify enrollment might be used as a way to market to consumers who want assurance that businesses they deal with hire only authorized workers.
Form I-9 compliance and great PR? This can be a boon to companies in the 850 area, and it's a win-win for many.
According to Tallahassee-based employment law attorney Robert J. Sniffen, "The I-9 is a deceptively simple form for which the consequences of non-compliance can mean civil and criminal penalties. If the system continues to be free, if legal workers are not harmed by its use and if Florida businesses can benefit by increasing competitiveness, Florida employers should consider voluntary enrollment."
Likewise, governmental consultant and lobbyist Paige Carter-Smith, with Governance Inc., notes, "The importance of E-Verify enrollment cannot be overstated. The potential windfall to Florida businesses contracting with the federal government is well worth enrollment."
As an online counterpart to the I-9, E-Verify may provide a means of quickly verifying workers' employment eligibility. Although some are concerned about federal database errors, all state agencies must now use E-Verify, and all Sunshine State employers may soon be required to do so either due to market conditions or state law. Small and mid-sized businesses can get ahead of the curve by taking part in E-Verify and getting their own I-9 houses in order.
Elizabeth Ricci is the managing partner of Rambana & Ricci PLLC in Tallahassee, where she concentrates on employment-based immigration and counsels employers on I-9 compliance, strategy and audit defense. Ricci is an E-Verify Enrolled Employer Agent with the Department of Homeland Security.