How This Environmentally and Economically Savvy Game Changer Plans on Saving Wakulla County
TCC's Wakulla Environmental Institute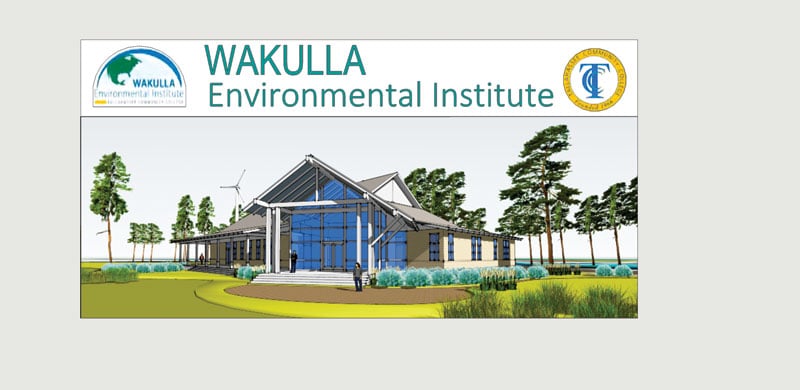 Life in Wakulla County hasn't been easy over the last decade. Rattled by the Great Recession of the mid-to-late 2000's, this small community has had to face the hardship of a dying oyster industry head on. For many, the changing tides have made traveling to Tallahassee in search of increased economic opportunity, as well as viable employment options, an absolute necessity.
But the winds of fate may be whistling through this sleepy community faster than many folks realize.
Tallahassee Community College's newly designed Wakulla Environmental Institute — scheduled to open to students in the fall of 2014 — is a real game changer for the region. If successful, the school not only carries the potential to put a fresh stream of well-informed, highly skilled workers and entrepreneurs into the local economy, it also has the power to impact a little thing called "ecotourism."
Academics and the Importance of Aquaculture
The plan, which was originally conceived 15 years ago by Bill Law, former president of TCC, is for the Institute to offer two-year Associate of Science degrees in an array of ecologically responsible fields. Throughout their schooling students will receive onsite training, though the majority of their course work will actually be done online. Degree options will include Hospitality and Tourism Management, Aquaculture Management, Parks and Leisure Services Technology, Agribusiness Management and Recycling.
"These [majors] are designed for once they get out, once they graduate, to go right into a job," explained WEI Executive Director Bob Ballard.
For Ballard, who described the Institute's role as a "one-stop shop for all things environmental," the mission behind WEI is really quite simple: to preserve a way of life while staying in tune with the changing times.
"What I envision is the sons and daughters of oystermen who want to start their own business but aren't quite sure what they want to do," said Ballard of the Institute's prospective student population. "They love what dad did and granddad did, but they don't see a future in that, though they want to carry on the tradition. How do you do that? You do aquaculture. You do aquaculture oysters."
Oyster farming, or oyster aquaculture, is a well-established method of maritime harvesting, and will thus be one of the most well equipped areas of study at WEI. The practice itself is an ancient one, with ties as far back as the Roman Empire. Today, politics are a tad more involved, but the basic principals are the same. After obtaining a lease from the governor and Florida Cabinet for state-owned submerged lands, the oyster seeds are purchased from a hatchery — of which there are three of in Florida — and placed in anchored plastic cages. When rotated and monitored once weekly, the oysters have a 90 percent chance of growing to adulthood within 10 to 12 months. Compared to the reported one-in-a-thousand that survive through adulthood in the wild, the jump is startling.
It's just the sort of innovation that Wakulla County needs — and that WEI can deliver. According to a 2012 report by the Florida Department of Agriculture and Consumer Services, the Apalachicola oyster population can be, and frequently has been, depleted by a number of factors, often including climatic conditions, water quality, drought and flood events, catastrophic storms and hurricanes, natural mortality from diseases and predation, and fisheries.
Oyster aquaculture can help control those variables.
Since oysters operate under a natural filtration system, the process of oyster aquaculture has practically no negative environmental impact and can often help promote an even healthier ecosystem — making oyster aquaculture the environmentally and economically preferred method. A truth some Wakulla residents like Leo Lovel, owner of Spring Creek Restaurant in Crawfordville, have already found out for themselves.
Together with his wife and two sons, Lovel has owned, operated and supplied much of the seafood to his eatery for the last 30 years. But after a series of natural disasters and stricter regulations hit the Gulf Coast, business was suffering.
"We had the restaurant, but what we started to look for was something that could supplement our income so that we could survive the economy," said Lovel. "Oysters got scarce. They got so expensive we could hardly serve them."
Though the process of oyster aquaculture is familiar overseas, and is routinely used on the northeastern coast of the United States, it had never been attempted within the 850 region.
But Lovel and his family took a chance, and the gamble paid off.
"All of it was done as an experiment," shared Lovel. "In other words, we had the opportunity to get ten thousand oyster seeds and we designed cages to put them in and then we planted them in different ways."
Spring Creek Restaurant is just beginning to see the fruits of those labors, but Lovel's success gave Ballard the proof he needed.
Conservation and Ecotourism
The sprawling 158 acres comprising WEI's campus are located 10 miles southwest of Wakulla Springs State Park off U.S. 319. The land exemplifies old Florida's untouched natural heritage by paying homage to a number of distinct ecosystems throughout the property's boundaries. Purchased from a private owner on April 1, 2013, strong pine trees, rugged brush and a variety of wildlife cover the terrain.
The land also boasts two connected sink holes, each with a unique ebb and flow that seem somehow related to the Gulf of Mexico's tidal currents. Extensive diving studies are currently underway to verify the link.
"The reason Wakulla Environmental Institute is here is that we're surrounded by a million acres of conservation land," explained Ballard on TCC's Wakulla location choice. "There's not many places in the United States, especially in the southern 48 states, that have a million acres located right together."
It's a feature Ballard hopes will entice not only prospective students to visit WEI's campus, but also vacationers looking for a back-to-nature inspired getaway.
"We've got the Gulf of Mexico at our back door, these million acres and they'll come for Disney — but they'll stay for the real Florida," beamed Ballard. "We're excited about that."
And others are, too.
Felicia Coleman, director of Florida State University's Coastal and Marine Laboratory, has been a guiding light in establishing the academic vision of WEI. According to her, careers in oyster aquaculture aren't the only promising thing to come out of the Institute's "fabulous" location choice.
"The other types of jobs that are important in Wakulla County are in tourism," said Coleman. "That means training people to understand how to limit their ecological footprint on those environments. Wakulla County is in a fabulous position, not just for this Institute, but also for providing the sorts of things [and services] that this Institute can."
Ecotourism is a major component to WEI's future success. The ultimate goal of the Institute is to draw in 200 families from around the world to Wakulla County each year by emphasizing outdoor adventures and educational experiences. Things on the menu include kayaking and airboat tours, deep-sea fishing and the chance to stay overnight in a real life (and air-conditioned) tree house. Over a hundred potential excursions are in the works, and all carry the potential to draw in a very broad clientele.
Once demand for WEI's ecotourism exceeds the capacities of the county's local lodging facilities, a 200-room hotel and spa will be built on the campus grounds and run under the management of WEI's student population majoring in Hospitality and Tourism Management.
Locals, including Tammie Barfield, president of the Wakulla County Chamber of Commerce and co-owner of Bay Leaf Market in Crawfordville, are excited about what that could mean for the county's economy.
"I can't pretend to know exactly what the impact will be in terms of ecotourism," admitted Barfield. "But our county is really ripe for expansion in that area. The key is to retain the natural qualities of our county and promote our coastal location and everything there is to see and do here, and that's what WEI's certification program will train those graduates to do."
Greener Training
Green Guide Certificates will be one of the key courses offered at WEI. Currently available through TCC's Wakulla Center, the 90-hour certificate program is designed to educate nature enthusiasts and entrepreneurs alike. The program emphasizes general guidelines and skills for anyone interested in owning an environmental-based business should know.