How New Degree Programs Will Help Florida Become a Technology Hub
Cybersecurity 101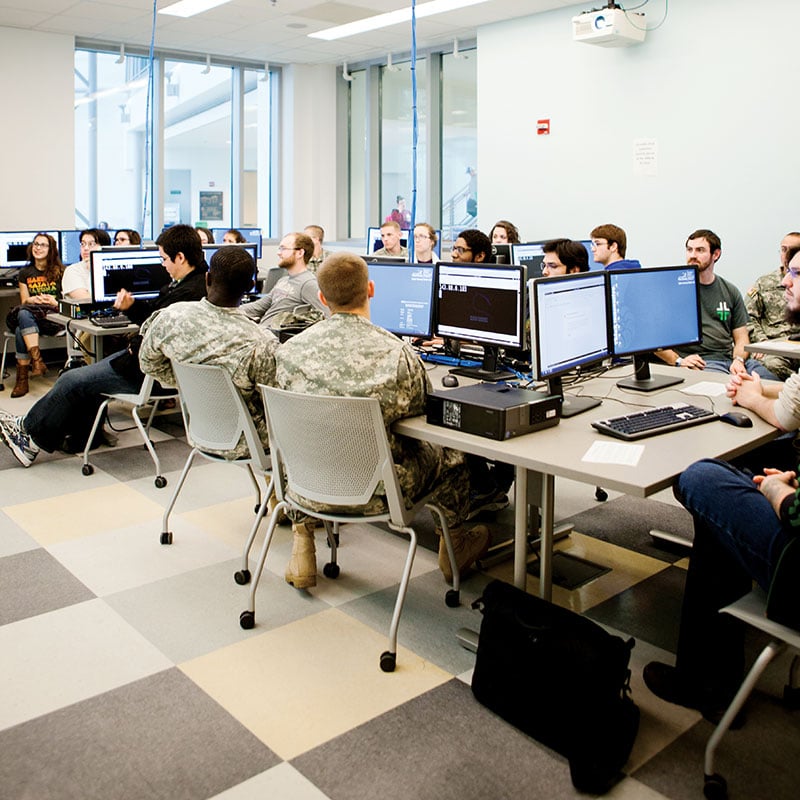 You're sitting at a restaurant waiting for your lunch to arrive. To pass the time, you idly scroll through The Wall Street Journal, peruse your Facebook News Feed, check your email and then — without hesitation — log in to your bank account.
Sound familiar? Unwittingly, on any given day, you could make yourself vulnerable to any number of vicious cyberattacks — hacks of personal information from your finances to your health records.
Threats to online information have been around as long as the Internet, yet the issue has gained major buzz only over the past several years. To capitalize on the trend and generate a steady stream of students to populate a growing sector, universities throughout Florida have begun offering degree programs in the field.
Aiming to position our state as a hub for the industry, the University of West Florida launched its Center for Cybersecurity in the fall of 2014 and will send graduates into the work force as soon as next year.
A Degree is Developed
Students learn to prevent cyberattacks through realistic simulations.
UWF Executive Vice President for Academic Affairs and Provost Martha Saunders championed the center's creation. Its functions are trifold — education, research and outreach. The degrees themselves are granted by the Department of Computer Science — which now offers undergraduate and graduate programs in both the technical and managerial components of cybersecurity, as well as certifications in the field.
According to Saunders, the university conducts routine market research to identify programs in demand. Popular subjects are then tested to gauge interest among current or prospective students, at which time resources to launch a new program are assessed.
"Cybersecurity is one of the hottest programs around," Saunders says. "I have been told that about 2 million jobs in that field will be available over the next 18 months — jobs at all levels and in all industries."
The university works closely with area economic development partners to address the needs of prospective businesses, helping to foster a business-ready environment for companies wishing to locate to Northwest Florida.
"The industry certifications, baccalaureate and master's degrees UWF offers in the field will help to meet the growing needs in our region," Saunders notes. "It is appropriate to house such a center at UWF where we have strong, complementary academic programs and faculty. We are on the front end of a major trend."
From Buzzword to Brochure
Professor and Chair of Computer Science Sikha Bagui knows her department has an obligation to stay ahead of technology trends.
"Developing the center helped the university establish an interdisciplinary and multifaceted approach to our programs," she says.
Perhaps not surprisingly, teaching a subject as complex as cybersecurity requires tools outside the usual parameters. Every computer on the university campus is connected to the UWF network. (This is the same for hospitals and most major corporations.) But to teach students how to defend against cyberattacks, instructors have to create realistic scenarios in a place where such attacks can be simulated.
That place is called the Battle Lab. Used for teaching as well as research, lab computers are off the grid, so what students do with them is isolated. One group attacks, and the other defends. The Battle Lab is unique to UWF, Bagui says, because schools rarely allow computers off their networks.
"There are issues that can arise," she admits. "We had to convince the university that we needed this freedom, because this is how our students learn."
One thing you may not find in the Battle Lab is a surplus of women, an issue the center is working hard to combat. To inspire and attract young girls and boys, UWF hosts a bimonthly CoderDoJo group for children ages 7 to 17, where volunteers teach the foundations of coding and development of apps, websites and games.
Networking at Work
UWF offers a highly technical B.S.C.S. in Cybersecurity, working with networks and computers to stop attacks. But Bagui is quick to point out the new M.S.A., conducted entirely online, is structured to give graduates a managerial perspective on the industry — and an awareness she believes most companies lack.
"Cyber issues have always been there … it's just now being highlighted more as a challenge or a problem," Bagui says.
As we become more and more electronic — particularly with mobile devices — there are easier and more prolific ways of breaching security. So we sit and connect to the world using Wi-Fi without realizing the vulnerability of our private information.
Awareness is critical, because people are not going to stop using the technology.
"You have something in your hand that you can access to get your work done," she continues. "Are you going to sit there and not do it?"
Beyond offering degrees, the center functions as a base for cutting-edge research and community outreach — seeking grants, awarding scholarships and judging local high school competitions.
"We want to get students interested, engage them early, make them aware of cybersecurity and excite them," Bagui says. "I think we are in the forefront because we recognize the need. It might take us a few years to find out exactly where we fit, but we are certainly not behind. I would consider us one of the major players."
As such, the University of West Florida is a member of the Florida Consortium for Cybersecurity in Tampa, where state universities collaborate to form the ideal cybersecurity curriculum. UWF is currently working to align its teaching, research and outreach components to achieve a Center of Academic Excellence designation.
"It's an exciting thing, designing a curriculum that didn't previously exist," Bagui says. "We're really trying to base it on national standards, so when students come out of our programs they will be employable in major corporations."
The Need is Now
On March 16, retired Navy Capt. Susan K. Cerovsky assumed the role of director of the Center for Cybersecurity. She believes the programs will be an all-around win for the university, the state of Florida, the nation and all of the businesses incorporated here and beyond, from financial and health sectors to the energy sector — and, absolutely, for the public.
"Whether it's the customer information held by retailers or personal details held by area banks and hospitals, we increasingly rely on cybersecurity innovation and a skilled cyber workforce to protect our people and our economy," Cerovsky said. "Defending the United States from cyberattacks requires highly trained specialists who can design secure computing systems, write secure computer code and create tools to protect, detect and recover from malicious acts. The need is now, and the stakes are high."
To learn more about the programs offered by the University of West Florida, visit uwf.edu/cybersecurity.