Homegrown Franchises
Famed franchises including Super-Lube and Tropical Smoothie Café have found a launch pad in Northwest Florida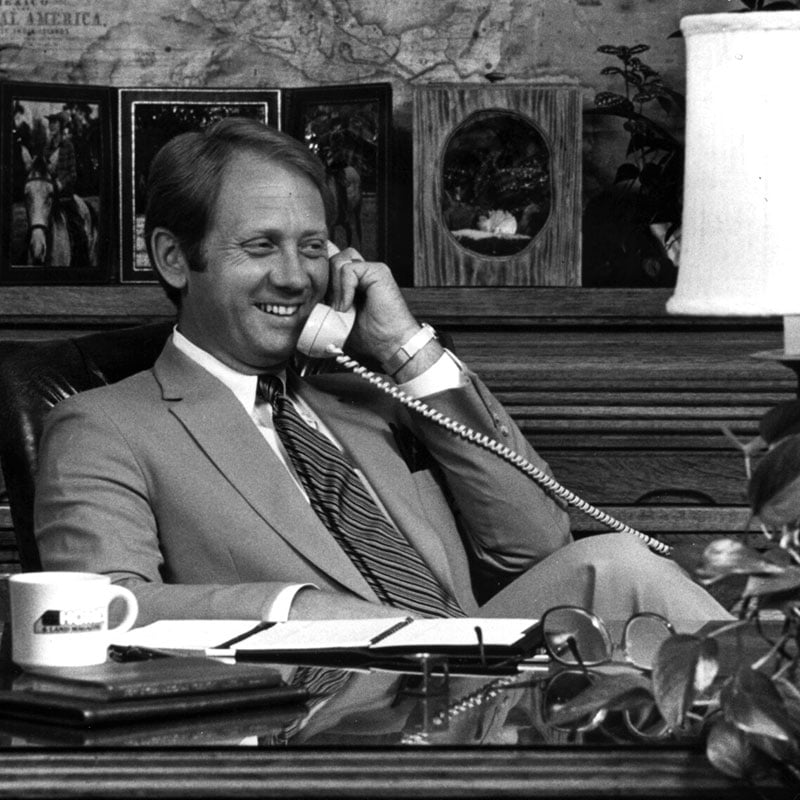 Developing a business model from the ground up is a relentless task for even the most seasoned entrepreneur. For business-minded individuals willing to invest more up front, the reward of buying into a successful franchise can be substantial.
In Northwest Florida, many homegrown franchises have flourished. A quick tally of franchisers across the Panhandle proves that the region's hospitality industry is second to none. A variety of culinary establishments selling the region's signature brand of Southern fusion food and drink are popping up in all 50 states. But the area's successes don't stop there.
Businesses in a variety of industries across Northwest Florida have made a name for themselves by translating an effective regional concept to the national marketplace. For their franchisees, that's made for easy startups and impressive profit margins.
Homes&Land Inc.
The real estate market was booming in the early 1970s when Jerry Lundquist, founder of Homes&Land and Tallahassee Magazine, had his epiphany.
The idea was to offer the real estate industry the complete marketing package. Taking an entirely fresh approach to real estate advertising, Lundquist plotted to bring the latest listings directly to potential buyers, with free magazines conveniently situated in the community's most trafficked areas.
Industry: Real Estate
Established: 1973
Headquarters: Tallahassee
First location: Tallahassee
Franchises to date: 220
Total employees: 70
Ten years later, Homes&Land was quickly spreading across the country as the first national network of real estate magazines. And investors had started to notice.
"In 1984, Jerry decided to franchise," recalled Rob Wicker, vice president of sales and marketing and a 17-year veteran of the company. "He thought correctly that it would be the fastest way to grow, to find entrepreneurs in different communities across the United States."
Today, the brand has a hold in nearly every state and across Canada. At the height of the real estate bubble, Homes&Land produced 275 unique versions of the magazine every month.
It's a number they hope to see again soon.
"The real estate recession hit the company hard," Wicker said. "But we're starting to grow again. We have 220 franchise locations now. In the next five years, we should exceed 275."
Homes&Land currently publishes 27 million magazines a year. Though the brand was purchased in the summer of 2014 by New Point Media Group, the company's headquarters still remain in Tallahassee. According to Wicker, that's been a sound business decision.
"We've recruited over the years many top employees who were Florida State graduates," Wicker said. "There's a work ethic in Northwest Florida that I really think the company has benefited from."
Another Broken Egg
Colleen
duffley
productions
If there's one thing Ron Green has come to know over the past decade or two, it's that all diners are not created equal. As a restaurateur and franchiser, Green, the founder of Another Broken Egg, has established himself across the country as a foodie force to be reckoned with.
Industry: Hospitality
Established: 1996
Headquarters: Destin
First location: Meadville, Louisiana
Franchises to date: 52
Total employees: 1,500
His brand is based on a few simple ingredients: fresh food, local flavor, a relaxed but upscale atmosphere and unmatched service. It's a recipe that's served him well thus far. By 2018, the brand is slated to have more than 100 locations.
"I think you can tell the strength of a franchise business by who buys its franchises," Green said. "We've never really advertised. It's all word of mouth. People have come to us. What we have seen more than anything else in the last five years is that people who have bought into the system are rebuying."
While multiple ownerships are among the brand's latest trends, expanding into entirely new regions is another example of positive growth that has the company as well as its franchisees excited for what's ahead.
"We think we'll open between 22 and 25 (restaurants) a year starting in about another year and a half," Green said. "We just recently hired a director for franchise sales. I think that's going to stimulate us even more. Plus we have several restaurants waiting to open. We just sold 12 locations in San Diego. We're also seeking new franchises in the Northeast, the Midwest and even further, in California."
Super-Lube
Starting up a quick-lube company might seem like an odd side gig for three esteemed Florida State University professors. But in the late 1970s, the business plan for Super-Lube was revolutionary.
Industry: Automotive
Established: 1980
Headquarters: Tallahassee
First location: Rochelle, Illinois
Franchises to date: 60
Total employees: 400
"The professors inside FSU got together and were doing a marketing plan," said Tom Chambasian, the current president of Super-Lube and the company's managing partner, "and they ended up liking the quick-lube industry. They started their first store right around 1980."
Cornering the market in Tallahassee was priority No. 1. The trio saturated Florida's capital city with 24 locations, later adding another 50 in neighboring towns and states. By 2006, John Lewis, the last original investor to maintain his hold on the company, sold the remaining storefronts and trademark to Chambasian and his partners.
"We own a lot of locations in Tallahassee, Florida. And that is only because the founders overbuilt the city to keep all the competition out, which was a great thing," Chambasian said.
"We own more locations than Capital City Bank, and more than McDonalds or Taco Bell. We're the largest little independent retail business in Tallahassee for multi-units."
Soon after Chambasian became CEO, he began franchising Super-Lube. Though the brand has grown the company's footprint more than anything else, potential franchisees in new territories have been invited to invest. Eight franchise locations have been opened to date.
"Super-Lube has been established and running for 30-something years," Chambasian said. "It has a good plan and a good name behind it, plus longevity. That definitely shows the strength of the operation."
Po folks
Po Folks has been a household name since the mid-1970s, when twangy country-music legend Bill Anderson helped to catapult the brand into stardom. At one point, the trademark had a hold on more than 100 locations.
Industry: Hospitality
Established: 1975
Headquarters: Panama City
First location: Anderson, South Carolina
Franchises to date: 8
Total employees: 350
After the originating company and then its successor declared bankruptcy, Peter Sostheim, owner of Vittles Companies Inc., purchased the rights to the franchise in 1996. Though initially established in South Carolina, the restaurants have been based in Panama City since their former owner and operator, Bill Hall, brought the brand to Florida's Gulf Coast in 1985. Today, the company is thriving.
"It's been a banner year," said Linda Hoffman, marketing director at Vittles Companies Inc.
With menu items ranging from "Off the Hook" seafood to "Blue Ribbon Chicken Dinners," the PoFolks brand operates firmly in the realm of comfort food. Guests are encouraged to raise their sweet tea-filled Mason jars to a simpler, more delicious way of life while they enjoy recipes that haven't changed much since the chain's conception.
"Bill Anderson's involvement in itself indicates PoFolks' country flair," Hoffman said. "PoFolks just has such a uniqueness of throwback country. That's what people like about it."
Sostheim has seven locations in the 850 area code and beyond. One franchisee is currently operating in Saint Petersburg, Florida.
Tropical Smoothie
Maybe it was the tropical temperatures or the cool beach-town vibe of Destin that first inspired Eric Jenrich and David Walker to put their blenders where their fruit was. Whatever the motive, in 1997 their love for the puréed prompted them to open the doors to Tropical Smoothie, the area's first mom-and-pop smoothie shop.
Industry: Hospitality
Established: 1997
Headquarters: Atlanta
First location: Destin
Franchises to date: 448
Total employees: 6,720
Being tasty and healthful were the primary objectives. Back then, the smoothie-only shack was a novelty that boasted 28 variations — a concept that beach-goers couldn't get enough of.
A year after the flagship store opened, Sam Osborne, now the company's area developer, opened the first franchise location in Tallahassee. By 1999, the franchise added "Café" to its name along with an assortment of menu items that take diners from breakfast all the way to late-night treats.
"Opening up in Northwest Florida when we did back in the late 1990s, smoothies were an unknown," Osborne explained. "There wasn't any saturation at the time. By opening up here, we were really quick to penetrate all of the markets that we went into, whether it was Tallahassee or Jacksonville or Orlando."
On the trendy West coast of the country, smoothies were already a popular refreshment. But along the nation's more traditional Eastern Seaboard, Tropical Smoothie Café was a flavor breakthrough. Today, the company is quickly approaching 500 locations.
"It's evolved into so much more now," Osborne said. "It's much more streamlined. The resources that we have are so much better. Things that we only dreamed of ever having in the first few years, it's just day-to-day business for us now."
In 2012, the founders sold the majority of their shares as franchisers to Atlanta-based BIP Capital. Since the sale, Tropical Smoothie Café has been headquartered in the Big Peach. Along with Osborne, former CEO Eric Jenrich has recently launched a new-to-market concept called Island Wing Company.