Holmes County is A Well-Oiled Machine
Tiny Holmes County has become a hotbed for manufacturing in Northwest Florida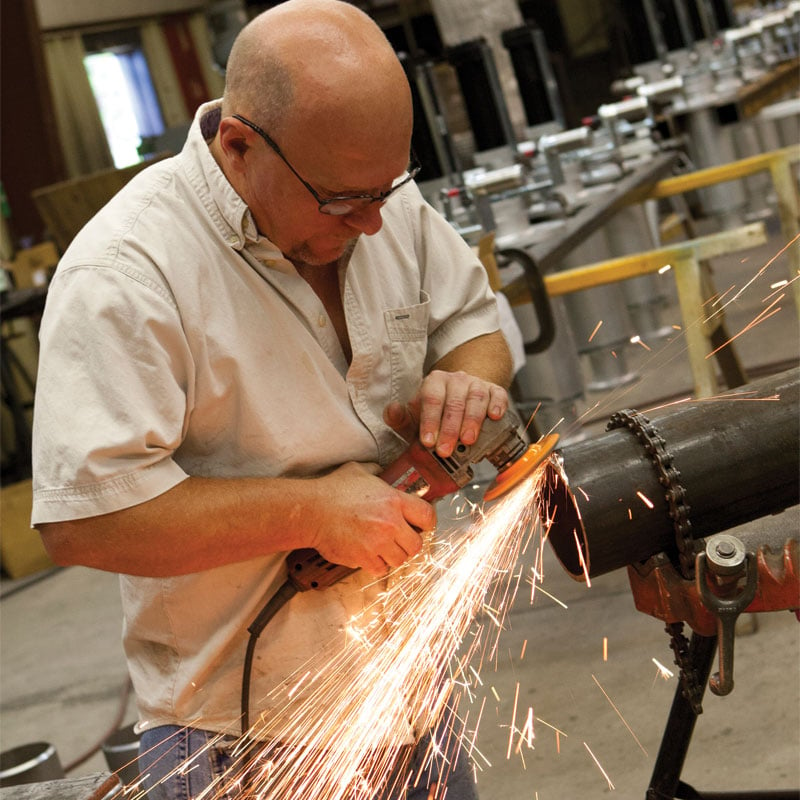 According to Enterprise Florida, the state is home to more than 17,500 manufacturers who collectively employ more than 300,000 workers. They contribute nearly $40 billion to Florida's economy each year — or about 5 percent of the state's gross domestic product. Overall, Florida was up nearly 5,000 manufacturing jobs in May this year compared to 2011.
In Holmes County, there has been a 10 percent increase in manufacturing jobs in the past year — and manufacturers represent a majority of the county's 10 major employers. In 2011, the average manufacturing wage was $40,586. (In comparison, the average wage in the county for all jobs was $25,688.) Also noteworthy is the fact that the county is centrally located between several Department of Defense military installations, including Tyndall and Eglin Air Force bases, Pensacola Naval Air Station, Naval Support Activity Panama City and Forts Rucker and Benning Army installations.
The Holmes mini-cluster of precision metal parts manufacturers and fabrication shops includes AUS Manufacturing, Environmental Supply and Manufacturing, Holmes Tool and Engineering, Johnson Laser Works and Manown Engineering.
A major contributor to the local bottom line is AUS Manufacturing of Bonifay, which provides its clients with some of the most precisely made metal parts available. Its main client base is a host of power utility plants in the U.S. and overseas, but it also builds parts for naval defense, Sikorsky helicopters and even roof hatches for foreign embassies.
"When we say precision, that means we do it with intolerance, within thousandths of an inch," says AUS Vice President James Sellers. "It starts from raw material coming in our back door. Steel … goes to a saw to be cut into lengths, and then we take it from there either to a manual mill or lathe or a CNC (computer numerical control) mill or lathe." The computer-controlled machining process is virtually automatic once the program has been developed for a specific piece. Simply put, says Sellers, "Raw steel in the back door and parts out the front door."
That level of precision is crucial in an industry that supplies parts to clients in both the government as well as the private sector. When asked what, exactly, is the secret to the company's success in a bad economy, Sellers credits "low overhead, tight management" and a high-quality product.
Manown Engineering's success seems similarly driven. "Seems like all small businesses have had to redefine success since 2008," says Chief Operating Officer Jason Gilmore. "Our run rate in 2009 was nearly half that of 2008, [but] ownership continued to make decisions for our long-term vision [in spite of] any short-term pains. We committed to staying in constant contact with our customers; prospecting for new clients; and investing in our people, plant and processes. We have strengthened our customer relationships, daily maturing our talents and trusting that God will continue to direct our steps."
Since 1965, Manown has been a contract manufacturer of precision-machined components and assembled products for a diverse range of industries including aerospace, defense, energy, motion, air and water technology, pumping and mining, oil and gas, agriculture and other original equipment manufacturers.
The company's capabilities have been honed down to a fine science, perfected with computer programs and the newest technology.
"Our entire organization understands that continuous improvement is where we are always heading," Gilmore says. "By establishing systems and processes, we are able to set standards and let these standards put pressure on the organization to achieve our desired results –– quality parts, customer satisfaction, continuous improvement, fulfilled employees and financial stability."
With stability comes growth and the growth of these companies has created jobs, bringing in not only revenue but more people –– which in turn creates additional sources of demand on other areas of commerce. It's a self-fueling machine that is honed, in a way, by the precise movements of precision parts manufacturers and machining companies. In many ways, a fitting analogy.
"A healthy manufacturing industry will grow a local economy in multiples," says Gilmore.
"Manufacturing creates more economic activity and jobs than any other industry. We pay above average ad valorem and personal property taxes; consume more power than most utility customers; and, arguably, offer salaries and benefits higher than most industries. We also bring in 'new' money. Most (of) our customers and prospects are outside of the 850 area code, and we have some outside of the (country). I can't think of an area that is not touched by manufacturing."
Jim Brook would agree. The former director of economic development in Holmes County, Brook is now executive director of Opportunity Florida, the Northwest Florida Business Development Council. In his opinion, "These companies are a unique asset … an opportunity to attract ancillary business and industry." Obviously, that opportunity is being seized, though it is done "quietly, without a lot of fanfare and attention. Our fabrication micro-cluster does some amazing work and supplies quality products to large multinational companies, as well as the military and the ever-important energy industry."
That work, coupled with ambition and a capacity to hone their companies' procedures as finely as the products they manufacture, has largely been the driving force behind this manufacturing cluster's continuing success in an unpredictable economy. "Each employs skilled machinists operating advanced technology, such as CNC mills, lathes, water jets, plasma and laser cutters, and other highly automated metal working machinery," says Brook.
Such practices require a particular level of skill and knowledge to execute — and a particular kind of worker. That creates a demand for workers, and those jobs have led to a spike in the local economy as well as a marked decline in the county's unemployment rate. A good example came in December 2011, when Holmes County had a jobless rate of 7.6 percent, some 2.3 percent lower than the Florida state average and almost 1 percent lower than the national average. Brook credited the industry's expansion and 21 new jobs created by automotive parts company LKQ in 2011.
"We were very fortunate that LKQ decided to expand the Bonifay facility following a recent acquisition of a competing manufacturer and a reshuffling of their processing and distribution strategy," says Brook.
Coordinating with the Holmes County Planning Board and the Holmes County Board of County Commissioners, LKQ and the Holmes County Development Commission worked with the local and corporate officials over several months preceding the expansion to navigate through land-use issues and the comprehensive plan to facilitate the project. The process was not without complications. Says Brook, "There was some question … (about whether) the company was going to shut down or choose to expand here. I believe a friendly planning board, a pro-jobs county commission and the Enterprise Zone (program) helped to give Holmes County the nod."
The county's Enterprise Zones encompass the towns of Bonifay, Esto, Noma, Westville and Ponce de Leon. New and expanding companies are potentially eligible for a series of sales tax breaks as well as credits on their property, municipal energy and state corporate income taxes based on how many employees they hire and the wages they pay.
Such incentives also reward the employees whose skills fuel the fire. In fact, according to Brook, workers earn "higher-than-average wages … as compared to other non-government industries in the county."
Those of us who see only the end result of these multi-stepped processes, often give no thought to what really happens — from start to finish — when producing all the moving parts of the machines that run our world. Simply stated, these manufacturers "produce parts for government and industrial uses that are made from a variety of materials including plastic, rubber, stainless steel, carbon steel, aluminum (and) brass … these parts are made from drawings provided to us by our customers," says Kyle Coates, Environmental Manufacturing and Supply Inc.'s vice president of sales and manufacturing. "Our business is diversified between general industrial customers and government contracts. Our general industrial customers are from a wide range … so that we are not dependent on just one area of the economy."
Similarly, no singular area of the economy has benefited from their success. "We have consistently employed an average of 20 people and paid taxes to the local economy," Coates says of EMSI. "We have [also] consistently supported and donated funds to many of the youth sports programs in the community and schools."
As the industry continues to grow, it has a direct impact on every area of life. The fact that these companies offer a tangible product is too simple. What they truly provide is much more far-reaching: Communities are built around the stability they bring, beginning yet another cycle of production. Holmes County is, in its own way, part of an industrial revolution.