Holistic Horizons
A brand new facility, a new approach to health care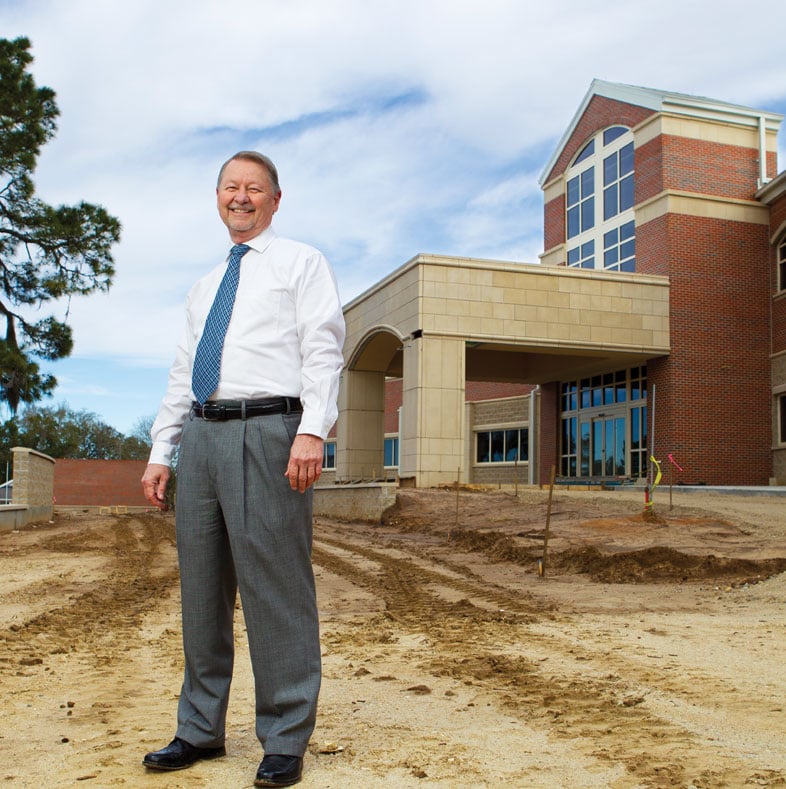 Madison County's health care industry has gotten a lot of attention lately as efforts surrounding a new facility, a fresh philosophy on patient care and cutting-edge technology have taken root in this rural community.
Thus far, the effects have been profound.
Once ranked last among Florida's 67 counties, Madison's health care scene has reinvented itself in recent years — skyrocketing its overall health care ranking to an impressive 51st place in 2013, with little indication of slowing down.
According to locals, a practical combination of due diligence and dedicated professionals are at the heart of this dramatic climb.
"The ranking is a result of all of our efforts," explained David Abercrombie on the county's continuous upward momentum. As the CEO of Madison County Memorial Hospital, Abercrombie's role in Madison's transformation has been monumental.
Scott Holstein
Hospital CEO David Abercrombie, standing in front of new hospital set to open this summer, says changes include a move toward "holistic" care of patients.
The ranking system that hospital administrators and county officials have utilized to monitor their success is based on a score that considers a variety of local issues (including social and economic factors, physical environment, clinical care, health behaviors, morbidity and mortality) and is released annually through a collaborative study between the Robert Wood Johnson Foundation and the University of Wisconsin Population Health Institute.
To ascend the ranks, Madison residents had to implement a three-step solution.
First, a New Facility
As the epicenter for the county's medical needs, Madison County Memorial Hospital is a Medicare and Medicaid approved Critical Access Hospital offering skilled nursing care and services, such as physical therapy, speech therapy, radiology, dietary services and patient education.
But beyond its practical definition, MCMH has a rich and extensive history in the region, spanning all the way back to the 1930s.
Though the hospital's infrastructure had gone through a series of improvements and a major overhaul by the mid '90s, in 1996 talks of a more modernized facility began to stir amongst board members. But it wasn't until 2006 that the discussion truly gained momentum.
To help finance the project, a voter-approved half-cent sales tax was levied in Madison County in January 2007; the remainder of the funds came from a USDA loan.
Following many years of planning, saving and constructing, the new hospital is scheduled to admit its first patient in July 2014 — a major milestone for Abercrombie and his staff. Boasting approximately 59,000 square feet of useable space, the new facility is licensed for the same number of beds as the hospital's previous location, but due to logistics the capacity will be much greater.
Compared to the semi-private and ward rooms prevalent in institutional and medical settings in the '50s, when the former MCMH was erected, the new location will offer only private rooms — four of which will be suites suitable to accommodate a patient's immediate family members and caregivers.
"The end result of [having shared rooms] is you really don't have a 25-bed capacity because of matching patients," shared Abercrombie, who said matching criteria such as gender, age and contagiousness have proven to be a hindrance for the hospital in the past.
According to Abercrombie, the new layout will make an enormous difference in sheer volume as well as patient care.
Scott Holstein
Modernization of facilities at Madison County Memorial Hospital.
"With the new hospital, even though it will be licensed for the same number of beds, it should increase and will increase our capacity by 25 percent," he said. "When you're caring for a patient in a private room, it allows you to deliver your care more holistically. It also gives us the latitude to think of the whole patient — not only the patient in the bed, but the entire family is our responsibility."
Then, a Fresh Philosophy
In its most basic form, holistic health care is a compressive medical assessment that focuses on treating the person, not just the disease.
For example, if a patient were under a physician's care for discomfort associated with migraine headaches, a holistic response would be to not only treat the symptoms of the migraine by prescribing medication but to also address the cause.
Lack of sleep, poor diet and unmanaged stress are all likely contributing factors. To find the source of the problem, a holistic medical professional may suggest that the patient revaluate his or her nutritional intake or try to incorporate relaxing breathing exercises into the daily schedule.
With an emphasis on personal connection, holistic care isn't the easiest treatment technique and it sure isn't the cheapest, but it is the path Madison County health care professionals have successfully embarked upon.
"As we were designing this new hospital we began to actually change our focus as well," stated Abercrombie. "We're building a hospital system that will deliver care more holistically, taking into account the patient as a whole human being and not just their immediate physical needs."
Now, Cutting-Edge Technology
The new facility will also bring with it an array of technologies that until now were largely unavailable locally to the citizens of Madison. A 16-slice computed tomography (or CT) scanner, state-of-the-art digital equipment, an innovative new stroke program and a modern electronic filing system are all part of the package.
But perhaps the most exciting addition to MCMH's new healing arsenal is the introduction of telemedicine.
In partnership with Tallahassee Memorial Hospital, MCMH will be offering the services of specialty physicians through video call technology. According to TMH's Regional Development, Population Health and Telemedicine Administrator Lauren Faison, incorporating telemedicine is a major step in advancing health care in rural areas.
"This gives us a way to hopefully prevent patients having to go without care or having to drive an hour each way to get care that they made need in Tallahassee," explained Faison. "We can push the care out to them."