History and Diversification: Hallmarks of Boyd Farms
Allen Boyd plans for the next generation to keep a legacy alive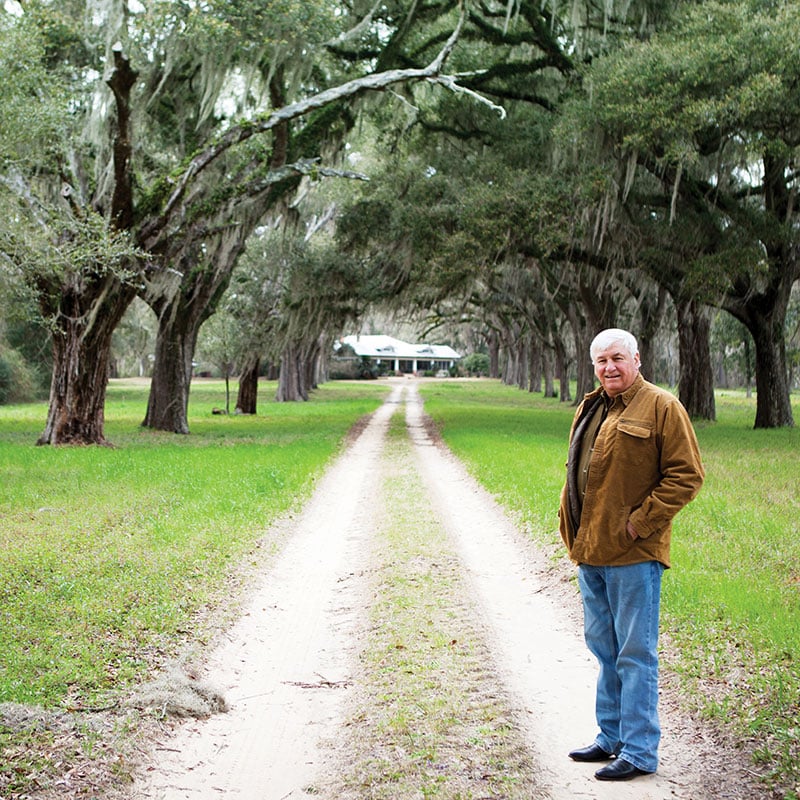 From the second-floor office of a building that at ground level houses heavy farm equipment, former Congressman Allen Boyd looks out on fields of cotton, peanut and seeded grass stretching to a far-wooded horizon.
"Here's part of the farm," he says.
A fifth-generation Jefferson County farmer and self-described "recovering public servant," Boyd returned to the family farm business after losing his bid for reelection to the U.S. House of Representatives in 2010. At that point he had served 22 consecutive years in public office — eight as a Florida legislator and 14 as the 2nd Congressional District representative. Today a lobbyist who maintains a presence in Washington, D.C., Boyd more and more is spending time on his deep-rooted family farm.
"My great-great-grandfather John Finlayson came here about 1835 and settled, not on this farm, but on our home place right to the west, where I grew up and the family cemetery is located," Boyd says. "My father bought this property in 1981, and about 25 years ago I moved my office here because we started the sod operation and it was a place where customers could come."
An integral component of Boyd Family Farms Inc., of which Boyd is majority owner, Boyd Sod Farm specializes in centipede, El Toro Zoysia and Empire Zoysia, different textured turfgrasses that it sells by the roll, slab or pallet and delivers onsite or makes available for customer pickup. The business mostly serves the Tallahassee, Thomasville and Valdosta areas but on occasion has delivered to golf courses as far south as Miami.
Boyd credits older brother Hines with starting the sod business in the late 1980s, during one of the periods when legislative duties took him away from the farm.
"We were row croppers and cattle growers and realized we were susceptible to external factors that did us economic damage, primarily the weather," Boyd says. "So we went into two or three other businesses, and sod's the one that stuck."
The Boyd Family Cemetery hold representatives of several generations.
Matt Burke
Heavily dependent on housing starts, which it tracks, the sod farm's fortunes ebb and flow with the ups and downs of the housing market.
"When the recession hit in 2007, the business went in the tank," Boyd says.
Now that the economy is improving and housing starts are increasing, though, the operation is once again gearing up for expansion.
Even when sod sales stall, however, the farm's diversification — in terms of its varied products (i.e. peanuts, soybean, cattle, etc.) — protects it against any one market downturn, all the while allowing for better and year-round utilization of the land. Diversification, moreover, has been a longstanding tradition.
"I wouldn't say diversification is unusual, but it's certainly not the norm," Boyd says. "Most farmers don't want to fool with cattle. Livestock require a different level of management expertise."
All told — sod and cattle lands included — Boyd Family Farms encompasses about 4,000 acres, counting family-owned, leased and partnership-held properties.
"It's a complex business structure that involves a number of entities," Boyd explains. "I've got a partner in the cattle operation and one who does the row cropping, and we do the sod operation through our own company."
Inherent in the stewardship of a family operation with a 180-year-old history is a sense of heritage that compels consideration of its preservation and transition to the next generation. Boyd is sensitive to the obligation and the dynamics that can break up such enterprises. To date, he has no apparent successor, his three grown children showing scant interest in the business. Meanwhile, a host of relatives with personal and professional lives far removed from the farm share ownership of the land. A concern of Boyd's is that one of these far-flung owners will one day decide to cash in their chips.
"Then you've got a fight, because someone wants to sell and somebody doesn't," Boyd says. "That's a normal scenario with family properties."
One solution he has devised to combat this potential is to keep the various stakeholders engaged in the enterprise.
"You can't bring everybody into the business; it's not big enough," Boyd says. "But there's an element called recreation that's critically important to most people nowadays, particularly to those who live in cities and have any kind of background in the country, woods or a farm."
Hence the annual get-togethers.
"It's the biggest event of the year for our family," Boyd says. "Everyone returns and we spend the weekend together in retreat, hunting, camping or whatever it might be."
The affair also includes lessons in pine tree management, sod growing, cattle husbandry and other aspects of the business.
"You try to make sure they're connected to the land," Boyd says. "Then, hopefully, someone in New York won't up and say one day, 'I have an asset down there worth a million. I'll sell it and buy me a beach place or go to Europe.' "
Giving minority owners a voice in the operation is also part of the strategy.
"People who have interest in a piece of property want to know they have input into its management," Boyd says. "You know the person with the largest share makes the calls, but he ought not to run roughshod over minority owners."
Cognizant of these issues since he first returned to the farm in 1971, following college and his Vietnam military service (his intention then was to take up farming full time, before the political bug bit him), Boyd, now 69, began seriously addressing the transition upon receipt of his AARP card and realization that he had no successor.
"The worst is to delay until your deathbed and then think, when I'm gone, all hell's going to break loose," he says. "You get a bunch of lawyers involved, no one wins.
"So I spend a lot of time planning and setting in place the structure for the next generation, to ensure my great-great-grandfather's legacy endures."
All the while, he's enjoying life outside the Beltway.
"It's good to be back on the farm," Boyd says.