Hiring Talent and Increasing the Effectiveness of Employee Selection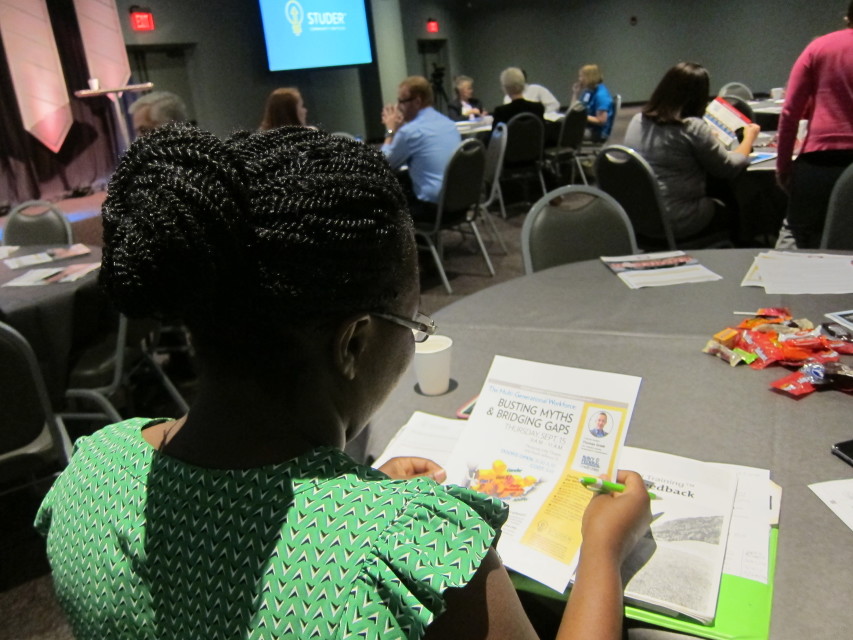 Hiring is one of the biggest challenges companies face, but it can also be one of the most rewarding opportunities. Finding the right person for the right job can help an organization avoid costly and time-consuming mistakes while contributing positively to your business.
On Aug. 25, this was the point of discussion at the Studer Community Institute's Hiring Talent workshop. At this workshop, COO of Beck Partners, Kristine Rushing, offered her expertise on how to attract and retain elite talent in a business.
The "Hiring Talent" workshop is the latest in the series of community workshops hosted by the Studer Community Institute. So far this year, more than 1,400 people have attended SCI training workshops to gain tips and techniques to improve their business or nonprofit.
In her presentation, "Hiring Talent: Increasing the Effectiveness of Employee Selection," Rushing spoke on how the process of hiring the right people in the right roles is the first step to achieving success in the workplace.
In this process, Rushing suggests beginning with the job description to focus on the core competencies critical to fill the position in question. Next, during the interview process, choose behavior-based interview questions that will screen for the skills the position requires. Often, these are open-ended questions that allow someone to describe a time they used a certain skill to solve a problem.
The Institute's numerous workshops focus on supplying the tools and techniques to business leaders to implement changes large or small within their workplace. If you missed out on this great learning experience, not to worry, Studer Community Institute will be exploring ways to bridge the gap among the generations in your workplace at their next workshop on Sep.15.
"The Multigenerational Workforce: Busting Myths and Bridging Gaps" will be at Pensacola Little Theater in downtown Pensacola. For more details or to register for that session, click here.