High-Impact Lawyers
From taxes to civil rights, from fighting Big Tobacco to helping win the presidency, these lawyers from the 850 region have somehow touched the lives of most Floridians.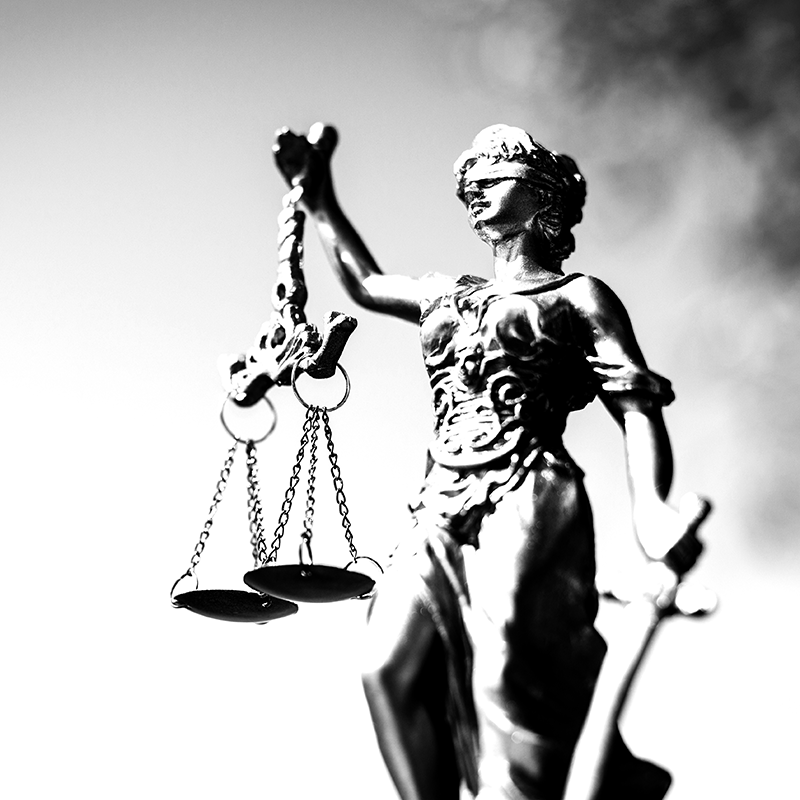 We've all seen the polls: Lawyers are less trusted than journalists, and just a little bit higher than car salesmen and members of Congress. And, according to one survey, it's the second-most popular job among psychopaths. But when a wrong needs to be righted, you've been injured, the marriage is kaput or an airtight contract needs drafting . . . who ya gonna call?
There are about 5,350 lawyers practicing in Northwest Florida. The vast majority quietly ply their trade in the office — granted, some are very cushy offices with great views of the courthouse, but still, the office. And you don't hear much about them. Then there are others who — because of talent, a client, a cause or even shameless self-promotion — have names that were, for a time, or still are at the forefront of public consciousness.
Here's a chance to meet 10 such attorneys from throughout the region. Some are wrapping up stellar careers; others are at the peak of their legal prowess. All have made a difference.
---
Benjamin 'Ben' Crump:
Civil Rights Crusader
When the media spotlight shines on the mistreatment of young men of color by law enforcement and the legal system, chances are it's going to be focused on Tallahassee attorney Ben Crump.
For most of its 20-plus-year history, Crump and his partner Daryl Parks' Tallahassee-based practice had focused on personal injury, wrongful death and malpractice cases. But Crump got statewide visibility when he represented the family of Martin Lee Anderson, a 14-year-old who died in 2006 at the hands of guards at a Bay County juvenile boot camp. And he catapulted into the national consciousness after Trayvon Martin — making a convenience store run for soda and Skittles — was shot to death by a neighborhood watch volunteer. He was a fixture on the nightly news, seeking justice for the 17-year-old and his family.
Other high-profile cases included the police shootings of Michael Brown in Ferguson, Missouri, and Robbie Tolan in Bellaire, Texas.
Crump is currently president of the National Bar Association, which represents more than 60,000 black lawyers, judges and legal professionals in the United States and abroad. Locally, he served as board chairman of Legal Services of North Florida. He and Parks donated $1 million to the organization's capital campaign, to help ensure that poor people have legal representation and access to the courts.
---
Mike Stone:
Defender of Children and Civil Liberties
Panama City attorney Mike Stone has been defending the accused for more than 20 years, both as a public defender and a private attorney. And while he takes on everything from burglaries to DUIs, his passion seems to be fighting the death penalty.
In fact, Stone and his law partner literally helped write the book on defending death penalty cases for the Florida Public Defenders Association.
Among his most high-profile cases: the 1991 shooting death of JD Barnes Sr. by his then 16-year-old son, JD Barnes Jr. At trial in 1993, Stone and his team raised the battered-child syndrome defense, a first ever in Florida, arguing the boy was defending himself from his father's attacks.
The jury acquitted Barnes of the first-degree murder charges after family members testified that his father abused him and had threatened him the night he was killed. After the trial, Stone reportedly told the media the case set a precedent, saying, "I think it's important to understand that society can't reach all of these kids. As a consequence, it means the kids have a right to self-defense."
Stone also serves as head of the Bay County chapter of the American Civil Liberties Union, where his work has included opposing plans by the Bay County Sheriff's Office to put "In God We Trust" bumper stickers on all of its vehicles. He called the move "divisive" and "bad policy" for a public agency that already has to deal with tense situations.
"He's a longtime defender of civil liberties in Florida and a leader in advocating for justice in Panama City," said Benjamin Stevenson, staff attorney with the ACLU of Florida's Northwest Regional Office. "The ACLU's impact and influence in the Bay County area has flourished under his leadership."
Stone grew up in Bay County and attended Harvard University and New York University School of Law. He's also an amateur thespian, occasionally acting in local productions.
---
John Morgan:
For the People — and Medical Marijuana
Perhaps the most recognized lawyer's face in Northwest Florida doesn't even live here. But if you haven't seen John Morgan's cherubic face, his family, even his German shepherds, on television, billboards and municipal buses, you're just not looking hard enough. He has planted the Morgan & Morgan flag on either end of the 850 region, with offices in Tallahassee and Pensacola, as well as 33 other locations throughout Florida, the southeastern United States, New York City and Philadelphia.
Morgan made his fortune with a successful Orlando-based trial practice that has won multimillion-dollar verdicts for individuals and organized class-action lawsuits for everything from airbags to drugs to predatory towing.
Morgan made news in 2011 for hiring Gov. Charlie Crist after his time in office was over. And Florida's former governor has nothing but praise for his new boss.
"People love and trust John because he's affable and willing to stand up for what he believes," Crist said. "I've never been surprised at his success — he's earned every inch of it."
But Morgan's highest profile started with the 2014 effort to amend the Florida Constitution, which would have to allowed people with medical conditions to be prescribed marijuana. With 57.6 percent approval from voters, it fell just shy of the 60 percent needed for passage.
A tweaked version of Amendment 2 will appear on the general election ballot in November, and Morgan is once again on the trail — and reaching deep into his pocket — to assure its passage in 2016. So far, Morgan and his firm have committed more than $7 million to the efforts (2014 and 2016).
His self-styled "political philanthropy" is rooted in his personal history. Morgan said his father used marijuana for pain relief when suffering from cancer, and it has been helpful to his brother, who was partially paralyzed in a swimming accident.
---
Carroll McCauley:
Big Money, Big Heart
When Tiger Woods wanted a quiet end to his highly publicized divorce from wife Elin Nordegren, he chose to file in out-of-the-way Bay County. And his choice of attorney? Local family law specialist Carroll McCauley.
With McCauley's help, Woods and his soon-to-be ex-wife slipped into town, spent less than an hour in the Bay County Courthouse, and were gone again, two newly single people.
"That was such a well-kept secret that I didn't even know that he represented Tiger Woods until I read it in the paper after they were divorced," said McCauley's son, Carroll McCauley III, also an attorney. "I guess as a lawyer, you have to be good at keeping secrets."
McCauley said his father, who has been practicing since finishing law school at the University of Florida in 1968, has quite a bit of experience with "large marital estates, high-
income earners." For instance, he also represented an ex-wife of singer Billy Ray Cyrus (not Miley's mother).
McCauley is originally from Ohio and paid his way through college by working summers in steel mills. After law school, he moved to Bay County and worked briefly as a municipal judge and as a city attorney in Springfield before going into private practice.
Three of his children and a son-in-law have gone on to become attorneys.
"He's been a big help and a great mentor," McCauley III said.
In addition to family law, McCauley is known in Panama City for his
humanitarian work. When city officials ordered a church organization to stop feeding the homeless in a downtown park several years ago, McCauley stepped in to offer his parking lot across the street as an alternative.
He even put out tables to make it easier.
"He's always been there, he's always backed us up," said program organizer the Rev. Elaine Lopez from Springfield Community Church. "He got a few of the other lawyers involved. He told us as long as we kept it clean, we'd never have to move, and we've been there ever since."
---
Robert L. Nabors:
The Father of Home Rule
In the days before home rule, local governments would have to go "to Tallahassee" for special permission from the Legislature to enact even the smallest of authorities — from traffic signals to local taxes. Under home rule, the ability of local entities to establish their form of government through a charter — and to then enact ordinances, codes, plans and resolutions without prior state approval — is a tremendous authority.
For decades, Tallahassee's Robert Nabors helped shape the home rule question and argued to the Florida Supreme Court for local governments' abilities to solve local problems with quick — and meaningful — funding solutions.
"Florida is very progressive," Nabors said. "Home rule has diminished substantially over my lifetime, but it still creates good ideas that bubble up to the rest of the state."
Thanks in large part to Nabors' influence and leadership, local governments use a bevy of funding sources such as special assessments, impact fees, tax increments, cooperative efforts and other governance solutions to nimbly provide the services and facilities their residents need.
Besides home rule, Nabors also led the effort to enact a statewide penny sales tax — to benefit both state and local-level projects. This, he said, is one of his proudest career moments.
"Half of that 1-cent sales tax was allocated to local governments," he explained. "It took four special sessions — and nobody thought we could do it in an election year, but we did. The sales tax hadn't been raised since 1949, but (Gov. Bob) Graham was committed to it. It really helped relieve the pressure on property taxes, which were a bigger and bigger issue in the 1980s."
Nabors' name appears in the state's landmark home rule and revenue cases, and he has served on judicial nominating commissions and task forces including the 1997–1998 Constitution Revision Commission.
Ever devoted to local solutions and empowerment, Nabors has published two editions of his "Florida Home Rule Green Book," a comprehensive manual for those in the field.
---
Robert Pierce:
Florida's Tax Man
Bob Pierce is one of the few people you'll meet who makes the tax process intelligible and interesting. A practicing attorney since the 1970s, Pierce was instrumental in paving the way for state taxpayers — businesses in particular — to interact with the Florida Department of Revenue (DOR) on taxing issues. With a law degree from Florida State University and a master's in tax law from the University of Florida, Pierce has earned his reputation as a creative and deeply knowledgeable authority on all things that involve state and federal taxes.
As the first general counsel for the DOR from 1979 to 1981, he organized the formal ruling process and first formal appeals process for the state taxing authority. Before then, there was no clear-cut method for a taxpayer challenging the department's taxation methods — including how to sue the agency for relief. Pierce outlined the process and identified the Division of Administrative Hearings as the binding ruling process at the DOR.
While it's not necessarily a sexy area of litigation, one can imagine the implications this process has for corporate taxpayers looking at multimillion-dollar sales and state income tax bills. Pierce's efforts not only gave an "answer you could live by" for these challenges, he also formalized and clarified issues through the agency's first Technical Assistance Advisements — a term he coined but now is in wide use in the taxing authority world.
In fact, much of the state code for taxation was influenced by Pierce either directly because he helped write it, or because he's litigated it on behalf of clients large and small.
After leaving the DOR, Pierce joined the Ausley McMullen firm in downtown Tallahassee, a post he still holds. He practices in several areas now, but taxation is still his passion. Working with specialized experts such as auditors and forensic accountants on cases, Pierce has furthered his reputation in the field. When a corporation receives a letter from the IRS or the DOR, Pierce is one of the most authoritative experts to which they can turn.
---
Tim Jansen:
On Top of His Game
The pub room at Tim Jansen's house is a man cave dream — with a bar, TVs, comfy chairs and display cases full of an exceptional collection of sports memorabilia, most relating to his beloved University of Florida Gators. But amidst all the orange and blue is a framed jersey in shades of garnet and gold and signed by Jansen's most "famous" client — Jameis Winston.
Jansen was called to represent the freshman "before anybody knew who he was and got all the charges dropped before he threw a football or a baseball," he said. But the allegations that Winston raped a Florida State University student resurfaced and led to a media frenzy.
"I spent all my time on that case for about a month or six weeks, which is unprecedented in my 30 years practicing law," Jansen said.
His firm, Jansen & Davis, has represented many athletes throughout the years.
"I probably have 12 players in the NFL who probably wouldn't be there if I didn't get their charges dropped or dismissed or prevent them from being charged," he said. For the past two years, Jansen has also been a licensed NFL agent.
He has also defended clients in federal trials including Larry Lombardi, the so-called FAMU bomber, who terrorized the Florida A&M University campus in 1999 when he set off two pipe bombs.
After law school, Jansen was the body man for Gen. Alexander Haig during his short-lived campaign for president in 1988. He then worked as a federal prosecutor in Tallahassee and Jacksonville before opening his criminal defense practice 30 years ago.
Jansen is a prolific tweeter and comments no-holds-barred on subjects ranging from conservative politics to sports. He and his wife, Stephanie, are enthusiastic entertainers, opening their expansive lakefront home for social and charitable events.
The couple helped raise more than $300,000 for Boys Town North Florida as gala chairs this year. In 2014 and 2015, Jansen served as president of Springtime Tallahassee, the city's largest community event, and was recently tapped to serve as "Andrew Jackson," the costumed — and controversial — festival figurehead and a goodwill ambassador to others, including Fort Walton Beach's Billy Bowlegs Pirate Festival, Panama City's Dominique Youx Mardi Gras festival, and Pensacola's Fiesta of Five Flags and Krewe of Lafitte parade.
---
Fred Levin:
Outsize Personality, Outsize Verdicts
It's practically impossible to wrap up the life and accomplishments of Pensacola trial attorney Fred Levin in a short sentence, although the title of his 2014 biography by Josh Young gives it a whirl: "And Give Up Showbiz? How Fred Levin Beat Big Tobacco, Avoided Two Murder Prosecutions, Became a Chief of Ghana, Earned Boxing Manager of the Year and Transformed American Law."
"He had a huge ego — as most great lawyers do — and he used that to his great advantage in the courtroom and in fighting against his enemies throughout his entire life," Young said.
Now 79, Levin grew up in Pensacola and graduated near the top of his class in law school at the University of Florida, returning home to practice. Because he was Jewish, the silk-stocking corporate firms were closed to him, so Levin went into a small practice and took cases nobody wanted, usually people, often minorities, suing for wrongful death and personal injury. He was extremely successful, and his methods controversial, all of which led to the suit that would propel him to fame — and a $300 million fortune.
In the early 1990s, Big Tobacco hadn't paid a settlement to any individual claiming to have been harmed by smoking. But after perusing the Florida statutes, Levin realized that with just a small change to the law, the state of Florida could sue to recover money spent via Medicaid to treat illnesses caused by smoking. Enlisting the help of then-Senate President W.D. Childers and with the blessing of Gov. Lawton Chiles, the change was made unanimously in a late-night legislative session, with potential opponents none the wiser. Ultimately, the tobacco industry would settle with the state for a record-setting $13 billion. A settlement with remaining states and territories reached in 1998 guarantees payments totaling at least $206 billion over 25 years.
After the tobacco settlement, Levin made a $10 million gift to UF's College of Law, which was then named after him. His motives weren't truly altruistic; it was a bit of a poke in the eye to the stuffed shirts who prosecuted him in Bar ethics proceedings to see the name of a nemesis on their alma mater.
"One of the things that's appealing about him is that he's a maverick … this very sort of Gatsby-esque figure with a very exciting life," his biographer said. "He's certainly a great character, but he's also a person of amazing substance."
---
Daniel Uhlfelder:
Fighting a Symbol
On the surface, Daniel Uhlfelder's professional life is pretty ordinary. His solo practice in Santa Rosa Beach does lots of general practice work: litigation, estate planning, real estate, family law … ordinary things. But there's a streak of firebrand in his genes — more on that later — that occasionally leads him to do the extraordinary.
When he moved to Walton County in 2001, "I just remember going to the courthouse and noticing the Rebel flag was out there, and I was pretty surprised," the 44-year-old recalled. The flag was added to an existing Confederate monument in 1964, a reaction to the newly passed Civil Rights Act. At the time, he partnered with the local NAACP to have it removed. "We worked pretty hard … it got shot down pretty quick."
Fast-forward to June 2015, in the aftermath of the massacre at Charleston's Emanuel AME Church that left nine people at a prayer meeting dead. The shooter, hoping to incite a race war, left a website manifesto that included photos of him posing with a Confederate flag.
Reinspired, Uhlfelder renewed his efforts to remove the flag from the courthouse. For his troubles, he got statewide publicity — as well as physical threats.
"People showed up in my office. We had to get security at our house," he said. On July 14 — four days after the Confederate flag that had been a fixture on South Carolina's statehouse grounds was taken down for good — he and his wife, Michelle, got the item on the Walton County Commission's meeting agenda.
The commission, however, was only persuaded to change to a different style of Confederate flag.
"From my experience, living here, in terms of race relations, things haven't changed," he said. "To think we're open-minded and progressive … we've got a long way to go."
Uhlfelder comes from a family tradition of activism. His grandparents survived the Holocaust. His father, attorney Steve Uhlfelder of Tallahassee, was a student firebrand at the University of Florida and continued to fight for causes, often unpopular, throughout his career.
"My parents, they don't just get mad at the TV," Daniel Uhlfelder said. "It's important to stand up for people. It's just who I am."
---
Barry Richard:
'The Most Recognized Lawyer in the World'
For the denizens of Tallahassee, the 36-day recount after the 2000 election was a surreal time. Dozens of satellite trucks ringed the state Capitol. The hoi polloi could gawk to their heart's content as news correspondents they had only seen on their TV screens did stand-up reports in front of local landmarks. And, every so often, you'd spot a neighbor in the background.
But perhaps the surrealist of the surreal was experienced by Barry Richard, who was tapped to represent George W. Bush throughout the recount process.
"Every time I walked out of my office, I had 50 or 60 reporters from all over the world, cameramen and boom mikes," he recalled. "They would walk in front of me everywhere I went. I remember at one point, one of the news anchors said to me, 'You know, you're the most recognized lawyer in the world at this moment.'" A couple of weeks after it was over, Richard said, one of his 2-year-old twin sons was sitting in front of the TV and asked his mother to "turn Daddy on."
While the nature of Richard's practice changed somewhat in the nearly 16 years after the excitement died down — for starters, clients don't ask what his fees are — he remains a shareholder in the Tallahassee office of Greenberg Traurig, now one of the largest law firms in Florida. His practice today revolves around what he was hired for in Bush v. Gore — constitutional law — and complex commercial litigation.
Interestingly, Richard has been a registered Democrat all his life and his wife, Allison Tant Richard, is currently more in the spotlight as chairwoman and CEO of the Florida Democratic Party. In the early 1970s, he served as deputy to Florida Attorney General Robert L. Shevin, defending several high-profile cases, including those related to no-fault auto insurance and no-fault divorce. He served in the Florida House of Representatives for two terms from 1974 to 1978, followed by an unsuccessful run for attorney general. Afterward, he came to Tallahassee with the Roberts, Baggett, LaFace and Richard firm, which was acquired by Greenberg Traurig in 1991.
---
Dana Matthews
Champion of the Have-nots
When Dana Matthews was 25, he was one of four attorneys in Destin and a good day at work involved making connections and becoming part of the city's professional community.
Now 60, Matthews has met a lot of people over the intervening 35 years. These days, a good day is about speaking justice to power. Over the course of his career, Matthews has earned – and it's probably fair to say he has pursued – a reputation as something of a maverick. With relish, he will take on banks, the government and other moneyed interests.
"I am a great believer in truth and fairness," Matthews said. "But the reality is – it's the best attorneys who win. That's not the way our system should work, but that's the way it does work. When I can help justice prevail in a case involving a have-not versus the haves, I'm happy."
A case in point, Matthews carried to the U.S. 11th Circuit Court of Appeals a matter involving a man whose conviction on racketeering, bank fraud and tax evasion charges had been overturned on appeal.
"The appellate court admonished the U.S. Attorney's Office," Matthews said, "and said they never should have brought the case because the actions that the defendant was accused of were not violations of the law."
Under those circumstances and relying on an arcane federal statute, the Hyde Amendment, Matthews eventually succeeded in winning for his client an award of court costs and attorney's fees. Rarely has the Hyde Amendment, which entitles defendants to consideration when government prosecutions are demonstrated to be frivolous, been employed successfully.
"It looked better on paper that it has been in practice," Matthews said of the statute. "It felt good to set a precedent that might be used by others."
Matthews spends most of his billable hours helping developers deal with Florida's regulatory climate, which, he says, historically has been "horrible," but has gotten better lately because Gov. Rick Scott has appointed agency heads committed to lowering hurdles. Local land use regs are another obstacle and vary, Matthews has found, from county to county.
"Today, you make a mistake if you close on a piece of raw land and you don't already have your development order in place," Matthews said. "You can get screwed."
Matthews founded the law firm today known as Matthews & Jones, LLP. His practice includes commercial litigation, residential and commercial real estate development, land use permitting, finance structuring, condo projects, bank representation, business organization and consulting. He is a graduate of the Florida State University College of Law.