High-End Real Estate
An uptick in sales of luxury properties is expected to continue into 2017.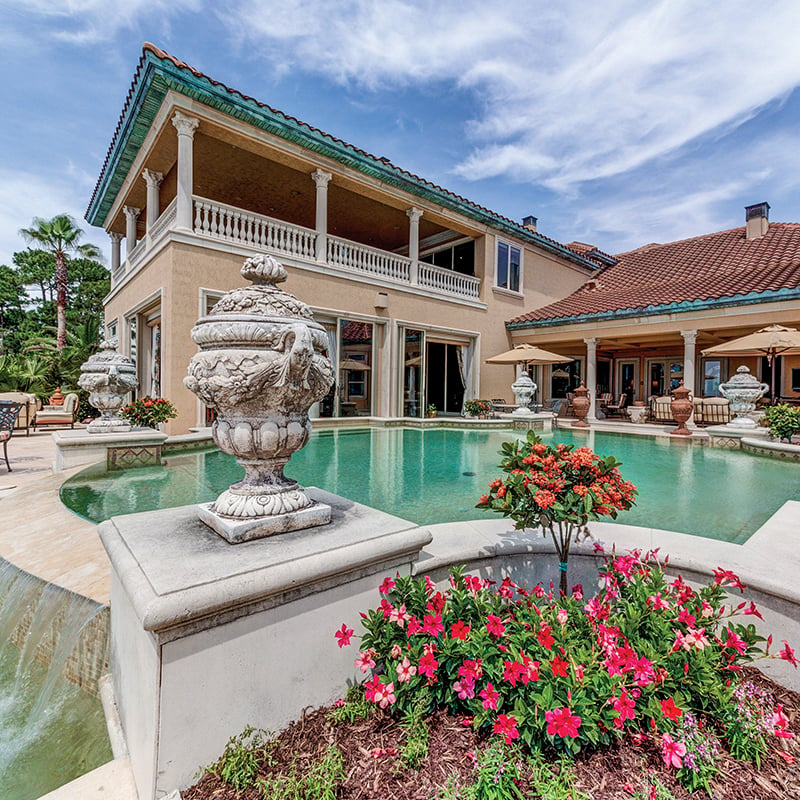 Recession. Banking crisis. Oil spill. And a presidential election season that left investors nervous about the country's financial future. Northwest Florida's housing market has faced uncertainty and hit after hit over the past decade. But the region weathered the various storms, and today home and property sales across Northwest Florida are brisk — including sales in the "high-end" market, where price tags soar into the multi-millions of dollars.
Nationally, the news is mixed. In some areas, such as the cities of Chicago and New York, high-end home sales are down or slowing. In others, like Northwest Florida's Emerald Coast, sales are up. In some regions, higher interest rates are expected to cool buyer interest. In others, including the 850 region, the rates apparently are making no difference when a buyer's sights are set on a particular prize.
Lovin' the Sand
Predictions from local Realtors are that 2017 will be a stellar year for high-end home and property sales along Northwest Florida's Emerald Coast.
To put it simply, "people love the beach," says Jeff Troy of Bay County-based Counts Real Estate. His office is on Scenic Highway 30A in Seagrove, a more exclusive enclave of small communities strewn along the coast in South Walton County.
"Rosemary Beach is selling well," Troy says. "There have been a couple of $10 million sales. Those people just really want a house on the beach. They like the area, and they want it. And there are definitely investors buying in the area because the short-term rental market is so good here. It's not uncommon to get 10 percent on your investment. You won't always get that, but for the last couple of years, the prices have gone up by 8 to 14 percent."
At Sandestin Real Estate Sales, executive director Kitty Whitney said, "We believe good things are in store for 2017. People are relieved that the election is behind us and we may see some policy changes that will encourage spending."
Sandestin Golf & Beach Resort is home to million-dollar-plus properties along the beach and in the Burnt Pines neighborhood. Buyers, Whitney said, tend to be people with a history of vacationing in Northwest Florida.
"They flock back to the beach to buy what starts out as a second home and eventually they become permanent residents," Whitney explained.
She employs "Sandestin Living" magazine as a marketing tool and targets drive markets – Atlanta, Birmingham, Jacksonville and others – and fly markets that offer direct flights to the Gulf coast.
Whitney singled out a $9.7 million listing at Burnt Pine as a remarkable home replete with custom art, décor and finishes.
"We recognize that as the price rises, the number of prospective buyers declines, but this is the kind of house about which someone will say, 'This is worth the money.'"
While he sees some buyers come from Northern states, Ed Smith, who owns ReMax Coastal Properties in Destin with his wife, says the majority of those seeking homes are from an hour or less drive away from the region.
"A lot of people say their parents used to bring them here as kids," says Smith, who specializes in waterfront properties. "Many are buying as second homes or rental properties or for investment. Most buyers are boomers whose parents accumulated money that these people inherited, and now they tend to buy what they want. We don't see a lot of foreign investment, although there are some Canadians in the market."
Smith adds, with a laugh, "In this area, we consider a foreign investor to be from Alabama."
Recent sales in the area include a 10,000-square-foot home sitting on 2 acres with 200 feet of frontage on the bay and a tennis court. That went for $3.75 million. A similar home located on 1 acre sold for $2.5 million.
"We're hearing from sellers and buyers who say they have not felt this optimistic about the economy in a long, long time," Smith says. "If that's any indication, I'd say 2017 is going to be a good year."
An Election Bounce
Justin Beck of Beck Partners, who specializes in commercial properties and has offices in Pensacola and Tallahassee, expects his team's final sales numbers for 2016 to be higher than 2015 — and he firmly believes that trend will continue through 2017. While sales did lag a little in the early fall of 2016, they picked back up immediately after the November presidential election was settled.
He sees a high demand for upscale office and retail space throughout the region.
"Retail at the Cordova Mall (in Pensacola) has a ton of demand, and the Destin market is also fantastic for retail," Beck points out. "In Tallahassee, they want Class A office space and retail. The higher-end stuff is what we're having the most success with, but it's limited in its availability. Those great sites can be hard to come by."
Over the past two years, he has seen a 30 percent increase in the cost of prime space, which is being taken up through the expansion and/or upgrading by existing local businesses and the growth in new retail and food establishments, the latter being part of a national trend.
"I am as bullish on Northwest Florida as I have ever been in my career," he says. "There are a lot of really good markets out there. And the people I talk to are firmly convinced they're going to have more money in their pockets within a year."
While boomers are looking for coastal properties, Troy said that in the 30A area, he also sees more young, new money.
"I know a guy in his mid-40s, an orthodontist," he recalls. "He bought a $6.5 million house in Rosemary Beach that is now on the market for $7.5 million."
Jon Kohler, whose Jefferson County-based Jon Kohler and Associates specializes in high-end plantations and high-quality land sales throughout the Southeast, says his customer base until recently was primarily a segment of the populace more commonly referred to as the 1 percent — very high net worth individuals and investment groups.
"It's an interesting dynamic," he says. "Since the election, people are calling us more. There is a little more euphoria in the public. We're now getting more calls from the middle class — doctors, lawyers, small-business owners. They're lighting up the phones. Most of the people in my market are of a conservative bent . . . and they seem to feel there are going to be good times."
Kohler, who has been called the "Plantation Broker" by Garden and Gun magazine and "The Plantation King" by Deep South, represents the seven plantation belts strewn across four Southern states — Florida, Georgia, South Carolina and Alabama.
"If you like hunting, the outdoors and conservation, you'll buy land in one of these belts," he says. Prices range from up to $5,500 an acre in the Red Hills region between Tallahassee and Thomasville, Georgia, to maybe $3,500 an acre in South Carolina (depending on access to the Atlantic Ocean). These lands, he adds, are among the best recession-proof assets in an investment portfolio. "Before, people were buying them like gold, but now people are calling us more because they're interested in the recreation and appreciation (of the land) aspect."
False Sense of Security?
With historically low interest rates over the past decade, the sales action in Tallahassee's high-end homes (that's over $650,000 — the top 1 percent of the market) went up by more than 1,000 percent, says Joe Manausa, owner of Tallahassee-based Joe Manausa Real Estate.
"From 2011 to 2015, the bottom 90 percent of the market fell 15 percent while the higher end went up 1,024 percent. We had a high-end market that exploded," he says, attributing more than 60 percent of the growth to low interest rates. And, he predicts, "Tallahassee is going to have a pretty exciting year" in 2017. In a recent blog post, Manausa even wrote, "If you have a home priced above $650,000 and have been told the market is slow, you need to speak with somebody who actually studies the Tallahassee market."
While homes sales along Northwest Florida's Gulf Coast get a boost from non-locals and, in some cases, international investors, Manausa says the Tallahassee region doesn't get much buyer interest from outside the area.
"There is no reason to be here unless you are here," he reasons.
And while sales are brisk now, he cautions that higher interest rates could quickly dampen the fervor of buyers, especially since the region hasn't had much growth in high-salary non-government jobs. He attributes about two-thirds of the current high-end home sales to low interest rates.
"We're purely in an interest rate market. Everyone is paying a fraction of the traditional payment for their houses," he says. "We have a year-and-a-half inventory of high-end homes. But if interest rates go up to 6 percent, half of those buyers would go away."
On the coast, where the supply of high-end homes is much tighter, Troy reflects on the cyclical nature of the real estate business.
"30A's east end seems to be a little more protected from the ebbs and flows of the economy. We seem to rebound," he says. "Since the election, the market has topped out. It's really hard to say what people are going to be doing.
"It's hard to imagine all these $2 million houses lined up in a row and people are buying them. I don't know how long that's going to last, but we all have a good feeling about the next year."
Top Housing Trends for 2017, As Forecast by Realtor.com
Millennials and boomers will dominate the market: The housing market will be in the middle of two massive demographic waves — millennials and baby boomers — that will power demand for at least the next 10 years. Although increasing interest rates prompted Realtor.com to lower its prediction of millennial market share to 33 percent of the buyer pool, millennials and baby boomers will still comprise the majority of the market. Baby boomers are expected to make up 30 percent of buyers in 2017.
Midwestern cities will continue to be hotbeds for millennials: Midwestern cities are expected to continue beating the national average in millennial purchase market share in 2017. This year, average millennial market share in five of these markets is 42 percent — far higher than the U.S. average of 38 percent.
Slowing price appreciation: Nationally, home prices are forecast to slow to 3.9 percent growth year-to-year from an estimated 4.9 percent in 2016. Of the 100 largest metropolitan areas in the country, 26 markets are expected to see price acceleration of 1 percent. Likewise, 46 markets are expected to see a slowdown in price growth of 1 percent or more, with Lakeland-Winter Haven, Florida; Durham-Chapel Hill, North Carolina; and Jackson, Mississippi, undergoing the biggest shift to slower price appreciation.
Fewer homes on the market and fast-moving markets: Inventory is currently down an average 11 percent in the top 100 metropolitan areas in the United States. The conditions limiting home supply are not expected to change in 2017. Median age of inventory is currently 68 days in the top 100 metros, which is 14 percent — 11 days — faster than nation overall.
Western cities will continue to lead the nation in prices and sales: Western metros are forecast to see a price increase of 5.8 percent and sales increase of 4.7 percent.
---
TOP 2017 HOUSING MARKETS
Despite a more moderate housing market overall in 2017, strong local economies and population growth will continue to fuel the nation's top markets. The Realtor.com 2017 top 10 metropolitan-area housing markets, based on price and sales gains, are:
Arizona: Phoenix Mesa–Scottsdale
California: Los Angeles–Long Beach–Anaheim
Massachusetts–New Hampshire: Boston–Cambridge–Newton
California: Sacramento-Roseville-Arden-Arcade
California: Riverside–Ontario–San Bernardino
Florida: Jacksonville
Florida: Orlando–Kissimmee–Sanford
North Carolina: Raleigh
Arizona: Tucson
Oregon Washington: Portland Vancouver–Hillsboro
These top 10 markets are forecast to see average price gains of 5.8 percent and sales growth of 6.3 percent, which exceeds next year's anticipated national growth of 3.9 percent and 1.9 percent, respectively. But when compared to last year, prices in eight ​of the top 10 markets are expected to decelerate, with only the Los Angeles and Tucson metropolitan areas showing stronger growth than last year.
© 2016 Florida Realtors
---
Director of Editorial Services Steve Bornhoft contributed to this article.