He Made a Huge Difference in our Corporate Journey
Steve Jobs — with his passion and intellect — was decades ahead of most everyone.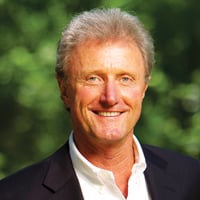 At an earlier time, Tallahassee Magazine (a sister publication to 850) was produced within the walls of the Homes and Land Publishing Corp., a firm that employed about 300 people. Of those, 175 to 200 were in the production department, working two and three shifts a day to keep up with the demands of the expanding real estate industry and the growth of the Homes and Land franchise.
Back then, before the birth of the graphics and computer design industry, it took physical equipment ("cut and paste" for those who may remember) and a sheer volume of human resources to produce magazines. I recall anywhere from five to eight graphic artists were working on Tallahassee Magazine as it moved through the critical design and production cycle.
In late 1989, Homes and Land ordered a slew of first-generation Apple computers developed and designed for the publishing industry. It was about that time that I acquired Tallahassee Magazine. Part of the deal was continuing the payments on one of these computers — $750 for 18 months. That's $13,500 for a computer with a fraction of the ability of today's systems. However, I also got to drive away with one production employee — not eight — for the newly formed Rowland Publishing, Inc. Now, the math was working.
RPI has been using and upgrading its Apple lineup throughout the ensuing years. Right now, there are at least 25 Apple computers in use at the office, including my MacBook Pro. We recently ordered seven of the newest generation Apple desktop computers and monitors (with a total price that's just over half as much as that original computer).
I've tried pretty much all of the Apple laptops, including the slim and lightweight MacBook Air. Once, I tore apart my office looking for that little computer, only to discover hours later that I had closed it inside a folder.
At a recent meeting, I handed my business card to a client, who held it in front of his iPhone and used one of Apple's hundreds of thousands of apps. I watched in amazement as it scanned my card and, within seconds, uploaded the information to his contact list. He then returned the card to me, saying "Here, I don't need this anymore." I am now the proud owner of an iPhone 4 and trying to select — and master — the apps that work for me.
Steve Jobs — with his passion and intellect — was decades ahead of most everyone, driving Apple to be the most recognizable brand and the second largest company on Earth today. He was intimately involved with every Apple product and guided the company to a position today of having an enviable $76 billion in cash reserves. But Apple was not just a successful moneymaker, the development and success of its products has changed the lives of consumers and corporations worldwide. Rowland Publishing would not be the business it is today without the technology of Apple.
Over the past two-plus decades, I estimate just over 100 people have earned their living at this company. Hundreds of nonprofits have benefited from our media coverage. Forgotten Coast, Emerald Coast, Bay Life and 850 magazines were developed during this time, and I would say that RPI has had a tremendous, eight-figure economic injection into the regional economy over these two decades. Yes, it has taken a lot of hard work on many people's part, but none of this could have come to fruition without the vision of Jobs and the products of Apple.
Jobs, who died Oct. 5, and his company were an integral part in the development of the 21st century in general and the success and longevity of Rowland Publishing in particular.
I, for one, will miss his visionary ways and his creation of some very cool and smart product lines.