HCA Pioneers Advances Aimed at Improving Efficiency and Outcomes
Three hospitals in HCA's North Florida Division have been designated "Hospitals of the Future."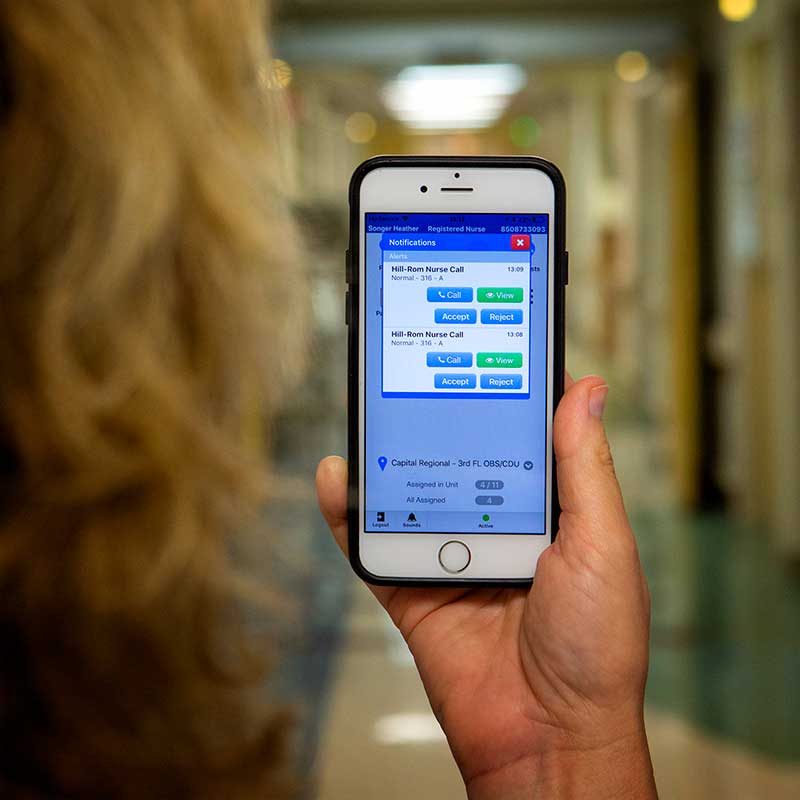 A man is hospitalized with serious health concerns.
But, his condition is stable and caregiving staff convince his wife, who has spent long hours at his bedside, to go home and get some much needed rest.
A day later, she returns to her husband's room only to find that he is not there. Immediately, she assumes the worst: He has died and she never had the chance to say goodbye.
Then, as if to confirm her worst suspicion, the patient's wife consults a large, white electronic board in the room.
Her husband is not dead, she learns. He is in radiology.
Three hospitals in HCA's North Florida Division, including Capital Regional  Medical Center in Tallahassee and Gulf Coast Regional Medical Center in Panama City, have been designated "Hospitals of the Future."
They and other hospitals in the division are equipped with integrated MyCare boards, electronic dashboards that pull from patient records and display information pertaining to diet, tests and caregivers.
The Hospitals of the Future additionally are employing "Real Time Locating" software.
The MyCare boards have been installed in in-patient rooms and in ER intake rooms. They have produced anecdotes including the one involving a patient and his momentarily distressed wife.
For Mark Robinson, until recently the CEO at Capital Regional, the boards are "communication devices that relieve anxiety for patients" because they are kept better informed.
"The less you know about your situation, the more your attitude is likely to suffer," Robinson said. "Conversely, the more you know, the better you are likely to feel about the care you are receiving."
In March, Robinson departed Tallahassee to become the CEO at HCA's hospital in Salt Lake City. There, MyCare boards have yet to be installed, meaning that conventional dry-erase boards remain in place.
Touring the hospital in Salt Lake, Robinson found himself saying about theMyCare boards' primitive predecessors, "I sure don't miss those things."
In Tallahassee, Robinson appreciated being able to walk into a room and, at a glance, satisfy himself that a patient had been seen at prescribed intervals and that his pain was being assessed properly.
The board displays names of the three hospital employees who last visited a given room and when.
Indeed, when a hospital employee wearing an interactive Smart Badge stops by a room, his or her name and title are displayed on the MyCare board. Some patients may have been flattered or surprised to look up and find that the CEO was taking an interest in their case.
The boards are sophisticated enough that patients are introduced to them via an orientation session upon admission.
"The boards connect directly to our charting system so that when a nurse begins her shift and logs into a patient record, we don't have to manually populate anything," Robinson said.
In emergency rooms, Robinson said, the boards "revolve around what all is going on with the patient and how long it is taking. It has the effect of assuring the patient that he has not been forgotten about. Information is in their face in real time."
From time to time, a nurse used to the way things were before the future arrived may turn to a patient and say, "Let me go see about the results of your CT scan." It is the patient who then may remind her that the update she is seeking is on display on the MyCare board.
"Clipboards are vanishing," Robinson said. "You are not going to find doctors pencil whipping a piece of paper like they used to. A lot of time is saved."
Robinson summarized the "Hospital of the Future" effort as one aimed at better care, more efficient care, timely communication, improved asset management and inventory control and, as a byproduct, cost savings.
"At Capital Regional, we were pleased to be selected to help pilot of all this," Robinson said. "And we are grateful that HCA has had the foresight and the bandwidth to focus these improvements. The new technologies fall directly in line with the mission of the company: 'Above all else, we are committed to the care and improvement of human life.'"
Robinson said the Florida hospitals involved in trying on the technologies were not merely commanded to implement the new developments.
Rather, he said, HCA wanted feedback from users in live settings so that they could better decide whether to install MyCare Boards and other products of the "Hospital of the Future" campaign in its 178 hospitals across the country.
The advancements, Robinson stressed, were substantially pioneered within HCA's IT departments.
"It's not like we simply purchased proprietary software from others," he said.
Erica Williams, the director of operations for HCA's North Florida Division, said real-time locating capabilities are central to the Hospital of the Future program.
Documentation equals delays, she said, adding "anytime we can make the workflows or our clinicians more efficient, we are helping them spend more time with their patients and contributing to better patient outcomes.
"Data is useless without context," Williams said, "so we have developed applications that make the data meaningful." Raw, real-time locating data is then employed, for example, in the management of crash carts and other assets.
Why were Capital Regional and Gulf Coast Regional Medical Center among the test sites?
Proximity to one of HCA's two group presidents was surely a factor, Robinson allowed. Chuck Hall, who oversees roughly half of HCA's hospitals, lives in Tallahassee.
The MyCare boards — Williams called them a "huge patient satisfier" — are but one of a few advancements that Robinson said have proved welcome and successful, "but, of course, we are continuing to tweak them a little as we experience them."
iMobile is a clinical communication platform driven by smartphone technology. It provides for secure texting and Wi-Fi calling and displays information including nurse assignments, patient demographics and the results of lab tests.
Advanced Nurse Call employs iMobile wireless integration to route and speed up patient calls, which are received by the nurse assigned to a patient versus being routed through an intermediary central nursing station.
An InSites Locate App, also designed for use on iMobile devices, displays the location of tagged pieces of equipment including wheelchairs and IV pumps so that they can be swiftly found by the caregivers needing them.
Robinson detailed a few of the applications of the iMobile platform.
"If I'm a patient and I hit the button because I need help, maybe I need to go to the bathroom, the call doesn't go to the desk anymore; it's going to the nurse's phone," Robinson said. "You are getting that nurse immediately.
"As the CEO, I had iMobile on my phone and, in the event of an emergency, I could broadcast a message to everyone who was logged into the platform. We had a Code White — an unruly person was inside the hospital — and we wanted to secure all of our entrances and exits.
There was a report that the person might be armed with a gun. We sent a code message to the staff on their phones so that they could get it immediately. We didn't run the risk that they wouldn't hear the message on speakers and we got the word out without alarming the patients."
(The situation was defused without incident, and there had been no gun.)
The locater app works this way …
"We have tagged all assets valued at $700 or more: wheelchairs, beds, stretchers, IV pumps," Robinson began.
"If I'm a caregiver and I need a wheelchair, I can get on the computer or my iMobile phone, click on a tab and see a map that displays where every wheelchair is. This allows for two things. People don't have to spend a ton of time looking for things. And it also make it less likely that one of these items is going to walk out the door."
Surely, there is a way that the locator technology could be applied to luggage carts in hotels.
The technology also lends itself to infection control.
"If a patient is admitted," Robinson said, "and tests later reveal that he has shingles or hepatitis, say, we can use a contact tracing feature of the software and go back and identify every piece of equipment the patient has come into contact with and ensure that it is properly cleaned, along with making sure that staff members receive any treatment they might need."
A hand hygiene monitoring application has been piloted exclusively at Gulf Coast Regional Medical Center in Panama City.
Gulf Coast CEO Brad Griffin explained that interaction between the smart badges worn by staff and monitors in patient rooms and on hand sanitizer dispensers enable the system to know whether hand sanitizing is occurring when a particular staffer enters a room and again when he or she exits.
"We use the tool as a way to emphasize the importance of hand sanitation in promoting patient safety and better outcomes and preventing the spread of illness among patients and staff at the hospital,"
Griffin said. In such a way, he said, the hospital encourages a positive outlook on the technology versus aperception that it equates to Big Brother invasiveness.
In a hospital setting, "improved outcomes" may, of course, mean saved lives.
Williams noted an incident involving a nurse who passed by a room and noticed that a patient not assigned to her was positioned at an unnatural angle in his bed. Closer examination revealed that he may have sustained a stroke.
In addressing such a case, knowledge of the time of the last known "well" can be critical in determining which protocols to observe and medications to administer.
At Capital Regional, arriving at that datum couldn't have been much simpler.
It was right there on the MyCare board.
"We know that there are all kinds of potential applications of this technology," Griffin said. "We have only scratched the surface."