Have a plan for collecting on unpaid client bills
Some tips on how to collect on your accounts receivable without calling Tony Soprano.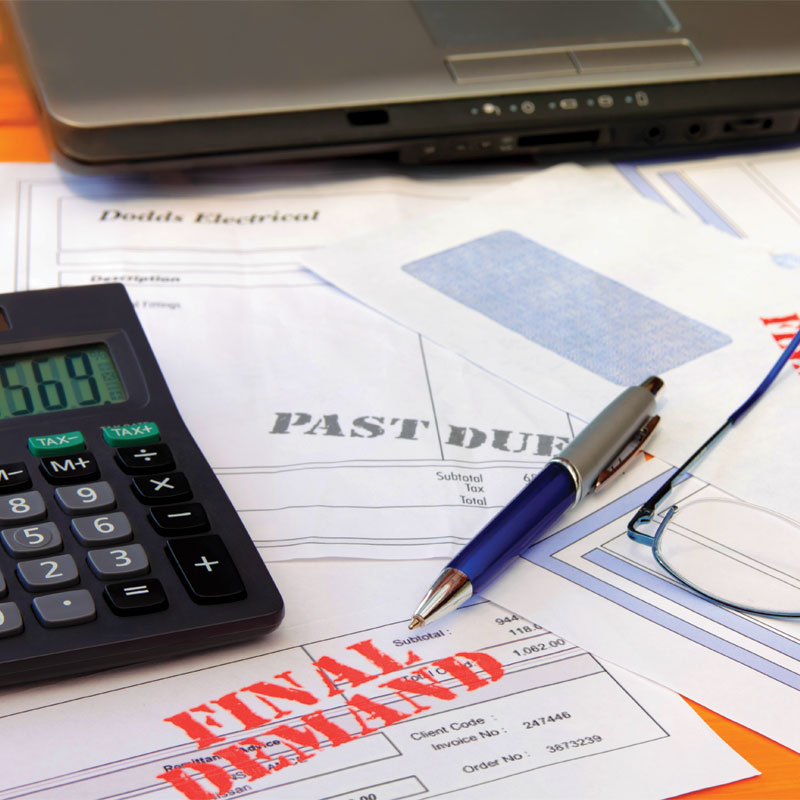 A veteran lawyer, who had done legal work for a country club in South Florida, was facing a big hurdle. When he presented his bill, he was told to back off and was warned not to sue. That's when he found out that the hidden boss of the country club was a member of the Mob.
The lawyer, who asked not to be named, needed his money — $25,000. He had a solo practice with bills to pay. He called a friend, who called a friend, who knew another guy with underworld connections. After looking over the contract, the other guy ruled that the debt was legitimate and that it should be paid. Before the week was out, a messenger delivered a check to the lawyer's office.
After reading the lawyer's story, small business owners may think the the best way to collect on a debt is to enlist the Sopranos.
Forgetaboutit! Even in today's economy, where it is tough for businesses to get paid, there are many more acceptable ways to cut accounts receivable and usually retain a client, too.
Most small businesses probably would rather get paid cash-on-delivery. For many, this is not possible. Some businesses get some of their money after the services have been delivered. Others are forced to offer credit to match competitors. For everybody, waiting to get paid is maddening, especially to anyone who needs the money to pay their own bills. And the time wasted on collections could better be spent servicing old customers and developing new ones.
Slower payments appear to be an unwanted legacy of the recent recession. Companies continue to wait longer to get their money as businesses stall paying. The average time businesses waited to get paid in the beginning of 2012 was around 28 days, which is two to three days later than before the recession, according to accounting software maker Sageworks. On the other side of the equation, the average time for making payments has stretched to roughly 27 days from 25 days last year.
Sageworks analyst Samara Zippin blamed the uncertainty about the direction of the economy. "A rise in accounts payable days coupled with no significant change in accounts receivable days indicates businesses may be concerned about the economic recovery and how that will affect their company's cash flow, even while sales growth is up," Zippin said.
Individuals are reacting to the economy in the same way as businesses. Roger P. Levin, a dentist who helps others improve their practices, warned in the August 27, 2012, issue of Dental Economic that overdue patient accounts "have become more prevalent for many practices in the post recession economy."
Randy W. Kirk, author of "Running A 21st Century Business," said business folks should not despair. He suggested reducing the problem by never giving credit on first orders. Take cash and run a credit check on the customer for the future. "Otherwise you might get one-time shoppers who stiff you," Kirk said.
Many consultants suggest that businesses prepare a written policy to give customers before granting them credit. Leonard Sklar, the author of the book "The Check Is Not in the Mail," suggested sales people go over the form with a customer to make sure there is no confusion about the credit terms. "Most businesses don't have that. Why? They are scared to death they'll offend somebody," Sklar told audiences at his accounts receivable seminars. "If you don't discuss money before you do business … you'll discuss it after you've given away your product or service and your bargaining position will be worse."
Before offering credit, prepare for the worst. Prepare form letters to collect late debts. The early letters should be friendly. The later ones should be more business-like. The letters will come in handy when the problems start. And some problems will start if you grant enough credit.
Here is what consultants suggest you do if your bill hasn't been paid:
After 30 days, dust off that first form letter.
The first collection notice should be pleasant. It should thank the customer again for choosing you and gently remind them that the bill is due. The tone should be affable. Ask whether everything is okay with the service or merchandise. Ask whether there are any problems that need to be resolved. It is important to remember that the customer may have cash flow problems in this economy, too. By emphasizing that you are there to help, you will probably get paid and retain a future customer.
After 60 days, step up the pressure.
Make a telephone call. Business consultant Kirk advises to keep the call friendly because "really friendly collection calls get the money quickly." He also advised that the call be followed up with email because "people tend to run away from phone calls." At this point, any sales people who took part in the original deal should get involved. Kirk continues to emphasize that businesses trying to collect a debt should avoid hostility. "I don't want to lose the receivable or lose the customer," Kirk says. "This is extremely bad thinking on the part of some credit departments."
At 90 days, or three months, friendly words end.
At this point, some businesses should write off any debts that would cost more than they are worth. It might also be worth it to tear up an otherwise good customer's bill if there is a valid difference of opinion about it.
Some debts are too big to ignore. There are three simple ways to try to collect — and they all cost money. The first is to hire a debt collection agency. The costs range from a small flat fee for a simple form letter to as much as half the amount owed for the most difficult-to-collect debts. Most have trained specialists who collect money by using the telephone.
"A two-way conversation (almost always better than a one-way letter) is conducted by a professional collector who has heard every excuse in the book and knows how to motivate debtors to pay, through sheer experience," Sklar wrote. One caveat that consultants suggest is that businesses use members of the American Collectors Association. The ACA has an ethics code which forbids the worst abuses of the collection industry, including harassment, dishonesty, fraud, deceit and misrepresentation.
The second way to collect debts is to hire an attorney. The price is comparable to a collection agency. For instance, Sprechman & Assocates, a statewide firm that offers extensive services in Northwest Florida, is paid one-third of any amount collected. They have experience in working out payment plans. The costs start to rise, however, if they go to court.
Law firms even have their own investigators who can track down those who owe money. Boyer Law Firm of Jacksonville tells prospective clients they had the ability to chase down a debtor in Paris who tried to stiff a Florida business who had sold him T-shirts.
A third commonly used method to collect debts $5,000 or less is for business owners to represent themselves in small claims court. A guide from The Florida Bar recommends that an owner have proof of the exact amount owed, that the debt is owed to the owner and written evidence such as a contract of a promise to pay. If the owner can't prove those elements, the judge may dismiss the case, The Bar guide warns. Even if an owner acts as his or her own lawyer, they can't avoid the stiff filing fees. In Northwest Florida, the small claims court filing fees range from $55 for a claim less than $100 to $300 for claims from $2,500 to $5,000.
By following these steps, small business experts say most debts can be cleared off the books. Even if business owners end up paying fees to get what is owed them, the Golden Rule of collection experts should always be remembered: It is better to have some of the money than to not get any.