Happy Airports Take Travelers to New Heights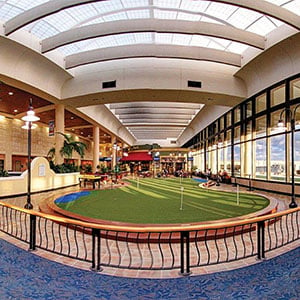 You're in an enormous building, surrounded by an endless variety of shops, delicious regional food and often live music. Beautiful artwork is on display, some built into the architecture and some showcasing local talent. You can purchase just about anything you can think of, except maybe a car. But you're not in a high-end shopping mall; you're in an airport.
Airports around the country are getting more creative as they work to improve travelers' experiences. Some airports offer nap rooms; some boast cutting-edge technology options. Others have excellent food. One even has a putting green overlooking the tarmac. And it's all about the travelers.
Trimmel Gomes of Tallahassee loves to travel; he takes, on average, 10 trips a year. This means he has a pretty clear sense of what makes an airport enjoyable for passengers. High on his list, he said, is connectivity.
"The simplest thing an airport can do to keep travelers happy is offer free Wi-Fi," said Gomes.
Spending a lot of time in airports certainly isn't unique to Gomes. Every year, millions of Americans travel globally. Some people can't wait to get on the next plane, and others dread it. A bad airport experience can have a lasting impression on travelers, but a great airport experience can foster a love of travel that people remember for the rest of their lives.
MissTravel.com, an online dating website for travelers, recently conducted a poll among more than 50,000 of its members to identify their favorite U.S. airports. Respondents were asked to rate the airports based on comfort, convenience, customer service and cleanliness. The top five favorite U.S. airports of MissTravel site users were as follows (in no particular order):
PBI: West Palm Beach, Florida
PDX: Portland, Oregon
PHL: Philadelphia, Pennsylvania
SAV: Savannah, Georgia
SFO: San Francisco, California
Nan Rothstein of Jacksonville agreed with PDX's inclusion on the list.
"It's like the Disney World of airports," she said. "The moment you step off your plane, you feel that you are in the Pacific Northwest. Every aesthetic detail reflects it. Even the take-away food spots have a huge variety of delicious healthy options."
Palm Beach International received high marks for being easy to navigate, but its most unique feature? A putting green inside Sam Snead's golf-themed restaurant. Michael Simmons, the airport's director of Finance and Administration, was there the day the restaurant and putting green opened and he remembers "Slammin' Sammy" Snead himself being there for the event.
"We play a lot of golf in Palm Beach County, and a lot of the people who visit here play golf," said Simmons. "It's a great tie-in with our local tourism industry. It's a neat thing for people to talk about; they take a lot of photos and selfies from the putting green."
Simmons also said the employees appreciate the airport's recognition as a happy airport.
"We try to make it a fun experience here," he said. "These concepts that are fun are one more thing to remember, and to have someone recognize that we are a happier airport because of this, it really makes our employees happy."
Travelers gave several other Florida airports high marks as well. Tampa resident Jachima Taino praised Tampa International Airport for its hub and spoke-style layout, noting that in her experience it was one of the most efficient and easy airports to travel into and out of. The Orlando International Airport may be one of the busiest airports in Florida, but Chris Gent, of Kissimmee, said it's one of his favorite airports because of all of the natural light.
Gent said the Orlando airport is also especially great for families — including his own family of 10 — because of all the things to see and do while travelers wait, including a giant aquarium in the food court, a video arcade, theme park stores and more.
The Destin-Fort Walton Airport on Eglin Air Force Base wants to make sure that not only are the two-legged travelers happy but four-legged ones as well. Their Bark Park, a convenient pet relief area, is located just between the parking lot and the terminal for pets before and after flights. The airport also gets frequent visits from Dozer the Therapy Dog who helps to calm the nerves of stressed out travelers (and airport staff).
"The Destin-Fort Walton Beach airport prides itself on offering world class amenities that are often found in much larger airports with the convenience and hospitality of a smaller airport," said Mike Stenson, deputy director of the Okaloosa County Airports.
Northwest Florida Beaches Airport in Bay County may not have a putting green, but it does have a Military Welcome Center. Open daily, the center offers a quiet place for active duty and retired military personnel as well as Department of Defense employees to relax while waiting for a flight or a ride home. The center offers snacks and drinks, television and Internet access and a children's play area, as well as visitors' guides, postage stamps and mailing services. Comments left by troops and veterans in 2014 reflected sincere gratitude for the hospitality.
Northwest Florida Beaches is also working hard to expand the flight options available for its customers. This year alone, three new airlines — Silver Airlines, Southwest Airlines and United Airlines — have joined the airport and now offer additional direct flights.
Corporate Travel Chart of the 20 biggest spenders
Each year Business Travel News looks at how much corporate America spends on travel. In 2014's evaluation, IBM topped the list of 100. Here are the top 20 companies and how much they spent in 2013. The numbers are in millions.
IBM — $590
Deloitte — $405.2
General Electric — $330
Oracle — $329
Boeing — $318.3
Exxon Mobile — $293
EY — $255.6
PricewaterhouseCoopers — $244
Accenture — $243
Lockheed Martin — $226.2
General Dynamics — $214
Wells Fargo — $202
JPMorgan Chase & Co. — $199.7
Hewlett-Packard — $198
McKinsey & Co. — $195
Royal Dutch Shell — $191
Bank of America — $188
Apple — $180
Microsoft —$179
Google — $170