H3LP is at Hand
Program helps clients get their feet back on the ground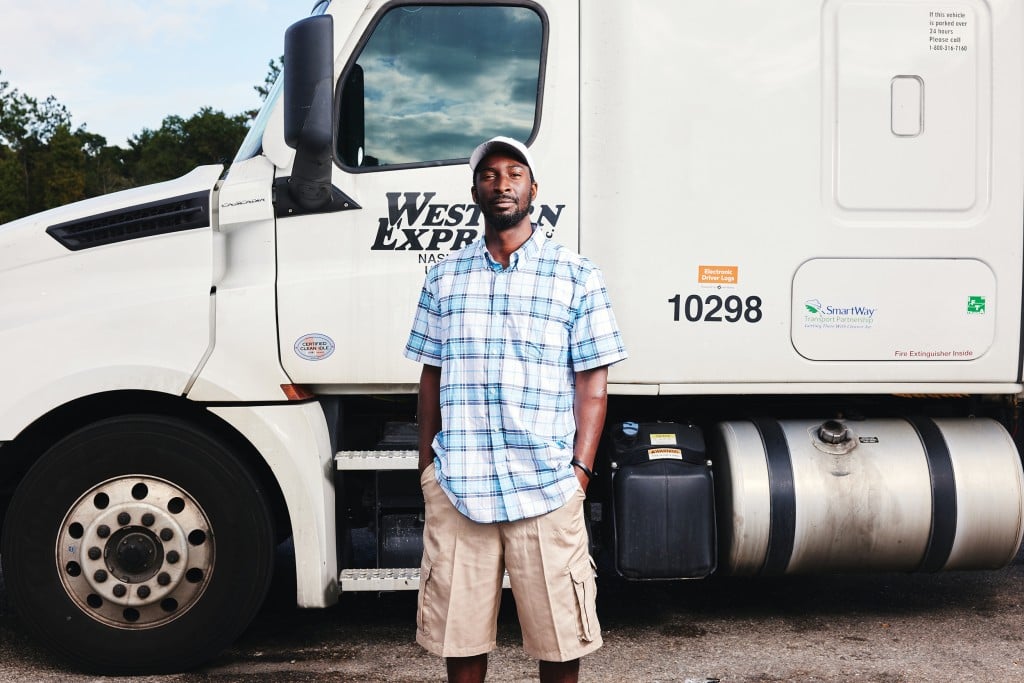 As a boy, Cary McCord was fascinated by large truck, and as a teen, he had a desire to become a driver.
"Unfortunately, I was bad about hangin' around with the wrong people," he said.
At ı7, McCord was convicted on a charge of armed robbery. He would spend 20 years and six months in prison.
"He got out and knew nothing about cell phones or computers, but he wanted to get something going," said Chuck White, the founder and director of H3LP Florida Employment Services, which works in close association with the Kearney Center in Tallahassee.
McCord received information about H3LP — the "3" in its name stands for "Educate, Employ, Empower" — upon leaving prison. His mother had resided for a time at the Kearney Center, which works with homeless people, and knew White.
McCord, himself, was living in a transitional housing facility and paying rent with money he earned on work release while in prison when he approached White.
"I'm blessed and fortunate to have met a man like Mr. Chuck, who is not just doing a job, but really wants to help people," McCord said.
White, 70, was a co-founder of the Kearney Center and worked as an administrator there. He established the H3LP program, given a strong desire to work one on one with center clients and to establish relationships with them.
"H3LP is a simple deal," White said, explaining that it operates a lot like agencies such as Labor Finders or Action Labor that provide temporary workers. "The difference is that businesses are prohibited by contracts with those agencies from hiring temp workers unless they pay a large finder's fee. We took that clause out of the contract.
"If an employer wants to hire one of our guys full time, we call that a success."
White also uses connections he made as a real estate developer to assist H3LP program clients.
"If I have a young man who wants to work in air conditioning, I know enough AC contractors that I can get one of them to take that guy and sponsor him while he goes to school," White said. "Many businesses want to cooperate, want to help."
White's projects as a developer included Mission San Miguel, Easton Glen, Pedrick Crossing, Pedrick Plantation, Sugar Mill Plantation and the Westgate Community. He was instrumental, too, in bringing about The Dwellings, an affordable tiny house development on the Blountstown Highway.
White found McCord to be a perfect fit for the trucking program at Tallahassee Community College. Federal grant funds would be used to pay for his tuition there.
"Cary got into that program and graduated at the top of his class," White said. "He was driven to succeed. He went to work for Western Express as a driver and has since become a driver/trainer."
McCord remains goal-oriented.
"I'm not going to say I love life on the road, but I like it, and I love to drive," McCord said. "You have a source of income, you've got someplace to lay your head while you're working, and it's the means to achieving my goal of owning my own truck and starting my own business."
Prior to the pandemic's arrival, H3LP operated from an office at the Kearney Center and worked with clients living there. Now, those clients have been dispersed to hotels around town, and H3LP has been converted to a mobile resource center.
"We have an outreach schedule, and we set up tents at the hotels," White explained. There, H3LP is joined by representatives of other programs related to health care, insurance, legal aid and mental health assessments.
White said about ı0 H3LP program participants move into permanent jobs each week.
H3LP charges employers $ı4.50 per worker per hour, enough to pay the worker $ı0, cover taxes and insurance had have a $ı.50 "cushion" left over. H3LP places that buck and a half in a fund used to purchase birth certificates and obtain state-issued photo IDs for clients.
"In working with people, the first thing we determine is whether they have the documents they need to go to work," White said. "Do they have a Social Security card and a valid ID? A couple of days a week, we run a bus to the Department of Motor Vehicles so people can get IDs. Not having one is an impediment for a lot of people."
The majority of people White contacts are highly motivated to improve their circumstances.
"Some people believe homelessness is the result of drugs or alcohol, and that is true in maybe 20 percent of cases," White said. "But the people I work with are in homelessness for economic reasons. Something happened. They lost a job or a relationship broke, and they are out on their own with no place to go. They are typically go-getters, and we help them along, work on their resumès, supply them with bus passes so they can get to their workplace."
White said H3LP has a list of job availabilities that is three pages long.
"If somebody wants a job and they are willing to work for it, they can get it."
White said there is a sense in which the pandemic has been helpful to the homeless population in Tallahassee.
"The experience of living in a hotel instead of a homeless shelter has been very profound in their lives," he said. "Just the fact that they can go to a room with a bed, a bathroom and a TV has been a motivator."
White described a man who had been living for months in the woods before seeking help at the Kearney Center. He was filthy, his hair was matted and he had a beard down to his belly button. At one time, he had been a truck driver but let his commercial driver's license lapse.
"One morning, he came walking up to our tents at a hotel site," White recalled. "I could hardly recognize him. He was clean and clear-eyed and wearing clean clothes. He said he was feeling good and wanted to get his license restored, and we helped him do that. The hotel environment really helped him, and he's working out of Nashville now."
White readily conceded that H3LP doesn't always succeed.
"Some people don't want to work, and they are in front of us only because they are required to be," he said. "We see some backsliding. But the best way to combat recidivism is to get people good work, get them stabilized, build their self-esteem and let them discover that they can make it on their own. We don't give up. Some cases might take someone falling a couple of times."
Said McCord, "You can lead a horse to the pond, but you can't make him drink. Some people are content not to help themselves, but there are a lot of resources available to those who do."