Gwen Graham is For Hard Workdays in North Florida
Inspiring Bipartisan Work in Washington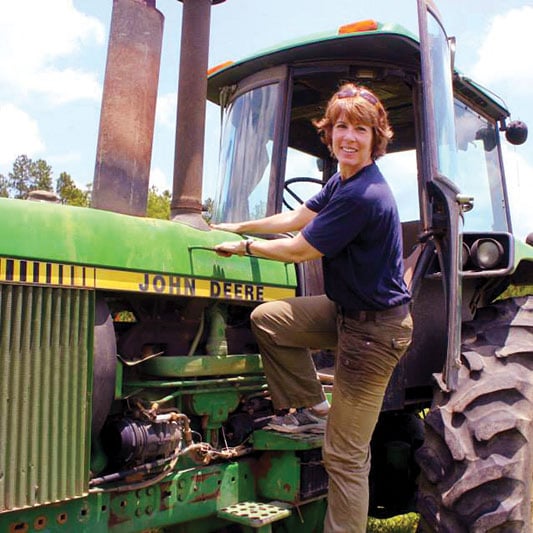 I came home from a full day of work with my clothes covered in dirt, my face sunburnt and my hands blistered … It definitely wasn't your typical eight hours on the campaign trail.
I'd just finished working alongside North Florida peanut farmers. It was an exhausting day, but after seeing the farmers' hard work and hearing firsthand about the challenges they faced, I was certain I made the right decision to carry on my father's Workdays.
In 1977, when he decided to run for governor, my dad started working full shifts, next to hard-working Floridians. His Workdays ranged from backbreaking hours as a bellboy to patrolling Tallahassee with local police. When he retired from the Senate in 2005, he had performed more than 400 Workdays in Florida.
I have a ways to go until I reach 400, but two years into my own Workdays, I've worked at a barbershop, food truck, goat farm, marine lab, fire station, and the list goes on.
This year, I was honored to start working as your representative in Washington — and each day, I think of those I work alongside in North Florida.
One common thing I hear from everyone — white collar or blue collar, Republican or Democrat — is that government dysfunction is hurting businesses and the economy. Whether it's sequestration or government shutdowns, partisan members of Congress are more interested in manufacturing crises than doing their jobs.
On the campaign trail, I promised to bring the North Florida Way to Washington — and that means ending the political games and getting back to work.
North Florida is still recovering from the recession, and too many families are still struggling to make ends meet, pay for health care costs and save for their children's college education. As your representative, I've made it a priority to work with Republicans and Democrats to make sure the economy improves for everyone in North Florida. Here are some of our accomplishments from my first three months in Congress:
Creating Tax Code Security
Last year, Congress retroactively renewed more than 50 tax credits that had expired in 2013, but the breaks were not extended for 2015. Republicans and Democrats agree we need comprehensive tax reform. Waiting until credits expire and only renewing them temporarily creates uncertainty for families and small business in North Florida.
I joined a bipartisan coalition to extend a package of charitable and small-business tax credits, including credits that create incentives to give donations to food banks and credits for small businesses to deduct certain investments.
Allowing these tax credits to expire is no different from raising taxes on small businesses — which I strongly oppose. It's time for partisans on both sides to stop playing political games and extend more common-sense credits to alleviate the tax burden on middle-class families.
Lowering Health Care Costs
Every working family in North Florida deserves access to affordable health care. The Second Congressional District is home to world-class hospitals, but we still have problems providing affordable care to rural communities that struggle to keep up with mandates from Washington.
I'm working to cut costs, increase access to care and fix the problems in the Affordable Care Act to better serve North Florida.
Both parties have gotten it wrong on the Affordable Care Act. Republicans vote to repeal the entire law. Democrats vote against any fixes. I'm fighting to make it better; that's why I crossed the aisle to support several proposals, such as the Keep Your Health Plan Act, which would mandate that you can keep your current insurance plan if you like it; and I'm working to make sure rural hospitals can be exempt from overly burdensome, unnecessary mandates so they can prioritize patient care over paperwork.
Making College More Affordable
North Florida is home to more than 100,000 college students. We need to do everything we can to make college more affordable for them. It's not just an education issue, it's an economic priority.
I joined a bipartisan coalition of lawmakers to co-sponsor and pass a bill to modernize and improve tax-free 529 college savings plans. A 529 investment plan is operated by a state or educational institution to help families set aside funds for future college costs. Florida Prepaid's 529 plan has more than 35,000 active accounts with a market value of more than $375 million.
The bill will expand the current savings plans to include computers as qualified expenses, eliminate unnecessary paperwork when funds are distributed and allow families to re-deposit refunds from colleges without having to pay a penalty or tax. This bipartisan bill to protect, modernize and improve tax-free 529 college savings plans is common-sense legislation that will help families saving for college in North Florida.
Passing these economic bills to help middle-class families and small businesses are all steps in the right direction, but we still have a long way to go. We need to pass comprehensive tax reform, fix Obamacare and make college more affordable. Maybe more members of Congress should work alongside their constituents — if they came home from the job with a few blisters, they just might work a little harder in Washington to get things done.