Gulf World Marine Park is a 40-year hit
It's competing well against the theme parks by bringing guests up close and personal with the wildlife.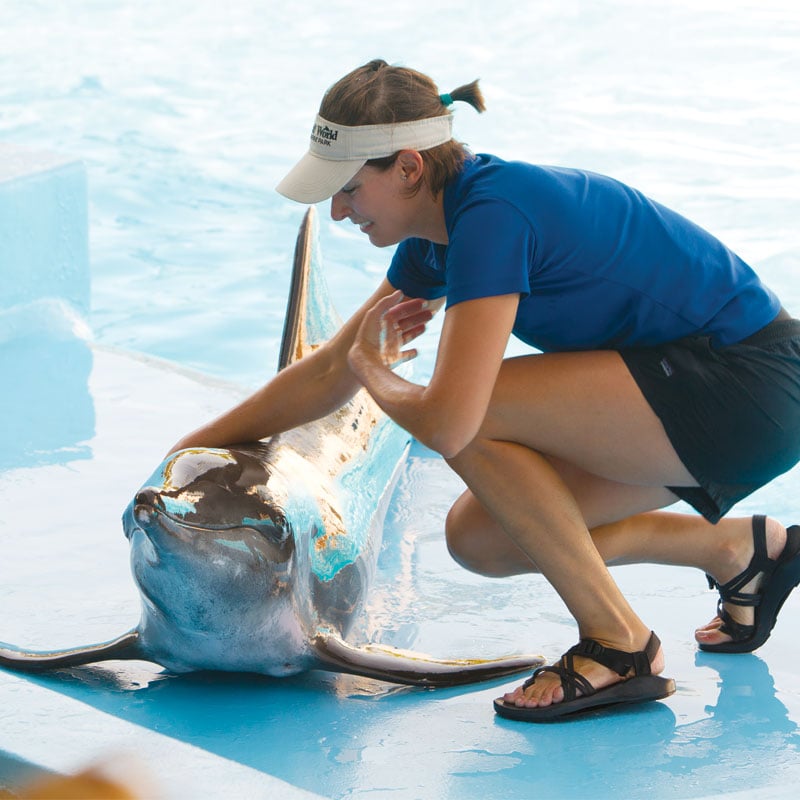 No matter the time of year, tourists to Panama City Beach will make time to visit one of the area's oldest and favorite attractions. There are no animated figures involved, no high tech electronics, no moving sidewalks. This attraction involves nature — and our natural attraction to it.
For the past 40 years, Gulf World Marine Park has entertained tourists and locals with its close-up encounters with marine animals. It remains relevant and a viable business today because it offers a wide variety of experiences that interest the young and the old alike. And because of its status as the go-to facility when animals need rescuing from severe weather or oil spills.
The key to Gulf World's success over the years, says marketing director Pamela George, is a diverse array of entertainment. The number of animals has grown, with two dolphin calves being born in the last two years. And the park has broadened its scope by adding musical entertainment, a magic show and a chance to meet the dolphins and sea lions — or even be a dolphin trainer for a day.
"We try to do new things," says George, citing the addition of a bird aviary, tropical garden theater, banquet room and redesigned stages. "We've also added a sea lion to our bottlenose dolphin and rough-tooth dolphin meet-and-greets."
On a typical day, kids will giggle and parents will smile as Duke the sea lion sticks out his tongue for the audience. All age groups stare in awe at Sandy, the 27-year-old bottlenose dolphin and star of the show, who shoots up from the water to do a midair flip.
Ron Hardy, owner of Gulf World, says the up close and personal opportunity with the animals, as well as the staff, is all part of the park's appeal. "People love talking to our trainers about the animals and learning how they care for the animals."
Most visitors don't get to see how hard the Gulf World staff works behind the scenes. Feeding and caring for the animals is a round-the-clock job. The staff prepares food for the animals every day, all while carefully logging in each animal's mood, behavior and appetite. After each feeding, the buckets are cleaned and preparation begins for the next meal.
Not surprisingly, the staff is comprised of animal lovers, but what may be surprising is the diverse array of career opportunities available at Gulf World. "We have a great staff, and many of them have degrees in biology, psychology and even theater," George says, noting that the park has little staff turnover and loyal employees. "It is difficult to find availability at facilities like ours, because everyone loves their jobs so much there aren't many openings."
Animal Rescue and Rehabilitation
In addition to entertainment and education, Gulf World rescues and rehabilitates injured and distressed marine mammals and sea turtles throughout Northwest Florida, serving as the only long-term marine mammal rehabilitation facility in the region. "Our non-profit care center is very important to the public," George explains. "People want to help distressed animals, so when we respond to a stranded dolphin or injured sea turtle we receive calls from people wanting to know how they can help."
Local support is largely due to the rescue and rehabilitation that goes on at the park. The park's Southeast Marine Mammal Stranding Network and the Sea Turtle Stranding and Salvage Network are made up of dedicated animal lovers who have come to the aid of thousands of marine animals.
Secret Holmes-Douglas, the director of marine mammals at the park, organized the rehabilitation of more than 1,700 sea turtles during the harsh winter of early 2010, when frigid temperatures stunned the turtles. Holmes-Douglas and her staff spent countless hours working to warm the turtles and provide medical attention during their rehabilitation at Gulf World. Working closely with the U.S. Fish and Wildlife Service, the U.S. Coast Guard and the Florida Fish and Wildlife Conservation Commission, the staff successfully returned more than 1,200 turtles to their natural habitat.
Immediately after the Deepwater Horizon oil spill in 2010, federal and state wildlife agencies rescued more than 150 turtles coated with oil and took them to Gulf World, the official de-oiling facility for North Florida.
The staff cleaned and rehabilitated the turtles, regularly checking their vital signs, hydration levels and glucose levels. To prevent the animals from enduring too much stress, staffers did a checkup and a cleaning in under 20 minutes. "When they come in, we take pictures, take measurements and get their weight," Veterinirian Lydia Staggs says. "We wash them with Dawn soap and mayonnaise. There is oil in their mouths, and we can't put soap in their mouths, so we use mayonnaise." Some turtles needed as many as six cleanings, requiring that they get one cleaning per day until they were oil-free. Once they were ready for transport, Gulf World sent them to Sea World Orlando or Walt Disney World for further rehabilitation, clearing the tanks for incoming turtles.
Though the most recent winter has been relatively mild, Gulf World staff rescued more than 20 cold-stunned green sea turtles and two endangered Kemp's ridley turtles affected by a recent sand renourishment project. And there's been an unexplained increase in stranded dolphins as of late. In January, Gulf World staff rescued a six-foot-long Atlantic Spotted dolphin and brought it to Gulf World's Stranding Facility where Staggs determined that the dolphin had internal inflammation in the abdomen. Gulf World then contacted the Hubbs-Seaworld Research Institute in Orlando, which is one of Gulf World's stranding network partners, to relocate the dolphin.
Sea mammals are affected by many of the same afflictions as humans, including cataracts. Gulf World recently worked with Aquatic Animal Eye Care, during which a team of veterinarians conducted a rare and delicate eye surgery on two California sea lions, which had diminished eyesight due to age induced cataracts.
"All the sea lions were able to see hand signals from the trainers the day after the surgery," Staggs says.
Animal Therapy for Special Needs Children
Speech-language therapist Janet Flowers is a doctor with some unusual assistants — namely the dolphins, sea lions and exotic birds at Gulf World. Flowers, who provided speech-language therapy in Okaloosa County for 13 years and opened the Dr. Janet Flowers Institute in 2000, works with the animals to help children with autism and Down syndrome learn to speak and communicate.
Flowers says her idea for the institute came about while she was working on her doctorate in applied research at Florida State University. "My entire dissertation was on dolphin-assisted therapy," she says. "What I was seeing were very emotionally aroused children who were more than willing to work on task, and I could get better communication with them than I did in a regular therapy setting."
This type of animal-assisted therapy works on the assumption that children learn better if they are emotionally stimulated. Being around animals helps them remember communication skills they wouldn't be able to in a day-to-day setting.
Flowers usually works with children ages 3 to 13. She leases time with dolphins at Gulf World and even auditions dolphins beforehand to make sure she picks ones that work well with children with disabilities. "We use dolphins that have been deemed un-releasable because of their own disabilities," she says. Gulf World has five such dolphins — four of which are deaf, and one that doesn't have a tail fluke. All are rough-toothed dolphins, which look similar to the bottlenose dolphin but have a more pronounced dorsal fin and a more slender nose.
Flowers pairs the children with either a dolphin, exotic bird, sea lion or dog, depending on the child's personality and needs.
During the therapy, the animals provide emotionally stimulating interactions for the child at the same time they are learning communication skills, which fosters a desire for more interaction with the animal and increases time on task, as well as communication skills.
Flowers says this specific type of therapy doesn't work with every kid but shares a story of 3-year-old Zoe, who has Down syndrome.
"Zoe is a child that I saw privately for six months before I took her to Gulf World, and we were making fair progress," she says. Flowers paired her with Largo (a dolphin), Max (a sea lion) and, coincidently, a bird named Zoe. "I told Zoe, 'If you want to feed the dolphin you have to say, I want feed, please.' And she wasn't used to doing that. But soon she started putting words together to form sentences because of the motivation.
"During those two weeks I got total focus from her, and therefore I was able to get so much more information into her head," Flowers continues. "We planted seeds during those weeks that have come into fruition now."
Gulf World's partnership with local entertainers, therapists, state and national animal protection organizations and even other marine parks has secured its own reputation as a beloved treasure for Northwest Florida.