Growing Tourism Numbers Boost Local Economy
Pensacola proves to be gaining popularity.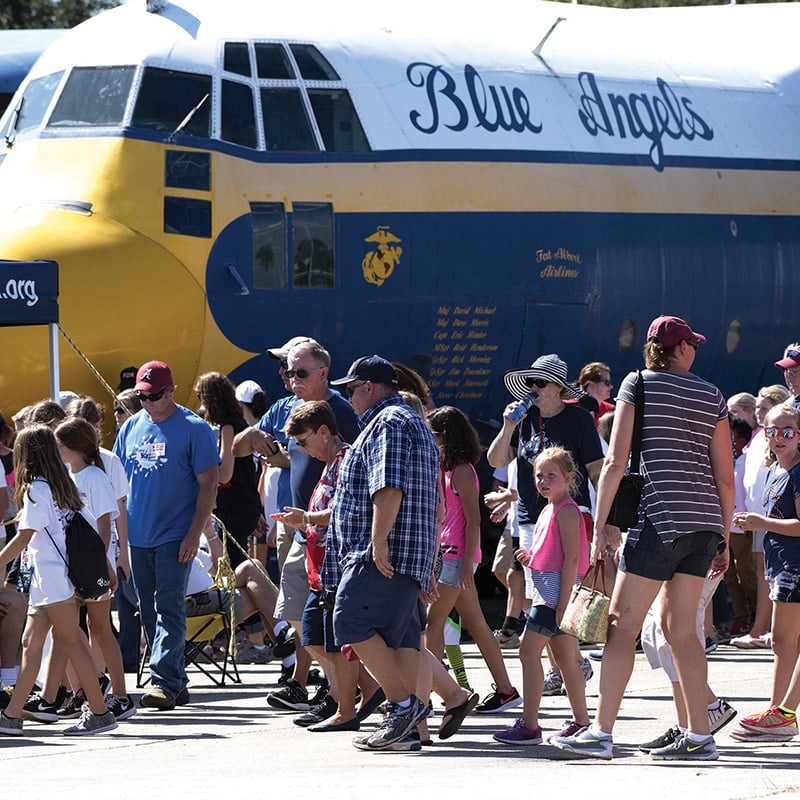 Pensacola obviously has something that visitors like.
Coming off a record summer tourist season in 2016, the numbers show that visitors are staying longer, spending more and beefing up tourist tax collections.
"Everyone looks at summer as being the key factor," says Steve Hayes, president of Visit Pensacola. "If summer went well, the rest of the year went well. The bed tax is up, and that's one benchmark to look at. Length of stay and spending were also up."
Hayes credits the wide variety of events, activities and attractions in the Escambia County/Greater Pensacola area with the increased interest.
Cultural offerings abound and include a local opera, theater, ballet and symphony. The region, occupied by Native Americans for thousands of years and then visited by Spanish explorer Tristan de Luna, who attempted to colonize the area in 1559, is rich in history. (A third shipwreck from de Luna's fleet, hit by a hurricane a month after it arrived in Escambia Bay, was discovered in October.) Festivals are held throughout the year. The nearby beaches are among the world's best. Naval Air Station Pensacola, the cradle of naval aviation, is home to the National Naval Aviation Museum, which attracts 800,000 visitors a year. And the famed Blue Angels precision flight team, which calls Naval Air Station Pensacola home and does two major performances a year (July and November) at home base, draws plenty of visitors on its own.
"I think the number of things you can do in Pensacola is what brings people here. And look at where the spending is — 48 percent is in lodging, where you're staying, but the remaining 52 percent is in the community," Hayes explains of visitors' economic impact on the region. "People are going shopping, visiting venues, buying gas, going to restaurants. Our big selling point for Pensacola is that Northwest Florida is blessed with great beaches, but we've got great history, great culture and a vibrant downtown."
Visitors come from the mid-Atlantic and Midwestern states, including from places such as Washington, D.C. and Chicago, as well as the Southeast. In 2015, Pensacola International Airport served 1.6 million passengers, making it the busiest airport in Northwest Florida.
A decade ago, downtown Pensacola had an overabundance of vacant and neglected buildings. Today, it is a bustling center of commerce with restaurants, entertainment and small shops that bring locals and visitors downtown into the evening. One of the major attractions is the Community Maritime Park, which includes the Blue Wahoos baseball stadium, home to a minor league team affiliated with the Cincinnati Reds.
"For a city of our size to have what we do is unheard of," Hayes says.
---
Escambia Tourism by the Numbers
One additional dollar

in hotel/lodging sales will generate

$7.60 in total

taxable spending in the local area.

More than

16,000 jobs

are related to the visitor industry (hotels, restaurants, attractions, transportation, retail).

For

every dollar invested

in Visit Pensacola marketing,

$3.55 in tax revenue

is generated.

For

every dollar Visit Pensacola invests

in marketing,

$82 is returned

to Pensacola businesses.
| TOURIST DEVELOPMENT | CY 2015 | % CHANGE FROM CY 2014 | 2016 (AS OF NOV., INCREASE FROM 2015) |
| --- | --- | --- | --- |
| Tax Collections | $9.4 million | +9% | +7.3% |
| Occupancy | 64% | +2% | +3.7% |
| Average Daily Rate | $118 | +6% | +3.4% |
| Length of Overnight Stay | 8.5 | +8% | +2.1% |
| Average Total Spent | $2,035 | +40% | +3.5% |
| Average Spent Per Day | $172 | +10% | +19.2% |
| Est. Unique Visitors | 1.68 million | -7% | Not Available |
| Est. Direct Spending | $849 million | +26% | Not Available |