Growing Startups
Local entrepreneurs have put Tallahassee on the national map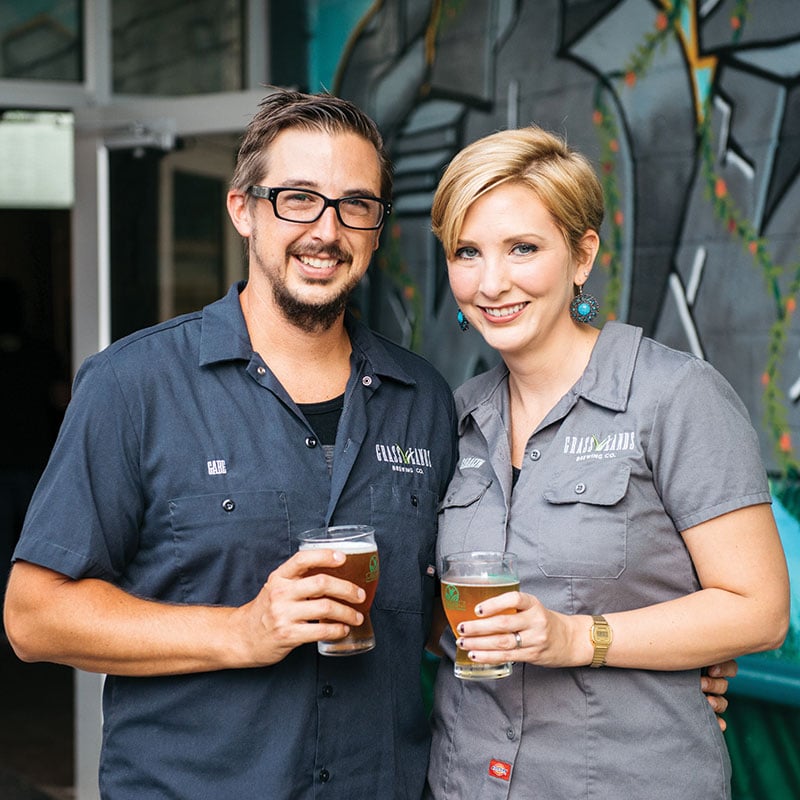 When Gabe Grass was conjuring up tasty beers in his backyard, the idea of becoming one of Tallahassee's prime brewmasters was still a fantasy. But in February 2015, he opened the Grasslands Brewing Company taproom on Gaines Street, and the business has been evolving ever since.
Grass will tell you that transforming malted barley, hops, yeast and water into a quality craft beer isn't easy, but it may be less challenging than crafting a great beer into a business.
"It's easier to make beer," he said. "It's been said that running a brewery is 5 percent making beer and the rest cleaning and paperwork. But I'm doing something I'm passionate about. And I care about the community and adding to it."
Grass said he is grateful for the opportunity to turn a dream into a reality, a common theme in Tallahassee's growing entrepreneur community.
Tallahassee was named a Top 50 City for Entrepreneurs by Entrepreneur Magazine in the publication's August issue. The ranking was part of a partnership between Entrepreneur Magazine and Livability.com. Tallahassee ranked 46th on the list and was one of only three Florida cities. (Orlando was No. 15 and Miami No. 33.)
There's more. The "In Real Terms" column for Five Thirty-Eight, the statistical analysis company from numbers wizard Nate Silver, reported in September that Tallahassee was No. 9 on a list of 20 cities with the fastest-growing rate of startups from 2009 to 2014, based on U.S. Census data. While a 1.1 percent increase doesn't seem dramatically different, it represents a sign of hope, said those in Tallahassee's entrepreneurship universe.
What's more encouraging is that there has been a lot of progress since that time, with numerous factors fueling the entrepreneurial spirit in Tallahassee.
"Overall, the community has embraced the culture of entrepreneurship," said Keith Bowers, regional director for the Florida Small Business Development Center at Florida A&M University. "Everything started to sink in after the Great Recession. When the economy started to hit rock bottom, every industry suffered across the board."
He pointed to a "a laser-like focused effort" to promote new businesses, vital since "98 percent of the jobs created each year are created by small-business owners," Bowers said.
"A light went on somewhere and the city, county, FSU, TCC, FAMU, the Chamber of Commerce and the then-EDC (Economic Development Council) got on the same page for the first time and said, 'We've got to work together to drive economic growth through entrepreneurial programs,'" said Larry Lynch, director of the Entrepreneurial Excellence Program. "We have a lot of smart people here, and they weren't staying in Tallahassee."
Aside from the Entrepreneurial Excellence Program, FAMU's Small Business Center and the local brainpower, business leaders point to a growing interest from investors and The Jim Moran Institute for Global Entrepreneurship.
The institute, which is under the FSU College of Business, will move to a stand-alone building in 2017 as part of a $100 million gift from Jan Moran and The Jim Moran Foundation, along with expansion of the institute's programs statewide. The gift will also enable FSU to create what will be one of the nation's largest interdisciplinary, degree-granting schools of entrepreneurship.
Another crucial step has been the opening of the startup incubator Domi Station.
Domi Station was launched in 2014 in a former warehouse building provided by the county off Railroad Avenue. Domi's mission has been to drive entrepreneurship in a variety of ways. The nonprofit venture offers collaborative work space, which varies in price depending on the amount of time needed and space required, with individual desks and eight offices. All participants can take advantage of Domi Station events, activities and mentorship.
"There's so much value when people plug into an entrepreneurial or community space," said Lucas Lindsey, Domi Station's executive director. "We push the idea that you're not just building a business, you're building a city, too."
Tallahassee has developed an infrastructure to spur the entrepreneurship community, said Jay Revell, vice president for the Greater Chamber of Commerce.
"We have a trajectory that continues to grow," he said.
Domi attracted a handful of startups from the get-go, and last year 35 teams, 18 of them student-run, went through the facility's six-month incubator program. The program offers three months of intensive training, called a boot camp, that emphasizes the development of a business, financial and marketing plan, followed by three months of implementing the plan, accountability and growth. The program also encourages mentors, with 25 mentors volunteering their time.
"We work together," Lindsey said. "There's a lot of collaboration."
Much of that collaboration is organic, a sharing of information that naturally occurs when sharing space with other dreamers.
"Domi started at a time when people were hopeful of what could happen," Lindsey said. "There were some people launching startups here and there, starting tech businesses and flying under the radar. Over the last few years, we've had more tangible examples of people whose stories have created a lot of excitement and inspired more and more people."
One of those people was Mark Powell, who founded a Tallahassee startup called HWind, which grew from a one-man effort to a team of 12 in less than two years. HWind was the first company housed at Domi Station to become acquired by a larger company, RMS, a Silicon Valley-based firm that specializes in risk modeling. Powell went to RMS as vice president of model development, brought his team and opened a Tallahassee office.
Powell began developing his data-tracking system while working as a scientist for the federal National Oceanic and Atmospheric Administration. He switched from flying into storms with hurricane hunters to analyzing ground data, creating a system to be used in real time. But the research was shelved for years, which nagged at Powell.
He eventually petitioned NOAA for the commercial rights to the process he invented during his 30-plus years there. After about 18 months, he received the rights to his work.
"I had the benefit of over 30 years with a research organization and the ability to develop technology here," Powell said. "The organization (NOAA) valued getting technology out and bringing it to the private sector."
When Powell left NOAA to start his own firm, he took advantage of courses at the Small Business Development Center at FAMU, attended the Entrepreneurial Excellence program and was a member of Domi, using its office space.
"Tallahassee has a lot going for it," Powell said. "There's a rich talent pool here. And there's a rich ecosystem of advisers and people and groups who want you to succeed."
Despite all the advances in entrepreneurship, the city is still lagging behind in encouraging more diversity in business.
Tallahassee tops the list of the most economically segregated cities in the United States, according to a report released in February 2015 by the University of Toronto's Martin Prosperity Institute.
"Like most communities, we have challenges when it comes to diversifying our economy," Revell said. "Our greatest hope for doing that is to create a thriving entrepreneurial ecosystem."
One promising endeavor is Tallahassee's first food-based incubator to be housed in the historic neighborhood of Frenchtown. Entrepreneurs with a passion for cooking can utilize the space of a commercial kitchen to develop a business in one of the city's poorest neighborhoods and food deserts. But applicants don't have to live in Frenchtown to be considered for the program.
KitchenShare, expected to open in summer 2017, will be inside the West Georgia Street Heritage Hub, where a farmers market is located. KitchenShare will be accessible 24 hours a day, with space available for up to 40 clients paying $15 an hour rent. Participants can also take advantage of resources in learning the food business.
"Tallahassee has the willingness and interest to purchase locally grown food, so the foundation is here," said Michelle Gomez, director of Heritage Hub. Residents see the project as a way to help an area burdened by sluggish growth.
"We have people knocking on the door, wondering when it will open," Gomez said. Participants could include catering, spice or sauce makers, bread or jelly makers.
"You move out of that space and you develop a business," she said. "People are looking for a way to make their passion a full-time job, and that's what a commercial kitchen provides. It has the potential to diversify our economy and change our situation for the better."
Lynch, of the Entrepreneurial Excellence Program, said starting a business helps people escape dependence on an employer.
Both Powell and Grass attended the Entrepreneurial Excellence Program, which started in 2011 and has worked with 130 startup teams in nearly six years. The 10-class program, with classes offered twice a week, is housed under the Leon County Research and Development Authority in Innovation Park. The cost is $400 for a team of two people and includes dinner provided by one of its alumni, Vale Food Co.
Participants "get a feel for teamwork, and a lot of discussion happens in that half-hour before class," Lynch said. Classes taught by local business pros help students develop a business and financial plan and includes a "Shark Tank" pitch experience.
"We talk to several other companies in the same boat, and we learn from each other," said Jodi Chase, CEO of FullScaleNANO. "Tallahassee has a culture of helping each other. There's a culture of cooperation, not competition."
FullScaleNANO is one of Tallahassee's relatively new, cutting-edge startups. The company was started in 2012 by Jeffrey Whalen and a team of scientists. The firm works with nanotechnology, which sounds like it belongs in a science fiction movie but has a growing number of uses, from touchscreens to monitoring bodily functions.
Tallahassee entrepreneurs continue to be a pretty varied bunch, including the under-the-radar UberOps (not related to the car service).
UberOps, a data integration and cloud computer company, helps the U.S. Centers for Disease Control track data on health concerns including Zika, the flu and bioterrorism. The firm recently traveled to Vietnam to assist that country's health ministry.
"Not many people know we exist," said UberOps CEO Eduardo Gonzalez Loumiet. "We deal with some of the most sensitive information in the United States. And we're here in Tallahassee."
Within the past year, UberOps formed the startup Bloomdot, which prevents deadly delays when a baby is born by utilizing "seamless electronic communication" for screening test orders and results.
Attracting investors is another key challenge for Tallahassee startups.
Angel investors have invested in 10 Tallahassee-based companies, providing more than $1.7 million over the past year in a variety of fields including software, technology, medical devices, agriculture and aquaculture, said Matt Johnson, of Tallahassee's new chapter of the Florida Angel Nexus. All members have to be accredited and meet standards, including income and net worth.
"Angel investors are high-net-worth individuals who invest their own money into high-growth companies," Johnson said. "Venture capitalists invest other people's money."
"Raising capital is incredibly difficult and demanding on an entrepreneur," Johnson said. "We feel this is our moment to create a long-term sustainable investment group in Tallahassee. It would be nice to be able to find great companies that deserve investment in our own backyard."