Greg Brudnicki is Confident About Panama City's Future
How Bay County is bouncing back post-Michael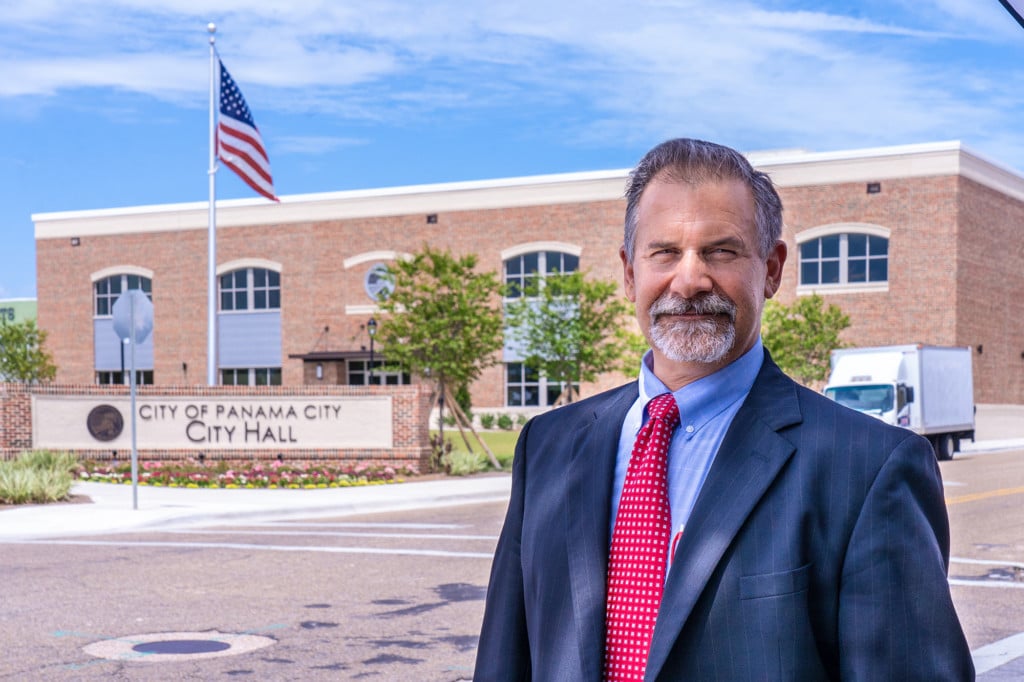 As a child, Greg Brudnicki lived above his father's restaurant in downtown Panama City. Now, as the city's mayor since 2011, he will preside over efforts to reimagine and redevelop downtown and the city at large in the post-Michael era. The Category 5 storm decimated Bay County east of the Hathaway Bridge, displacing thousands of people who may never return. Still, the mayor is given to an effective mix of realism and irrepressible optimism. In June, 850 editor Steve Bornhoft spoke with Brudnicki and got a progress report.     
850: As a resident of Panama City's hard-hit Cove neighborhood, how did you personally fare in Hurricane Michael?
Brudnicki: My insurance claim on my house is up to about $200,000. I got my roof done, but I need to focus on the other work that needs to happen. I've got to replace my deck. I want to get my boat dock back. The boat is in the driveway and all the landings got hammered. I haven't had any time for fishing, and it kills me to hear that they slaughtered the trout and the pompano this spring.
850: What has been the impact of the storm on the city's population? Do you have a handle on that?
Brudnicki: We were north of 36,000 before the storm, and we think we are down 20 to 25 percent. Housing stock is a big part of that. For example, in the case of our Housing Authority, 200 of their units were destroyed. Some of the people who used to live in those units are couch surfing, some of them are gone. We are hearing that if you don't keep people within 60 miles of where they lived when the storm hit, the chances are they are going to be gone permanently. Our problem is that we've got water to the south of us, the beach is unaffordable to a lot of people, the area to the east of us is blown up so they can only go north and they've got to go a long ways. In most areas, it's 70 percent homeowners and 30 percent renters. Panama City is exactly the opposite, 70 percent renters and 30 percent homeowners. It is easier, of course, for a less vested person to move when all you've got is a lease and the financial obligation is not nearly as strenuous as a mortgage. It's scary for us because in April 2020, the census is taken again and that dictates money flow from state sales tax and from federal programs. It's scary because, without the housing stock back, I'm afraid we will have had a two-hour event that will dictate funding levels for the next 10 years. We could pay for another census in 2022 at the city's expense, and it's expensive, but we may have to do that.
850: How about the value of taxable property in the city?
Brudnicki: As to local tax levies, we substantially live off of property taxes. We think the value is off 15 to 20 percent and, of course, we are going to have to take that into account when we prepare budgets.
850: In addition to a direct appropriation of disaster aid, are there other types of assistance you are pursuing?
Brudnicki: We have talked to the federal government about a Community Disaster Loan. Typically, that is limited to $5 million, but the cap can be raised to 25 percent of what your annual budget would be. (The city's 2018-2019 fiscal year budget totaled $108.7 million.) We would love to borrow $20 million or $25 million from that program to offset the loss of revenue due to the decrease in value.
850: Historically, property taxes and income from the city's merchant fee, which is based on sales, have generated about the same amount of revenue. Is merchant fee income down, too, since the storm?
Brudnicki: You would think that, but there has been a little bit of a silver lining because there have been so many building material purchases for all the construction that is going on. Our merchant fee income, as a result, has pretty much kept up with what we are used to. And, we hope that when the materials purchases slow down, more businesses will be back up and running.
850: How is the housing crisis being addressed?
Brudnicki: There is $115 million coming from the state for that purpose, and we are not sure how much of that is going to be appropriated to our county, but we think that is going to be a pretty good chunk. There is also supplemental funding of $448 million that is coming from the federal government. The state Department of Economic Opportunity will have a lot to say about how that money is spent. We had 4,200 rentals in the city and only about 1,500 were available to be used after the storm. The Housing Authority has only $1 million in insurance and a million dollars in reserves for the units they lost at Massalina Commons and Fletcher Black. And, it's going to take between $25 million and $30 million to rebuild them. We're hoping that either the state or federal dollars can be used for that purpose. The approach that the federal Department of Housing and Urban Development has been taking in situations like that is to come back with a portion of the development devoted to Section 8 housing, a portion to housing for seniors and some of it being market rate. We are still putting families in FEMA trailers, and we will be getting more. Big picture, in order to get the economic engine of the city running, we've got to have people here, we've got to have workers here. We're working with D.R. Horton Homes. They're putting in 1,900-home subdivision in north Panama City, and we will be participating in extending a road to that development. St. Joe would love to develop apartments downtown. They know that anything good that happens downtown will benefit them.   
850: What are some of the problems affecting the private owners of individual homes?
Brudnicki: A big problem is what I would call multi-generational homes, and we may have about 1,000 of those in Millville and Glenwood and other areas of the city. Maybe Grandpa or a great grandparent built the house 50 or 100 years ago. Succeeding generations occupied the home, but the title never was passed. If you are living there now and don't have a title, you can't go to the bank and get a loan to fix the place up. You can't get money from FEMA. And, you can't get insurance. That means that, apart from savings, there is no capital to go in and improve that property. And, you can't sell the lot for anyone to invest in. We plan to go to the Legislature with a proposal that will make it possible for long-term, taxpaying residents of these properties to go forward and do something with them. And, really, how can I go enforce codes at your property when you are handcuffed?
850: The new City Hall (a former downtown bank building at 501 Harrison Ave.) has enabled you to consolidate all city departments in one location.
Brudnicki: Yes, and if we had not stayed downtown, I'm sure some people would have said, "Well, if you're not willing to invest in downtown, why should anybody else?" We chose to fix up this footprint and, the truth is, we could not have gone anywhere else and built 60,000 square feet and had three acres of parking for what we spent. Having everybody here makes a heckuva difference and it makes a statement. We built it to meet our needs for the next 50 or 60 years.
850: Debris removal — how is the city doing in that regard?
Brudnicki: That's one of the bright spots. We have 35 miles of ditches and have now cleaned about 32. Over 400 people have signed up for personal property debris removal that did not have insurance to cover that expense. We are working with FEMA to clarify what they consider personal property debris to include. We are going to resume code enforcement in October, and we wanted to give people time to deal with their insurance companies and FEMA and to let things get to the point where we could reasonably ask people why issues remain unaddressed. We're sitting with neglected structures that are unsafe because renters were displaced and the property owner lives in another state and hasn't done anything.
850: What does the approval, at long last, of the federal disaster aid package mean to the city?
Brudnicki: It gives us hope. We know that we are going to be getting some money, and I'm sure our creditors are happy about that, too. We borrowed $75 million for debris removal and the largest borrowing that the city had ever made previously was $34 million for a wastewater treatment plant. Our debris bill is going to exceed $150 million. We've collected about $14 million in aid to address that expense and we have spent about $90 million. So, the appropriation had to happen so that we could turn that money. I didn't want to have to go out and borrow more. I don't get rid of any debris with the interest paid on the loan. By the time we get aid from the appropriation, we will have spent $5 million or $10 million on interest. That's not refundable by FEMA. We've got to be able to pay down the debt and get rid of the rest of our debris.
850: Are you optimistic?
Brudnicki: I see a very, very bright future for Panama City and Bay County. We will rebound like New Orleans and Mississippi and Houston did. People ask me, "What happens if we get another storm?" Well, for one thing, we won't have nearly as many big trees flying around. We had so many big ones because we hadn't had a major storm like Michael in Panama City for 100 years. At the same time, we don't know how the removal of a million trees from our city is going to affect our ecosystem.