Green Rush
Six Northwest Florida counties join budding industry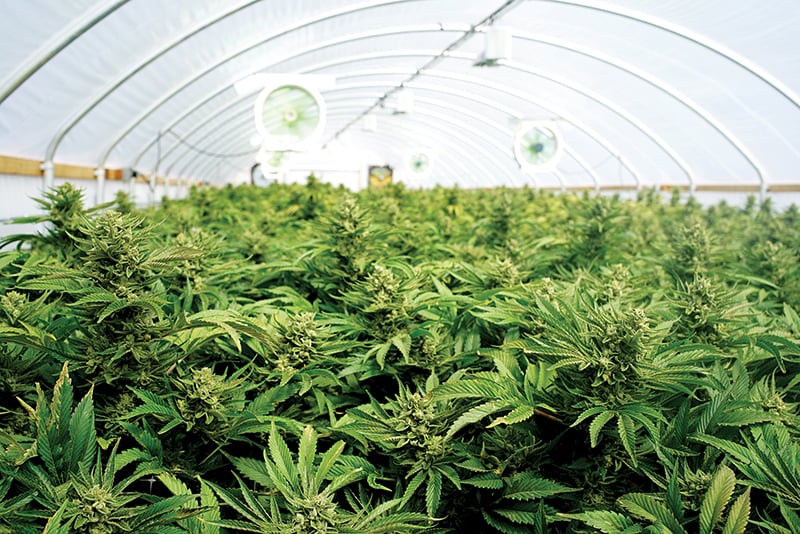 But under federal law, marijuana possession and use is illegal. Period. The conflict makes for a legal wicket that's likely to remain sticky for a very long time.
In courtrooms and at the state Capitol, opponents of medical marijuana and advocates for broader, quicker, cheaper access play the long game of litigation and lobbying. Meanwhile, entrepreneurs have poured millions of venture capital funds into a business that economists predict will be worth over a billion dollars by the end of this decade.
Florida's Department of Health is in charge of implementing the will of the voters without stepping on the toes of the feds. Much of the action takes place in cyberspace. Every element of the medical marijuana business is tracked "from seed to sale" in databases which are closely monitored to assure that drugs are not diverted and money is not laundered.
The Department's Office of Medical Marijuana Use (OMMU) oversees the manufacturing and distribution operations of the 17 vertically integrated companies currently licensed to grow, process and sell medical cannabis. OMMU also keeps tabs on the physicians and patients who make up the first wave of individuals participating in the post-Amendment 2 "green rush." The barriers to entry are high, but so far, more than 1,200 doctors and more than 33,000 patients have jumped through the rigorous legal hoops.
For Florida doctors, that means taking a specialized course and passing an examination designed to ensure they are familiar with the legal as well as medical terrain surrounding Amendment 2. A passing grade qualifies the physician to counsel patients and "recommend" medical marijuana in appropriate cases. "Prescribe" is a verb that doctors avoid for fear of antagonizing the federal Drug Enforcement Agency, which regulates prescriptions for legal but potentially dangerous medications
Doctor-patient relationships involving medical cannabis are required by law to be created the old-fashioned, in-person way. That can be a hardship for many in north Florida, because most state-certified doctors are located in high population centers in central and south Florida. By late October, there were certified doctors in six northwest Florida counties: Bay, Escambia, Jefferson, Leon, Okaloosa and Santa Rosa.
They do not take kindly to being called "Dr. Feelgood." Medical marijuana is a deadly serious matter for Floridians who suffer from cancer, Crohn's disease, chronic nonmalignant pain, and other serious and sometimes life-threatening illnesses. Of special interest to epilepsy patients is a cannabis-based oil known as Charlotte's web, named for Charlotte Figi, a child in Colorado who came to national attention when CNN reported how the marijuana extract had freed her from the constant threat of seizures. Prominent Escambia County-based attorney Fred Levin has taken a special interest in Charlotte's web, and, as an investor in one of the companies presently licensed to distribute medical marijuana in Florida, has made a priority of bringing the potion to the Panhandle.
Like any other medical specialist, Florida physicians certified to recommend medical marijuana examine patients and review records compiled by their primary care doctors to determine whether medical marijuana is a potentially effective treatment option. If so, the doctor will enter patient information into the state's Medical Marijuana Use Registry and assist the patient or the patient's legal representative in applying for a Compassionate Use Registry Identification Card. The state charges $75 to review the application, a process which can take five weeks or longer.
Once the card is issued, the patient is authorized to contact a licensed medical marijuana dispensary and fill the doctor's recommended order. Home delivery service is available for that one product only.
In this fledgling marketplace, the quality of the marketing matters as much as the quality of the medicine. Medical marijuana costs to the patient are not covered by insurance, and they can run as high as $400 per month. Investors in this newly emerging industry need health-care providers and consumers to consider medical cannabis as an alternative to the offerings of big pharma, and they're spending big to get noticed. Publicity materials to create "brand awareness" are popping up in impossible-to-ignore locations all over the 850.
The state is expected to continue wrestling with litigation, rule-making and additional license applications, while certified physicians and licensed dispensaries get into position to serve patients, who may find the new systems a bit hard to navigate.
"There's a lot of confusion in a very immature market," said Jeff Sharkey, a lobbyist, consultant and founder of the Medical Marijuana Business Association of Florida.
Licensed "medical marijuana treatment centers" that dispense or deliver their products are emerging around the state. Trulieve has two dispensaries in northwest Florida — in Tallahassee and Pensacola — and two dozen others open or in the works elsewhere in the state. Knox Medical has a dispensary in Tallahassee, five others open or coming soon in other parts of Florida, and offices in Texas and Puerto Rico. Surterra operates a dispensary in Tallahassee and is opening one soon in Pensacola.
The legal dust will settle as medical researchers and marketplace forces combine to get things sorted out amid the ongoing conflict between state and federal laws. Meanwhile, be kind to stressed-out state regulators and federal authorities as they wink, nod, and try to stay out of each other's way.
For details and updates:
The Florida Department of Health's Office of Medical Marijuana Use posts weekly updates of certified physicians online here.
Licensed treatment centers/dispensaries are listed online here.