Green Circle Bio Energy
A Shining Example for Jackson County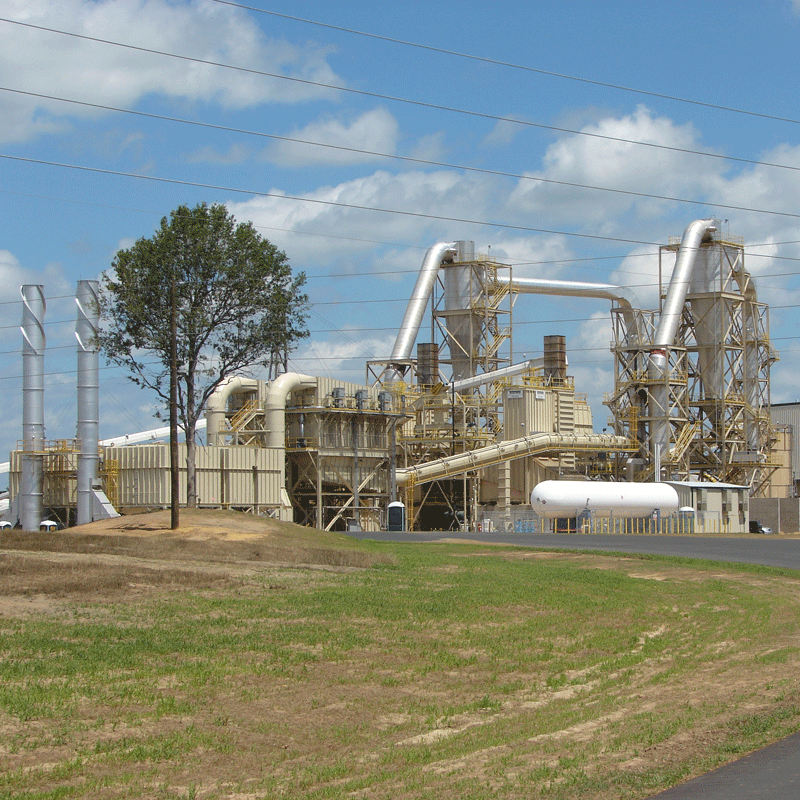 Jackson County may be small and rural, with a population of just under 50,000, but it's a global leader in the emerging market of green energy.
Jeff Massey is new to the Jackson County Chamber of Commerce as president and CEO, but he isn't new to renewable energy. He recently retired from Jackson County's Waste Management plant, and he was there on the first day Green Circle Bio Energy Inc. began to operate. You could say he helped "turned the lights on." As a district manager, Massey led a team that dug wells for pipes to safely convert methane gas — the toxic byproduct from the landfill — into electricity. "It was pretty cool to use green technology to power one green company from another. So, really we have two shining examples of green energy in Jackson, a rural county, that is something you will not find in every other county," he says.
For Massey, who has worked in the environmental industry for nearly 30 years, the fact that Green Circle Bio Energy is "green" is just the beginning of what this $100 million company has to offer. "It is the innovative processes and the things that happen there that create the atmosphere for attracting business. Jackson County is known for a lot of things, and innovative technology is one of them now because of Green Circle Bio and what they do," he says.
Green Circle Bio Energy's parent company is JCE, a privately owned investment company based in Gothenburg, Sweden, and named for entrepreneur J. Christer Ericsson. When a man walked up to Ericsson's door and offered to pay a high price for the pile of wood in his backyard to use it for bio fuel, a multi-million dollar idea began to catch fire. Once formed, the company settled in the North Florida town of Cottondale and, after an 18-month build out, began production in May 2008.
Green Circle Bio was one of the first to the market to produce small, biodegradable cylindrical wood pellets. Trees harvested from Florida, Alabama and Georgia are turned into chips, which are dried, ground into a fine sawdust and pressed into small pellets. Each year upwards of 560,000 tons of pellets are freighted overseas from Panama City to several European customers, mainly on long-term contracts. The company's primary customer base is the industrial market. Essentially, it is selling to power companies and Combined Heat and Power (CHPs) companies that replace coal with biomass, also known as "co-burning."
Green Circle Bio operates a sustainable production, which means more than 65 percent of the energy consumed to manufacture the pellets comes from renewable energy sources.
Jackson County and the town of Cottondale may seem an unlikely location for the world's largest pellet plant, but Florida's abundant yellow pine forests, available at low and stable prices, and an accessible location (in the Industrial Park off Interstate 10 and U.S. 231) make it a natural fit.
Massey sees Green Circle Bio's success as a calling card for Jackson County. "Having businesses like Green Circle really gets the attention of other industries looking at this area, because they know they are a successful business that wouldn't be here if it wasn't the right climate for them to be in," he says.
In fact, Green Circle Bio has been so successful it is expanding. In 2015, a $115 million plant is projected to open on 118 acres in George County in Lucedale, Mississippi, another rural community located approximately 40 miles northwest of Mobile, Alabama. Like Cottondale, the plant will produce up to 500,000 tons of pellets per year and ship them to European markets from the Port of Pascagoula near the Mississippi-Alabama border.
With European power plants mandated to use at least 20 percent of renewable energy in their fuel mix by 2020, the industry is expected to continue to grow. And Green Circle Bio President and CEO Morten Neraas is ready. With a new plant underway, he reportedly already has set his sights on a new European customer: the United Kingdom.
Courtesy Green Circle Bio Energy
Products of local tree farms await processing.
A company this size has a significant economic impact on the surrounding area. According to the Jackson County Development Council, Green Circle will purchase 1.5 million tons of lumber annually, generating some $30 million in revenue for regional timber industries.
And producing tons of pellets year-round produces something else highly valuable: jobs. Green Circle Bio has a workforce of about 50, making it one of the largest companies in the area. "They are a great employer in the county and support this community and are a true asset," Massey says.
Green Circle Bio is a testament to the fact that rural communities like Jackson County can compete on a global scale. Massey is not surprised. His grandparents were one of the founding families of Cottondale, so he knows firsthand what it has to offer.
"There is a reason Jackson County attracts these types of businesses, certainly because of our location but there are many others. Another piece of the puzzle is the hospital, the airport, the college, the road system and the proximity to the port … there are a lot of things we offer," he says.
Out of all its attributes Massey contends what will keep Jackson County a "shining example" standing apart from many other counties is what he dedicated two decades of his career to and what made Green Circle Bio Energy a global player — "being innovative with technology."