Google Guru
Mica Specialties helps Bay County businesses embrace technology and Google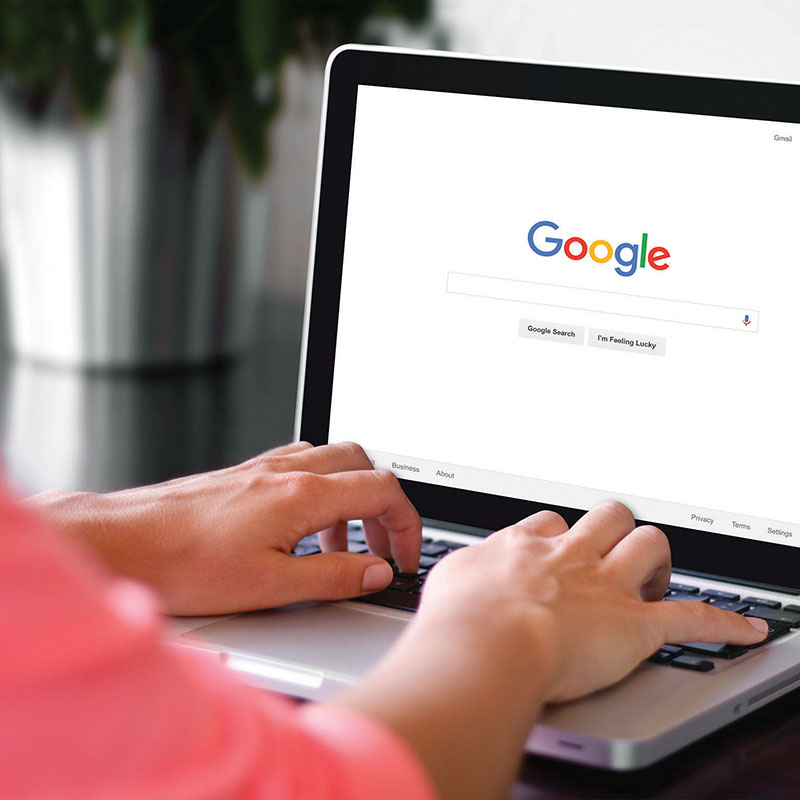 It's Google's world and we're just living in it. Well, that may not be 100 percent true, but for business owners who want customers to find them online, it all comes down to their Google presence — and that's where James Clemens and his team at Mica Specialties comes in.
"A business today has to be online and has to be on that first page (of Google's search results), if possible," says the 46-year-old Clemens, who formed Mica Specialties with his wife, Gina, in 1992.
Based in Panama City, Mica Specialties offers technology consultancy and IT services, as well as website design and digital advertising. When you dig a little deeper into the services offered by Mica Specialties, they are wide-ranging. From search engine optimization and search engine marketing to digital and social media marketing, Mica Specialties is your one-stop shop for a complete online presence.
When you start talking about how search engines work, it can be overwhelming to the average business owner. With terms such as meta tags, alt tags, anchor text and H1 tags, it can all sound like a foreign language. Clemens and his team in essence become a Google translator.
"We offer a free consultation where we will go through the nuts and bolts of a company to see exactly what we can do for them," Clemens said. "There are so many ways to do something for a business and so many ways for a business to be online."
At Mica Specialties, digital is the name of the game. When you talk about digital, it really doesn't get much bigger than Google. Think about it: How many times have you gone on the internet to search for something? Most people are going to use Google to search for a business, product or local restaurant.
And when you think about your own search habits, you can attest to the fact that more than likely, you are not going to click through page after page of search results. As Clemens said, a business really wants to appear on the first page to page-and-a-half of results.
That can be challenging when you think of how expansive the web is and how many businesses are out there trying to achieve the same results. Clemens has spent years mastering his craft and studying the ins and outs of Google, which is ever-changing, and how it works.
Clemens, who has an infectious laugh, is essentially a Google guru. He and his colleagues at Mica Specialties are proud owners of The Google Partner badge, which means they have passed the Google AdWords product certification exam and are up-to-date on the latest in product knowledge. AdWords is essentially Google's advertising system, which allows advertisers to bid on certain keywords in order for their clickable ads to appear in search results. Clemens said being badged by Google is an achievement that only about 5,000 companies in the world have earned. That's pretty impressive for a business in Panama City.
In addition to the Google Partner badge, Mica Specialties is an official Google GYBO (Get Your Business Online) partner for Panama City and Panama City Beach.
The goal is for Clemens to make sure every business in the community is included in the "Let's Put Our Cities On The Map" initiative. GYBO allows businesses to be listed on Google Maps free of charge, which includes assistance from Mica Specialties.
It may sound a bit like a late-night infomercial, but wait, there's more. Clemens has also been recognized as a Google For Work partner, which means he can help a business better understand and take advantage of Google products so they can be more productive with professional email, online storage, shared calendars, video meetings and more.
In July, Clemens was honored by Google as a "Rising Star" within the Top Contributors program. To earn this honor, Clemens had to display a long history of providing expert help to fellow Google product users in a friendly and professional manner that's up to par with a level of high expectations and quality standards.
The love of technology has always been something that's pulsed through Clemens' veins. As a 9-year-old in 1979, Clemens vividly remembers being at a garage sale with his parents and coming across a word processor that, plugged into the television, displayed words on the screen.
"That really planted my love of technology," he said.
The rest is history. That love of technology still drives Clemens to continue learning and adapting to new trends in his field.
"It's a great field to be in because it's always changing," he said. "I love to learn."
While he works more than 60 hours a week, Clemens said he has no plans to slow down anytime soon. Given his good health and desire to help better his community, you will not hear the word retirement come out of his mouth in the near future.
To learn more about Mica Specialties, visit micaspecialties.com.